Extreme Diesels: The Wildest Turbo & Fuel Setups
In the world of competition diesels, it doesn't get any more extreme than this. Cutting-edge technology, engines living at 150-psi of boost and thinking outside the box are the norm here, and (thankfully) there are no indications that that will change any time soon. So come along for the ride below. From truck and tractor pulling to drag racing to dyno cells, we've got 4,000hp fuel systems to tell you about, single, triple and sextuplet turbo setups making insane boost and some engine eye candy you won't find anywhere else.
BIG Triples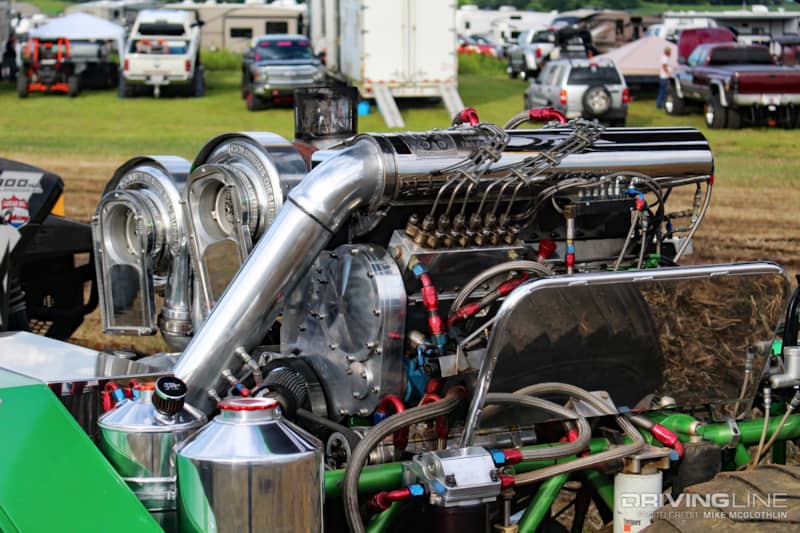 There are about a thousand cutting-edge things to point out on Shane Kellogg's Super Stock pulling truck, but we'll start with the giant turbos hanging off the side of his competition Cummins. Sourced from Columbus Diesel Supply, the two Holset based chargers on the left represent the first stage in this three-turbo, two-stage system, and act as what is often referred to as the atmosphere chargers. Out of view, a high-pressure turbo (also massive in size) is fastened to the exhaust manifold. During the course of a pull, the trio combines for a boost number that's north of 120 psi. The engine itself is a Super B Cummins from Haisley Machine. Based on a cast-iron 6.7L Cummins block that's been sleeved and fitted with a deck-plate, these engines are known to offer season-long, trouble-free operation despite seeing the kind of boost they see, along with about 3,500 horsepower. Per Haisley, years ago Kellogg put 95 pulls on a Super B engine between refreshes.
The Boost Bomb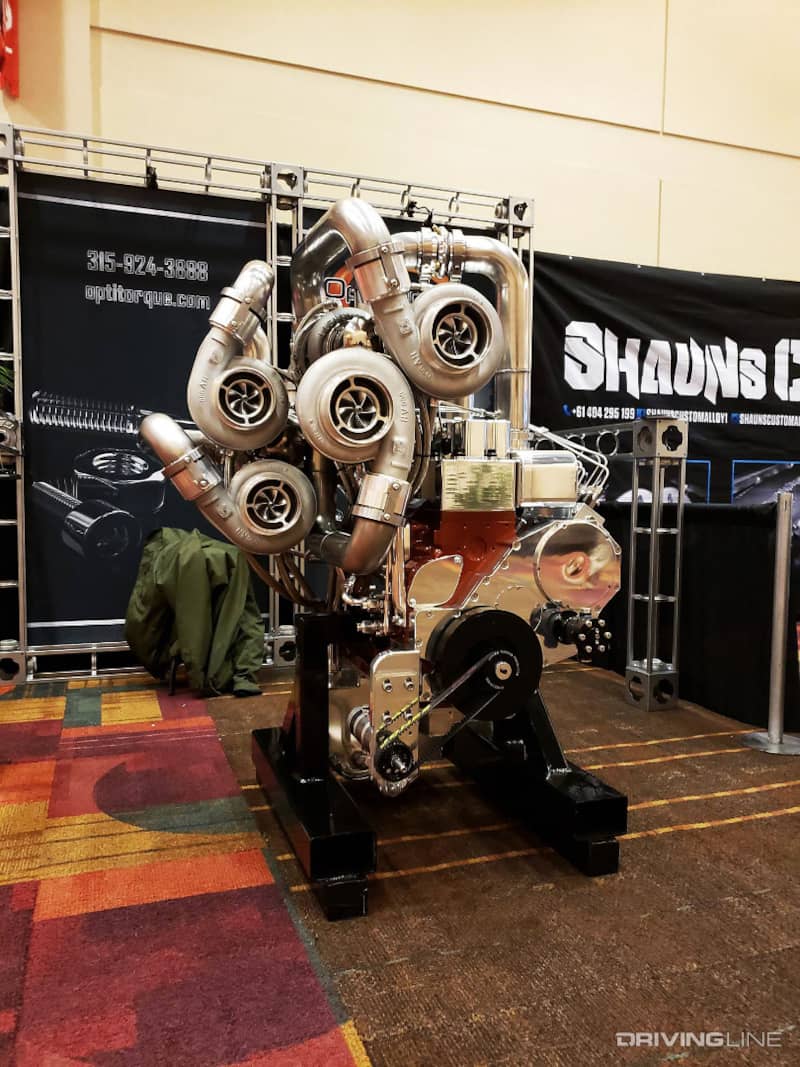 When you're a specialty fastener manufacturer developing new head studs, there's no better way to test a prototype's clamping force than by installing them in an engine fitted with six turbochargers and that sees an ungodly amount of boost. OptiTorque Technologies flat-out set the 2018 PRI Show on fire with this test mule/PR piece. Displacing 443 ci, the 6.7L-based Cummins block had been sleeved, deck-plated, topped off with a billet-aluminum 12-valve cylinder head and was being fueled by a 20mm billet Sigma injection pump. As for the turbos, a pair of billet Garrett GT42's and four (count them, 4) billet 78mm BorgWarner S400's were in the mix.
The CP6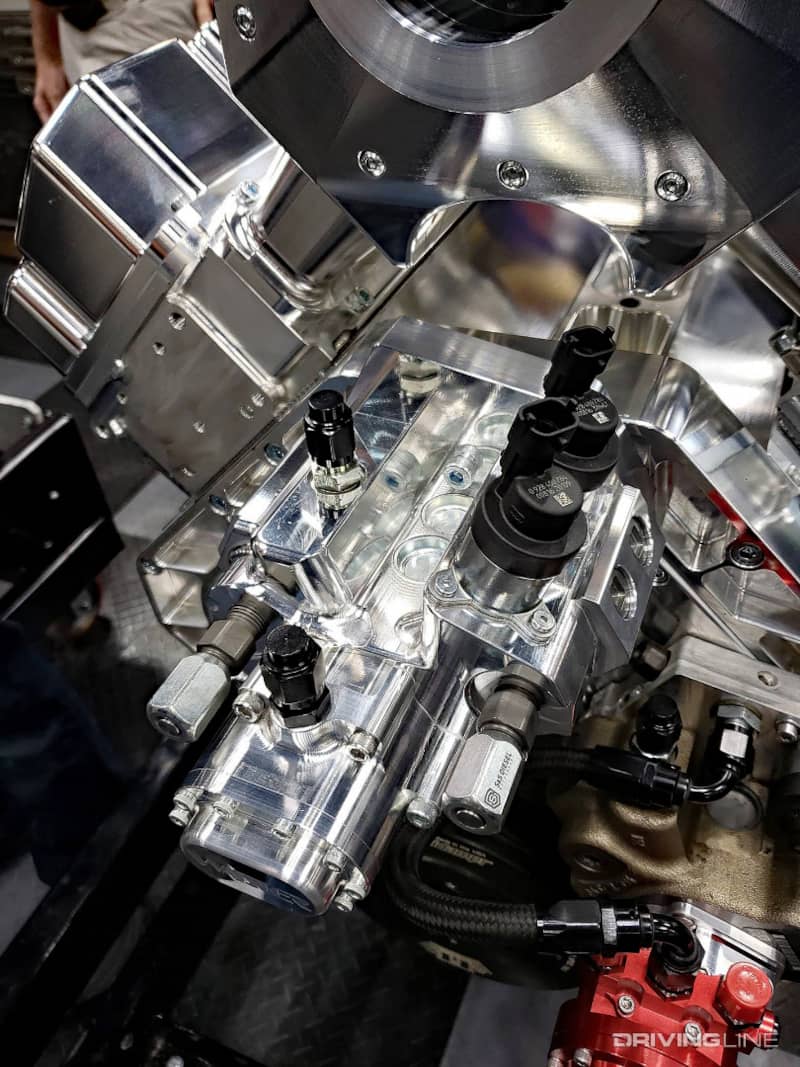 Running multiple high-pressure fuel pumps such as the Bosch CP3 has long been an effective method of supporting large injectors in high-horsepower, common-rail diesel applications. Wagler Competition Products' CP6 design takes things to a whole new level. By integrating Waterman Racing delivery pump gears inside a billet front gear housing, the company made it possible to utilize two CP3's in one housing. Essentially, it's a way to stack CP3's instead of spread them around in belt-driven or gear-driven configurations (as was the case before this arrived on the scene).
All Hail The SIGMA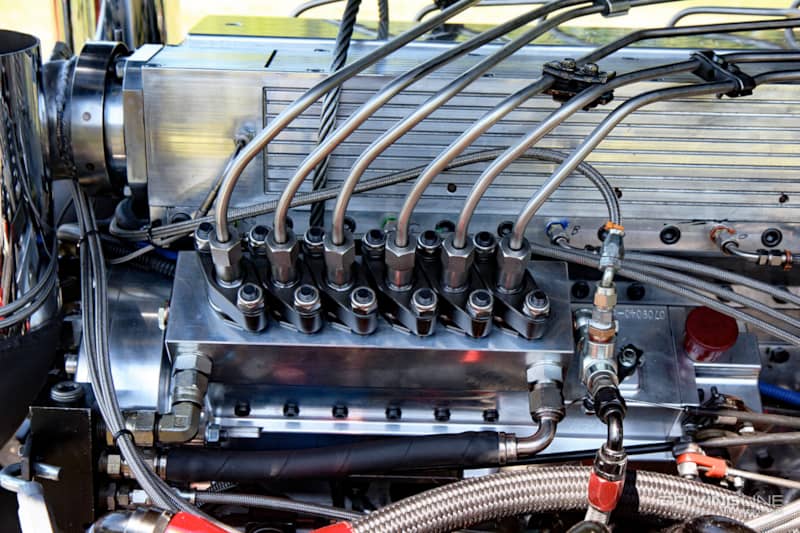 For a lot of reasons, the Sigma injection pump is the king of all mechanical fueling. The French-born Sigma came with 16mm plungers (vs. the P7100's 12mm units…) and oversize injection lines in OEM form, but in addition to its immense fuel volume its injection rate is quicker than anything else on the market. Also, its use of helix barrels allows timing to be advanced as rack travel increases, something no other plunger pump (that we know of) is capable of. Here, you're looking at the bad mama jama of Sigma's: a billet housing version from Columbus Diesel Supply. CDS is the lone place you can grab a Sigma today (they've been out of production for decades) and its blingy billet version can be spec'd with plungers as large as 20mm—more fuel than even a 1,000-plus cubic inch hot-rod semi engine can use!
Triple-Feed Injectors With Huge Nozzles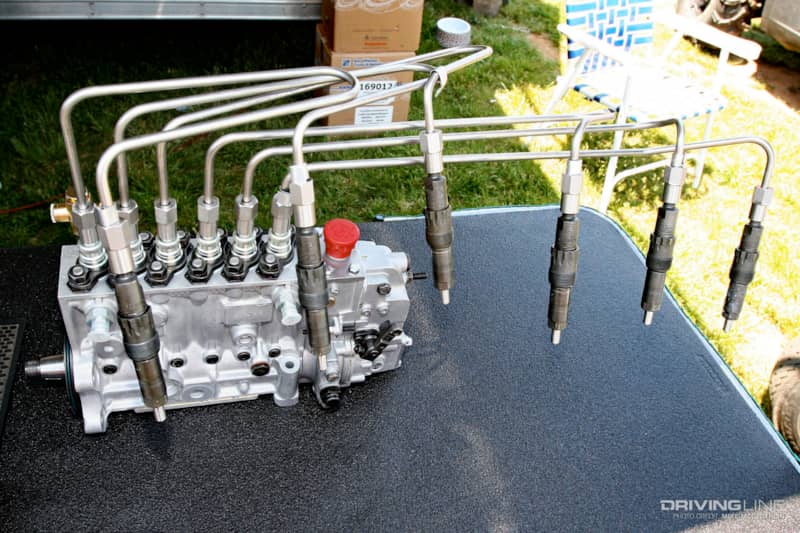 Downwind of a Sigma pump, it's typical to find equally impressive injectors. Innovative, billet triple-feed bodies with large passageways help usher copious amounts of fuel into the injectors. The most common form of high-end injector we come across is designed for use in the Cummins application and utilizes a 5-hole nozzle. Granted those holes are huge, Scheid Diesel for one offering nozzles as big as 5 x 0.039-inches, but the 5-hole pattern is consistent throughout the aftermarket.
Two In The Bed, One In The Cab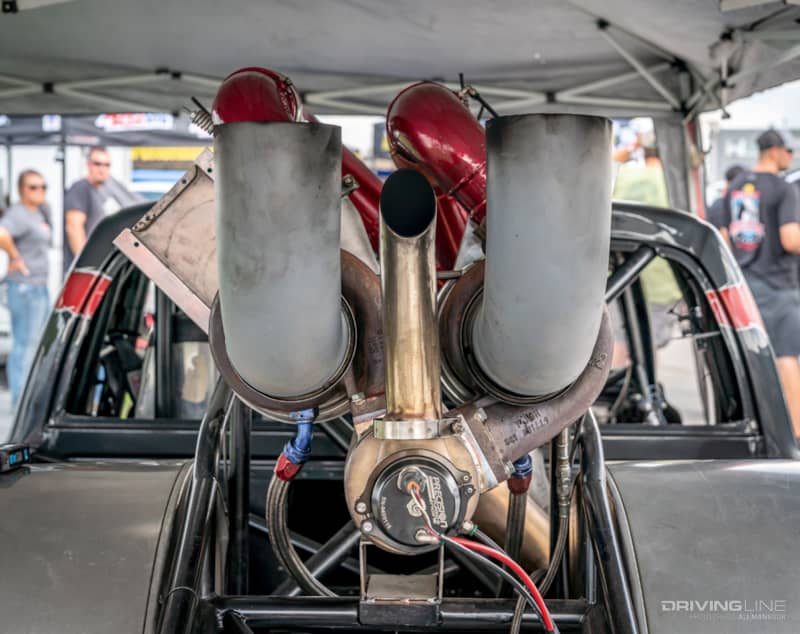 Although most Pro Mod diesel drag racers are going away from multi-charger turbo configurations (opting instead for big singles with nitrous), Steve Royalty hasn't gone that route. Instead, his Dodge Dakota sports a two-stage, triple-turbo system, with twin 82mm atmosphere units behind the cab. More impressive than that, a proprietary high-pressure turbo from Keating Machine—and positioned on the passenger side floorboard—produces (and survives) 100-psi of boost, which is the bulk majority of the 168-psi maximum the engine sees. For fuel, the Scheid-built, aluminum-block Cummins is saddled with a 14mm P-pump with an Ag governor for ultra-high rpm fueling, along with a set of Scheid's triple-feed, 5 x 0.030-inch injectors.
An All-Billet Duramax With Tractor Technology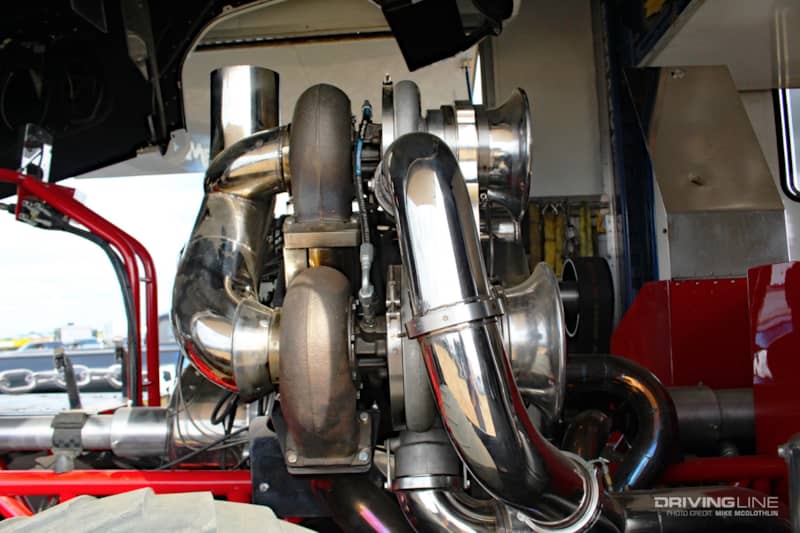 On the other side of this mammoth-sized set of atmosphere turbos (there are three in total) you won't find a Cummins. Rather, you'll find a DX460 Duramax, the billet V-8 produced by Wagler Competition Products. And in the valley, there's another surprise… A mechanical, 16mm plunger injection pump from Wimer Fuel Injection & Turbo consumes most of the real estate between banks. That's right, no high-pressure common-rail system to speak of. This baby is P-pumped and relying on mechanical injection to achieve its power, an amount that is rumored to be more than 3,000 hp—or the most ever made by a Duramax.
150mm, 130-PSI Pro Stock Turbo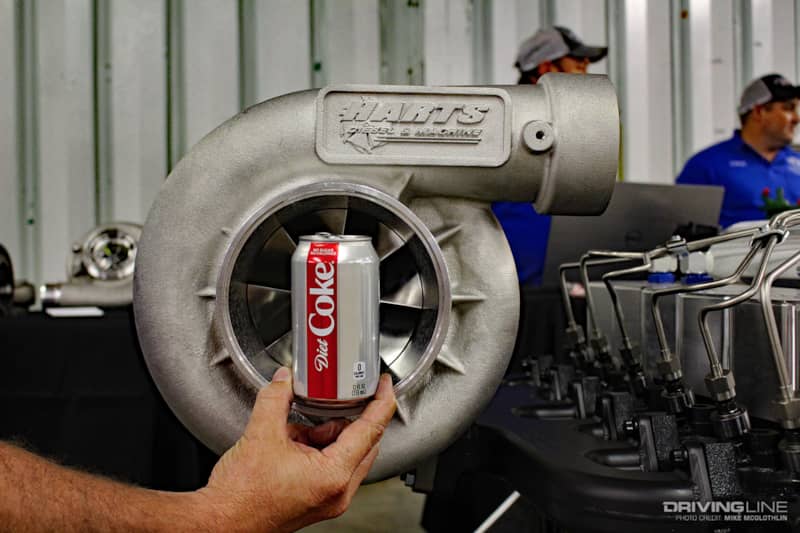 We're not sure if this is the biggest Pro Stock tractor turbo manufactured to date, but it has to be close! Produced by Hart's Diesel of Fayette, Missouri, the massive snail features a 5.75-inch inducer (just under 150mm) and most likely one of the company's exotic ball bearing center sections. To put its size into perspective, you won't find this turbo on even the nastiest Super Stock diesel truck, but rather a 680 ci John Deere or IH Pro Stock tractor engine, where it would be the lone charger, endure 130-psi of boost and make more than 3,500 hp possible.
Catch Them Outside, All Summer Long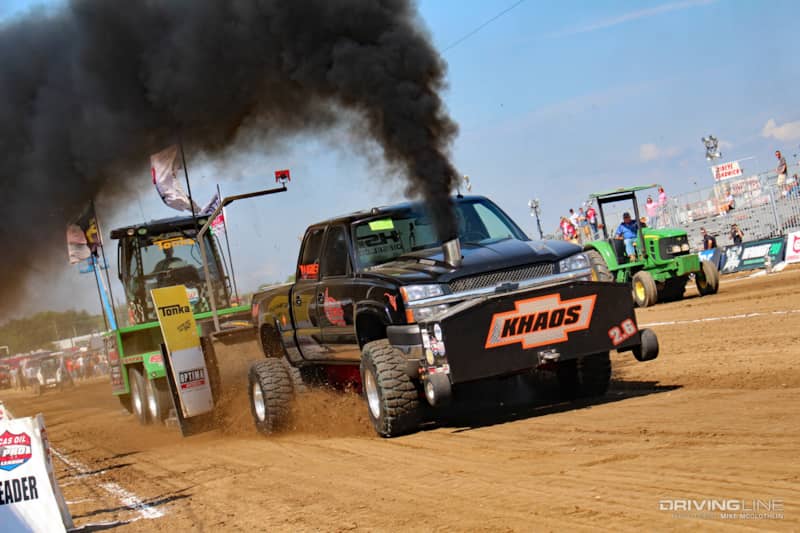 So what do wild turbo setups, stupid amounts of fuel and bulletproof engines look like in action? Here's one example. To see the most powerful diesels in existence do what they do best, check out what the Lucas Oil Pro Pulling League and the Outlaw Diesel Super Series have in store for fans in 2021.
More From

Driving Line
How do we come across these insane engine, turbo and fuel system combinations? You can find all of it by simply attending the annual Scheid Diesel Extravaganza.