Tough Tire Choices for Lifted Trucks
There is a reason that there is no one-size-fits-all shoe. Not everyone needs the same size sneaker, and many look to have more performance or comfort on their soles—which requires more specialized shoes. The same choices exist when it comes to selecting proper tires for your ride; especially when applied to the off-road truck world.
We picked up the phone and contacted a few of the well-known builders and owners of lifted trucks recently showcased on Driving Line. We looked to sample a variety of build styles from desert runners, and family road trip rigs, to full-blown show stoppers to see what their deciding factors were when it came to selecting their rolling attire. 
What went into their choices of size? Tread design? Off-road traction? And what modifications were needed to fit the tires on their respective trucks? Their picks were based on their individual performance needs and intended everyday use. And of course, we asked what their results have been since putting some miles on the tread of their Nitto Tires.
LGE-CTS' Baja Forged Ford Ranger
The new Ford Ranger is quickly becoming a popular off-road truck in the mid-size truck class. Usually, one can fit a set of 33-inch tall tires under this Ford platform with just some modest suspension work. But when LGE-CTS Motorsports built their Ranger; they went above and beyond the norm.
"We definitely wanted 35-inch tires because we were looking for the best clearance we could get, without compromising the performance of the vehicle." -Theresa Contreras of LGE-CTS Motorsports & Baja Forged
The crew in San Dimas, California did have to do a few modifications to fit a set of 35-inch tires in addition to their custom Icon Vehicle Dynamics suspension setup. They ended up trimming a few things inside of the wheel wells and built a set of custom fender flares as part of their Baja Forged product line. This insured the best driving experience and clearance with the 35s.
For their tire setup; sizing was the primary choice and selecting a tire that offered plenty of off-road traction and performance was the next box to check. A set of Nitto Trail Grappler tires sized out at 35x12.50R17 fit the bill thanks to the aggressive mud tread and durable sidewall designed to tackle various terrains. But, as sisters Theresa and Sara are not always taking the Ranger off-road; they were pleasantly surprised that the tires had just as an amazing ride quality on the road as the tires did off-road.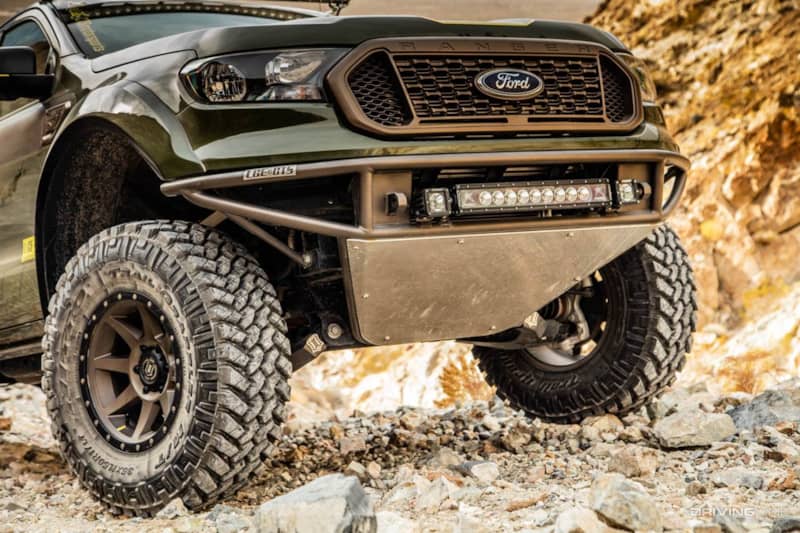 Quick Specs: LGE-CTS 2019 Ford Ranger 
Wheels & Tires:
Modifications:
Icon Vehicle Dynamics Suspension
Baja Forged Fender Flares
See more of the Baja Forged Ranger
Starlite Rod & Kustoms' Orange Crush Suburban
The tires on Edgar Hernandez's old-school styled and lifted Suburban needed to handle the miles he planned to put on them through multiple terrains and scenarios. As both a road trip and camping rig as well as a shop tow pig; the tires needed to be capable off-road and also quiet and long-lasting on the highway.
"I picked the Nitto Ridge Grappler based on countless hours of online research and reviews about their performance. They have had great tread life so far with just over 30,000 miles on them and I'm pretty sure I'll get close to 60,000 miles out of them before replacing." -Edgar Hernandez of Starlite Rod & Kustom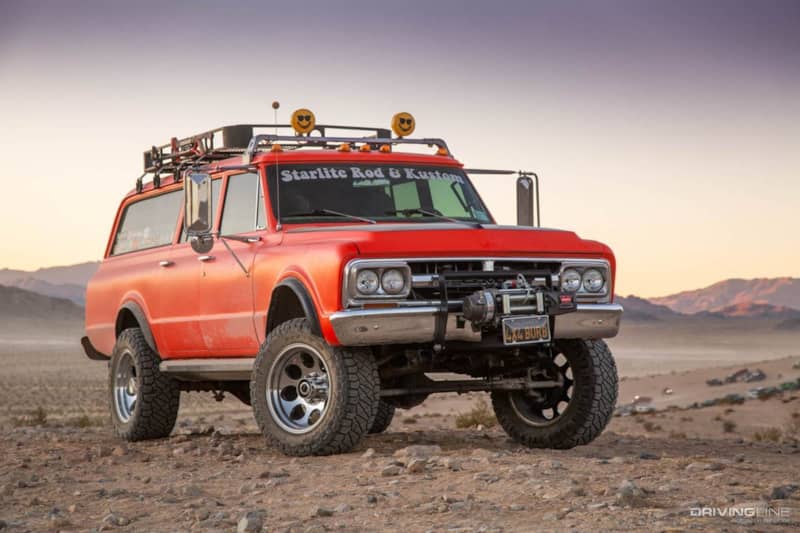 The Nitto Ridge Grappler tires are somewhat of a hybrid all-terrain tire. The main tread patch is designed for all-terrain performance and handling; mated to a more aggressive shoulder and sidewall for increased off-road traction. Edgar didn't expect miracles in handling with 7,500 lbs. lifted truck; but commuting to work at 80 mph (allegedly) the tires handle themselves well on the highway with minimal noise levels. This was also key, as the Suburban serves as a family road trip rig towing their 8,000 lbs. camping trailer. The tires have handled themselves well in the dirt, rain, and even the snow.
The all-around performance of the tires were key to Edgar's selection. Had he been looking to do more aggressive off-roading; he said he would have looked at a set of Nitto Trail Grappler or Mud Grappler tires. He was so impressed that he also just picked up 6 more 37-inch Nitto Ridge Grappler tires for his Chevrolet K30 dually truck build.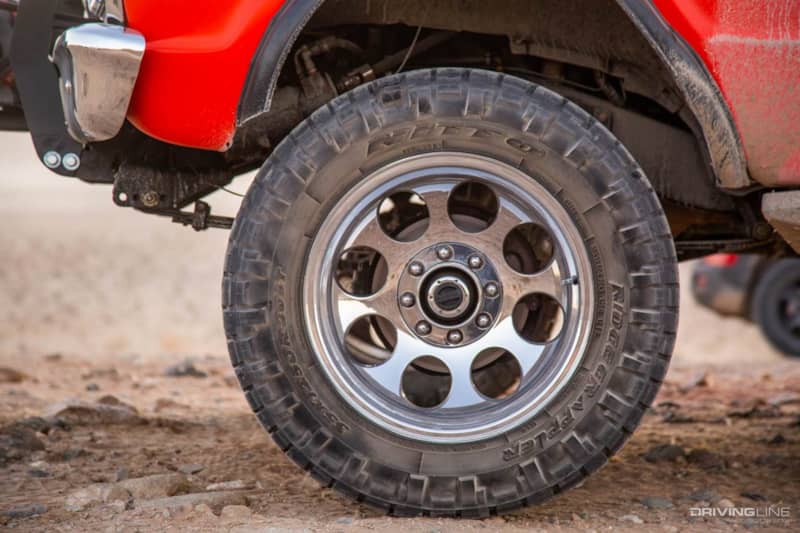 Quick Specs: Starlite Rod & Kustoms' 1967 GMC Suburban 4x4
Wheels & Tires:
Modifications:
Atlas Spring Leaf Springs and Bilstein Shocks
Check out Starlite's Too Cool for School Suburban
Aluminati H-250
Engraving artist Hank "Hanro" Robinson out of Phoenix, Arizona has a long history of fully hand engraved Ford aluminum trucks; and apparently, Nitto Trail Grappler tires have been the tire choice on all three of his truck builds.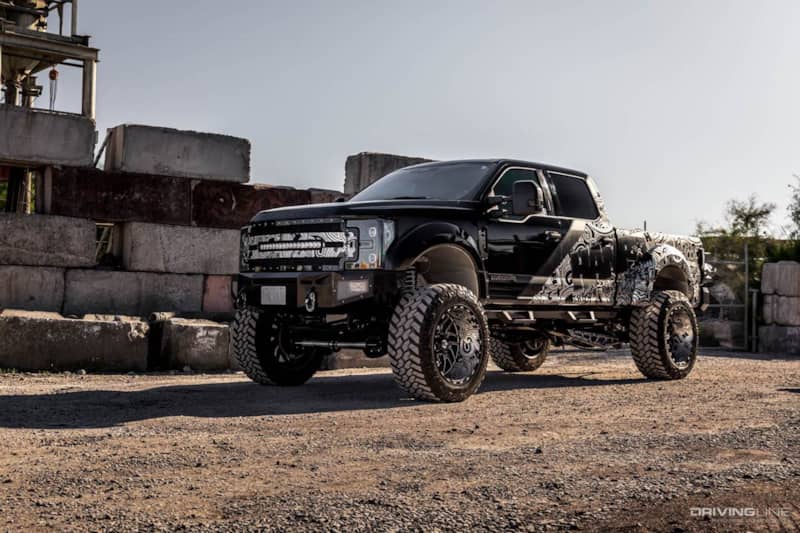 "Aluminati is a rolling piece of art and it turns heads when driving…everywhere. I always take the family on road trips and the tires always perform well, from US roads down to the sand in Mexico. These tires have always completed the look we are going for!" -Hank "Hanro" Robinson of Hanro Engraving Studios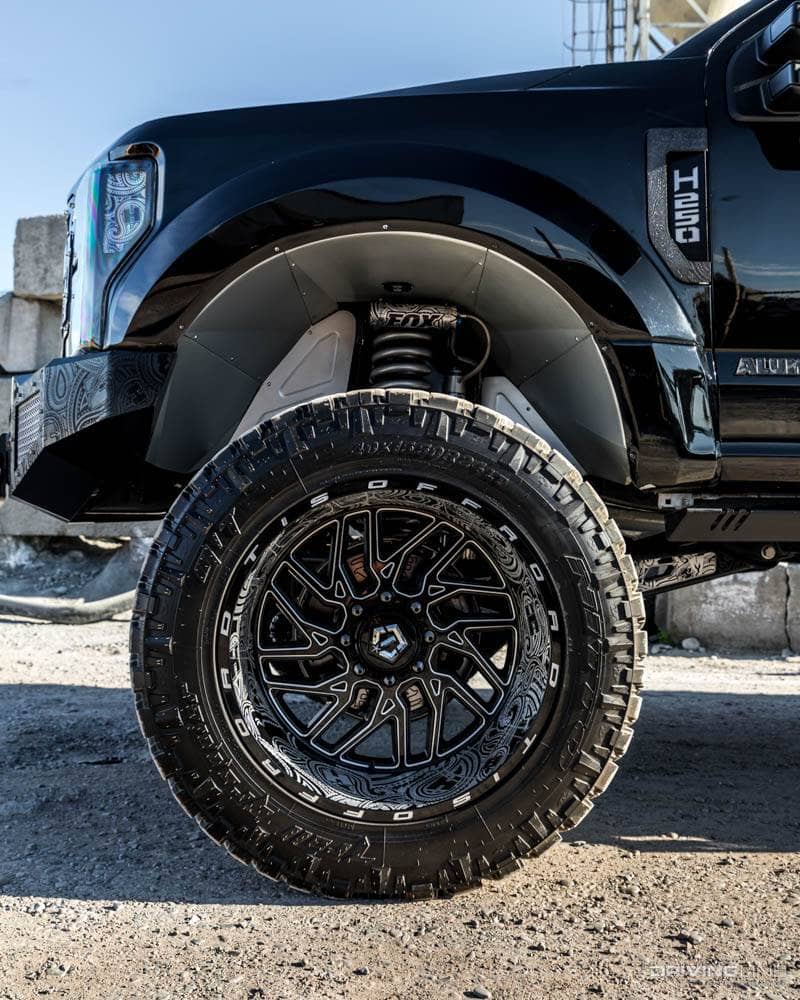 One of his latest rolling artistic creations is the Aluminati Ford Super Duty. An aggressive style and larger sizing were the main priorities when it came to looking at tire selection to fit around the massive 24x14-inch hand engraved TIS wheels. 
But Hank still wanted the tires to have a smooth ride on the road for general around town driving, and family road trips. A set of 40x15.50R24 Nitto Trail Grappler Tires fit that criteria and filled up the new aluminum wheel wells…well.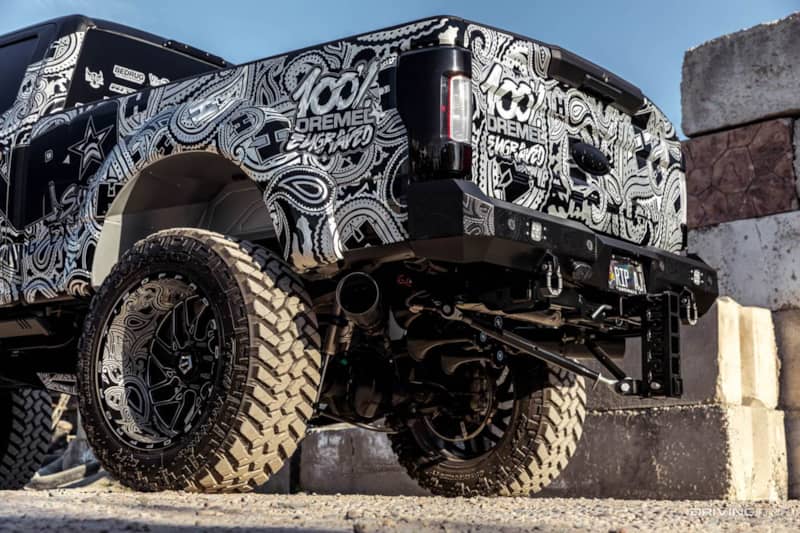 Quick Specs: Hanro 2017 Ford F-250 Super Duty
Wheels & Tires:
Modifications:
See the rest of Hanro's Engraved Super Duty 
American Adventure Lab's Overland Jeep Gladiator
Whether you rock crawl, overland, or hit the trails in the desert; proper tire selection is key. The need for traction means not just having a purpose built tread and shoulder design but still having plenty of sidewall as well after airing down. Wheel size can often dictate the size of the sidewall as many truck and SUV platforms have their limits when it comes to overall tire diameters. Because of this, 17-inch wheels have become pretty much the go-to standard size when it comes to off-roading…20-inch wheels are not a common, popular choice. 
But, Brit Mansell of American Adventure Lab in Utah wanted to standout a bit and take a different path when outfitting their Jeep Gladiator JT to not only display their products at SEMA but show that with the right setup and set of tires…larger wheels can perform just as well off-road.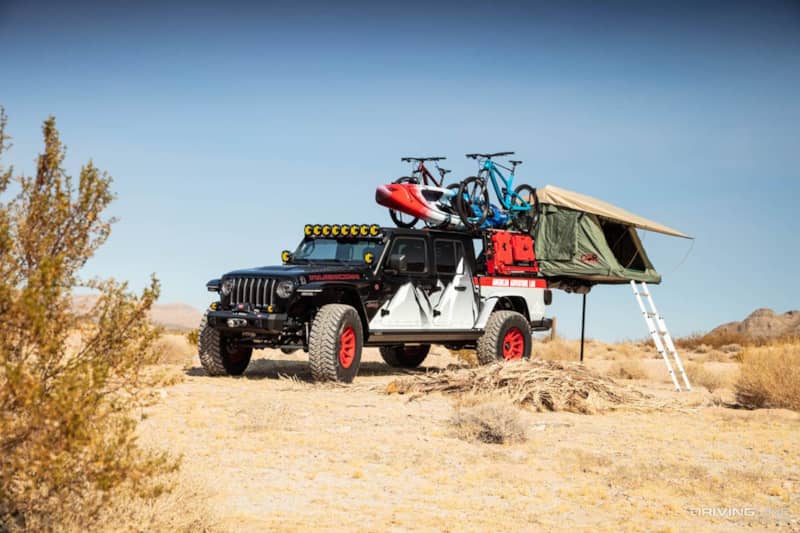 In order to get the same amount of sidewall as a Jeep with 17s and 35s would have; they opted for a set of 38x13.50R20 Nitto Trail Grappler tires. Having used the Trail Grappler tires on a couple of their previous shop Jeep builds; it was the prime choice for their Gladiator as well. The clearance needed came thanks to AAL's High-Line Fenders and a modest Icon Vehicle Dynamics Stage 1, two-inch lift. "I have gotten quite a few questions about how well the Nitto Trail Grappler tires and 20-inch wheels do off-road and I have been absolutely thrilled with them!" -Brit Mansell of American Adventure Lab
Since debuting at SEMA 2019; the Gladiator has seen long trips through the deserts and mountain terrain of Utah and Nevada, putting the off-road capabilities of the tires and oversized wheels to the test, with outstanding results.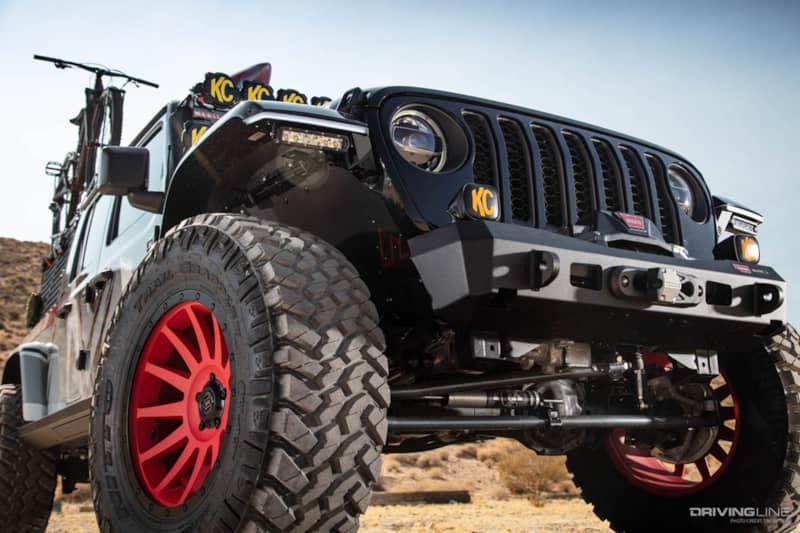 Quick Specs: 2020 Jeep Gladiator JT Rubicon
Wheels & Tires:
Modifications:
2-inch Icon Suspension Stage 1 Lift
American Adventure Lab High-Line Fenders & Quick Release Inner Fenders