Slingin' Dirt: Truck & Tractor Pulling from the 2018 Scheid Diesel Extravaganza
If ever there was an event that encapsulated the diesel enthusiast culture to a "T," the Scheid Diesel Extravaganza would be it. The three-day spectacular celebrates all things compression-ignition, from classic diesel repowers to wild engine swaps, the fastest eighth-mile drag racers in the country, 1,000hp street trucks hitting the dyno, the latest and greatest parts in the industry and the best truck and tractor pulling action this side of anywhere. The latter activity's roots can be traced back to the inaugural event in 1997, where (believe it or not) trucks were hooked to the sled behind the Cornerstone Christian Church in Effingham, Illinois. Now held in the much larger venue of the Vigo County Fairgrounds in Terre Haute, Indiana, the event's truck pulling lineage lives on in the form of the prestigious two-day truck and tractor pull sanctioned by the Lucas Oil Pro Pulling League, which remains the biggest draw for Extravaganza-goers.
Of the more than 10,000 fans that pass through the gates, most of them make their way to the oval track grandstand on Friday and Saturday night to take in what is often referred to as the Super Bowl of diesel truck pulling. Heck, even competitors that aren't associated with PPL as a sanctioning body drive hundreds of miles to compete here for a shot at glory. For 2018, some 200 vehicles went on the hook each night, with everything from 800hp pickups to 20,000-pound semis giving the iron sled a 300-foot ride through the dirt. The following recap represents the best photography and the most intriguing stories we were able to glean from this year's show. If you could only attend one truck pull next summer, make sure this is it. Trust us, you won't find this kind of championship-caliber competition anywhere other than the Scheid Diesel Extravaganza.
It's Kind of a Big Deal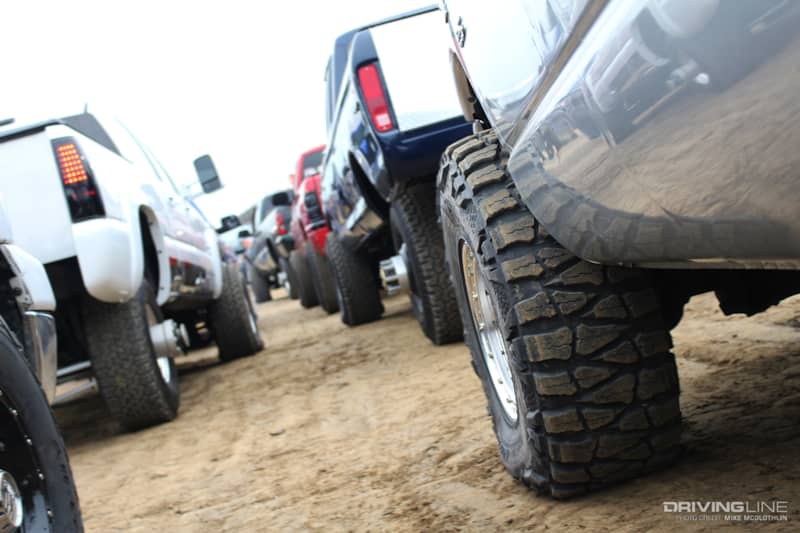 Due to all qualifying rounds being canceled for the Limited Pro Stock and Pro Street diesel truck classes on account of daytime rain, a much larger nighttime pull was on tap in 2018. The end result of the additional 40 trucks meant spectators were treated to an even longer show than normal on both Friday and Saturday, which no one seemed to mind. How does six hours of the baddest trucks and tractors in the land sound?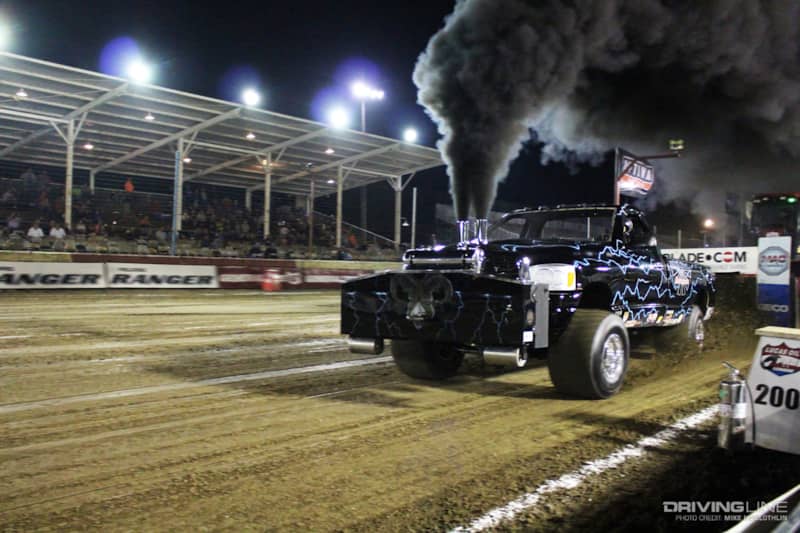 Even though Super Stock competitors Jon Bair and Shane Kellogg drove into the winner's circle on Friday and Saturday nights, Scheid Diesel's Kent Crowder arguably benefitted more during the weekend. Locked into a tight points chase with Cody Hastings' "Against the Grain" Ram, Crowder's 321.91-foot, second place finish on Friday night helped bring him within two points of Hastings' first place position in Pro Pulling League standings. Crowder's fiberglass '09 tilt-body Ram is powered by a Scheid-built, billet-aluminum block Cummins packing three turbos and enough fuel to make more than 3,000hp.
A Different Color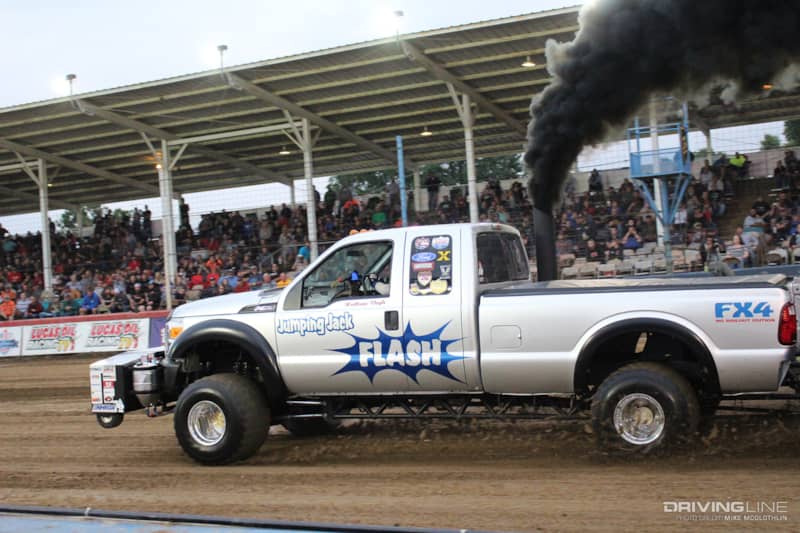 Truck pulling is—and for the most part always has been—a Cummins-dominated world, but that hasn't kept driver Nathan Vegh, his father Ferenc Vegh and builder Will Hardesty from doing something different in the Pro Stock field. Their '16 F-350 is powered by a 7.3L Power Stroke that's been converted to mechanical injection (i.e. P-pumped). Designed, built and dyno-tested in-house at Hypermax Engineering, the turnkey V8 has kept them competitive (and reliable) among a sea of proven, Cummins-powered trucks. Wins have evaded them to date, but it's also their first full year campaigning the truck. If they sustain the dedication they've shown so far, this truck could eventually be one of Pro Stock's front-runners.
Repeat Wins in Pro Stock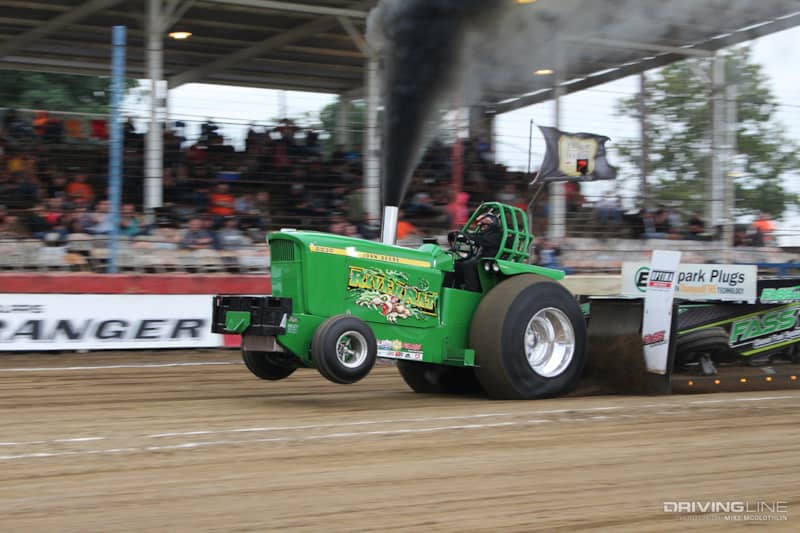 Kevin Masterson proved unbeatable in the Pro Stock tractor class with a first place hook on both Friday and Saturday nights. Aboard his 6030 model John Deere coined "River Rat," Masterson put more than five feet on second place on Friday and edged out Mike Boyd by roughly six inches the following evening. Repeat wins are almost unheard of at this level of competition, so we definitely tip our hats to one of the best drivers (and one of the hottest running tractors) around in tractor pulling.
In the Hunt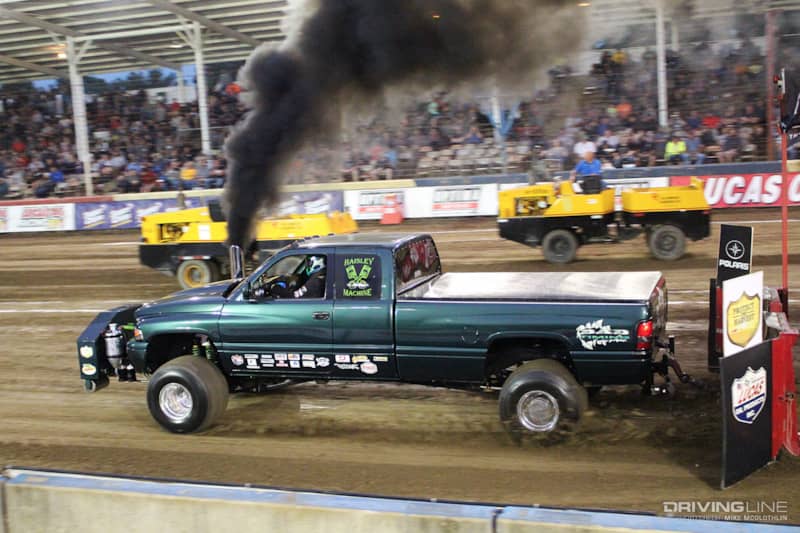 The Pro Stock truck class was chock full of competition, with 32 competitors making the call this year. In this category, competitors are limited to a single, smooth bore turbocharger with a 3.6-inch compressor wheel inducer, yet most engines still crank out somewhere between 1,800 and 1,950hp. After putting together a strong, fifth place pass on Friday night, Andrew Grove and his "Bad Timing" second-gen Dodge clawed their way to within three feet of the win on Saturday, eventually winding up third. That sticker on the rear glass means Grove's truck sports a Haisley Machine engine under the hood—most likely one of the company's tough-as-nails Super B Cummins mills.
Common-Rail's Cummin' Around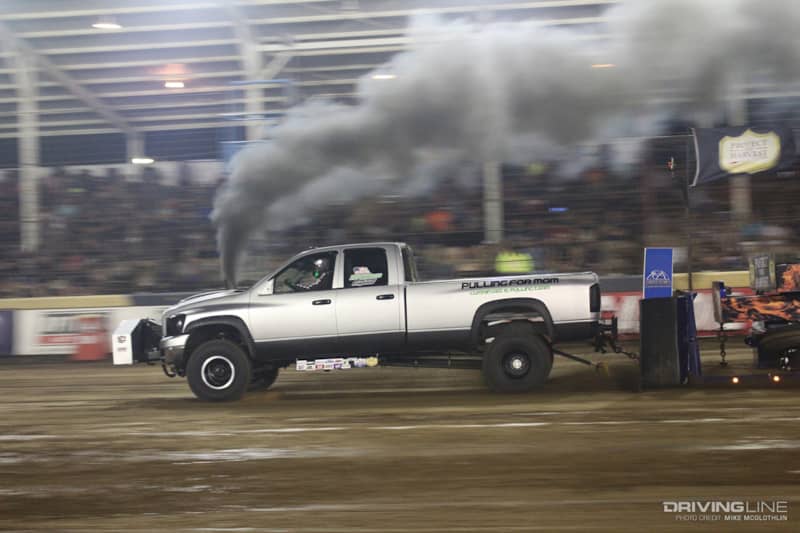 For seasoned veterans, getting the win at Scheid may be considered business as usual. For others, it's a dream come true. Such was the case for Jordan Kinderman and his third-gen Cummins. Pulling competitively for just a handful of years now, Kinderman started out hooking his daily driver, graduated to a 2.5 truck shortly thereafter, followed by bumping up to 2.6 and finally ending up in the current Limited Pro Stock class. He took third during the Friday night show and the overall win on Saturday—and beat out 52 other trucks in the process! On top of all that, he showed that common-rail injection can top the best mechanically-injected (12-valve) trucks in the nation thanks to the 1,300hp+ Freedom Racing Engines-built Cummins under the hood.
Back-to-Back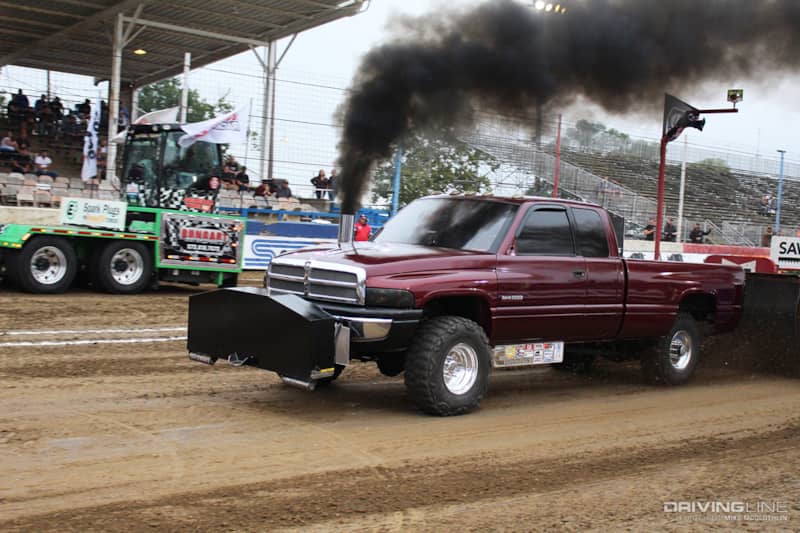 We've already said that it's nearly impossible to score back-to-back wins at the Scheid Diesel Extravaganza, but here we are again. This time, it was Scott Barcus' nasty second-gen Cummins, coined "In-Line Only," making repeat performances in the Pro Street diesel truck class. His Mud Grappler-fitted Dodge ended up three feet ahead of second place on both occasions.
Sling-Shotting to the Front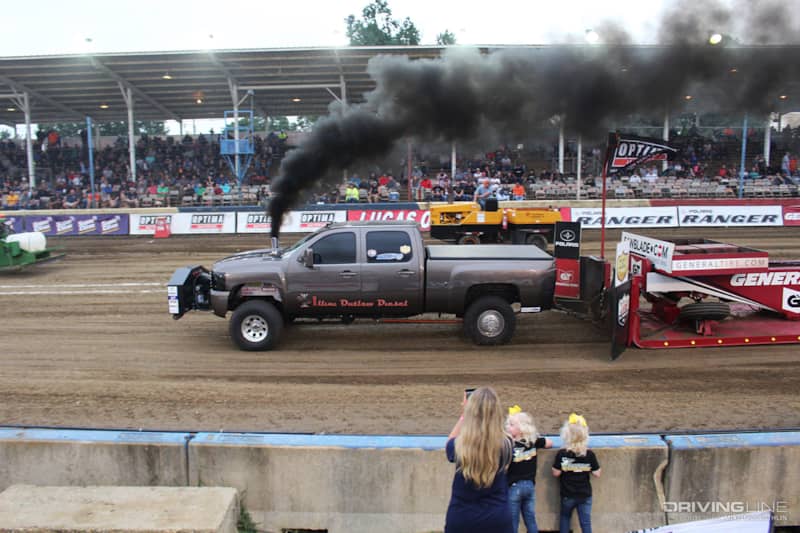 John Thompson's '08 Chevy Silverado 2500 HD has done it all over the years. It's been used (and abused) as a daily driver, farm truck, sled puller, drag racer and sported a handful of setups—ranging from 600hp to 1,100hp—before being converted into the 850hp Pro Street rig it is today. The built LMM Duramax under the hood makes use of a 2.6-inch smooth bore turbocharger, 250-percent over injectors, dual CP3s and is backed by a three-speed, cut-gear NV4500 with a Molinari Racing clutch. After a mid-pack finish of 11th place on Friday, Thompson made a few changes before Saturday night's showdown and wound up in third. With the late model Bow Tie seemingly always a work in progress, Thompson fittingly named the truck "Never Satisfied."
On Any Given Night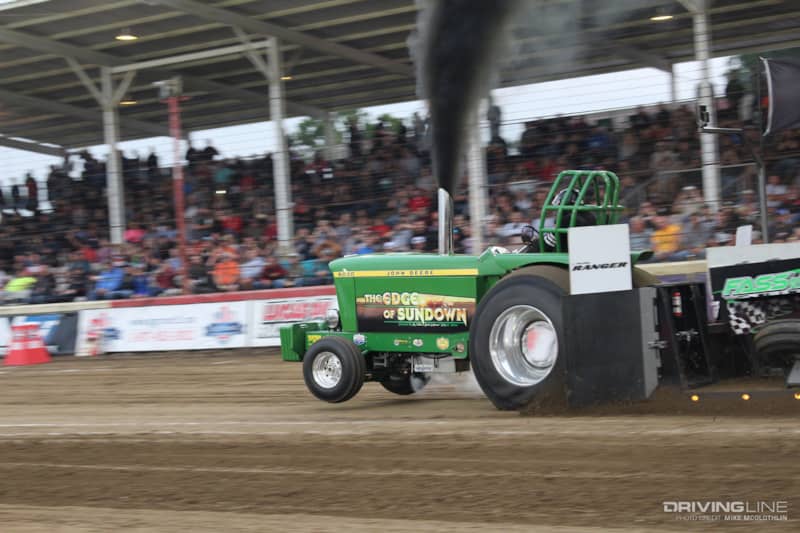 It was a good start to the weekend for Allen LeGrand's "Edge of Sundown" Pro Stock John Deere, as his 6030 stormed to a 316-foot, second place finish on Friday. Unfortunately, the veteran tractor puller wouldn't fair as well the following evening, ending up 14th in a field of 18. It's proof that anything can happen in the Pro Stock tractor class, where the competition is often so close that just a few feet separate first through 10th place.
Pro Street Power Stroke
Driving the late Morgan Primm's '11 F-350 (dubbed "It Is What It Is"), Patrick Marler proved a Power Stroke-equipped Ford could hold its own in the Pro Street diesel truck class. Up against the strongest-running 2.6 smooth bore Cummins and Duramax pickups in the nation, Marler drove the 6.7L Super Duty to a ninth place finish on Friday and a very respectable fifth place the following evening.
The Perfect Pull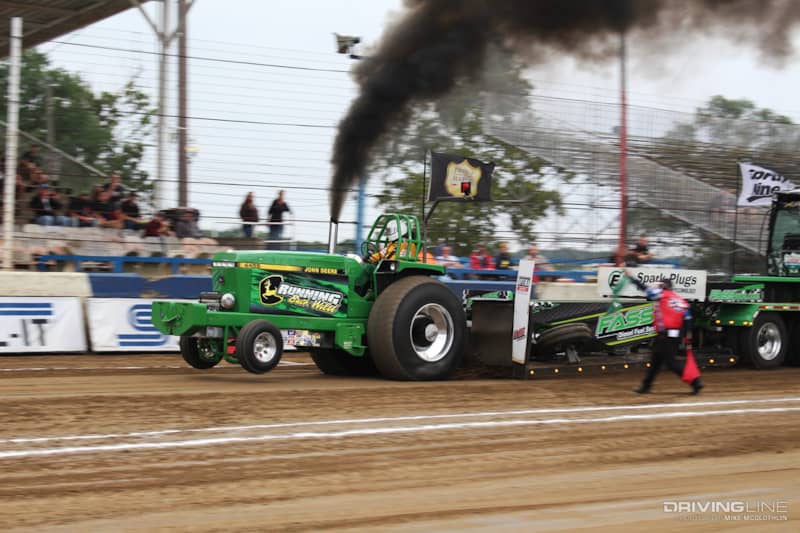 The Pro Pulling League's 9,300-pound Super Farm tractor class was held as part of Friday's show, with second through fifth place separated by just two feet. However, nearly eight feet in front of everyone else was Andy Schwenk's 4455 John Deere, thanks to a smooth-yet-fast, textbook-style pass down the track. The Super Farms observe a 2.75 x 3.5-inch turbo rule (map grooves allowed), an OE housing P-pump and adhere to a 640 ci maximum engine displacement.
Hot-Rod Semis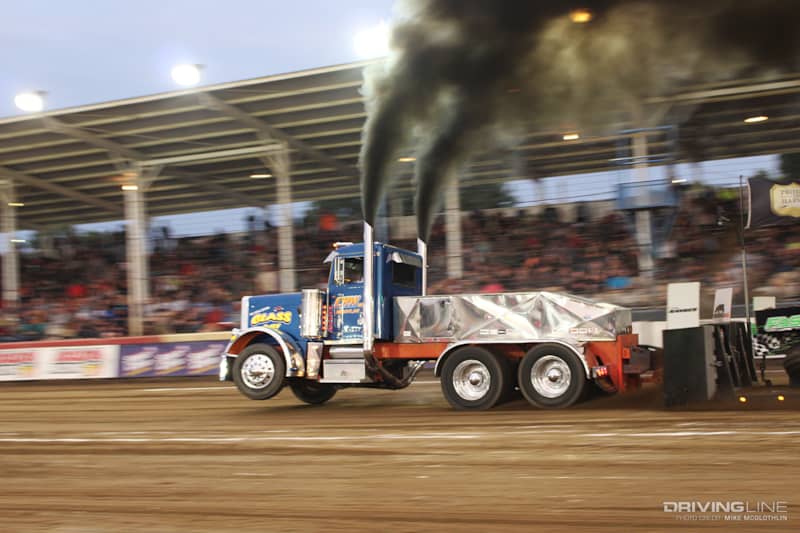 Who doesn't like a wheels-up semi? The Hot-Rod Semi class never seems to disappoint at the Scheid show. These 10-ton, DOT-tired big-rigs are known to carry at least one front wheel off the ground the entire length of the track. Above, Joe Hoffa navigates his frame-twisting Peterbilt to a 331.38-foot, first place effort.
11th to First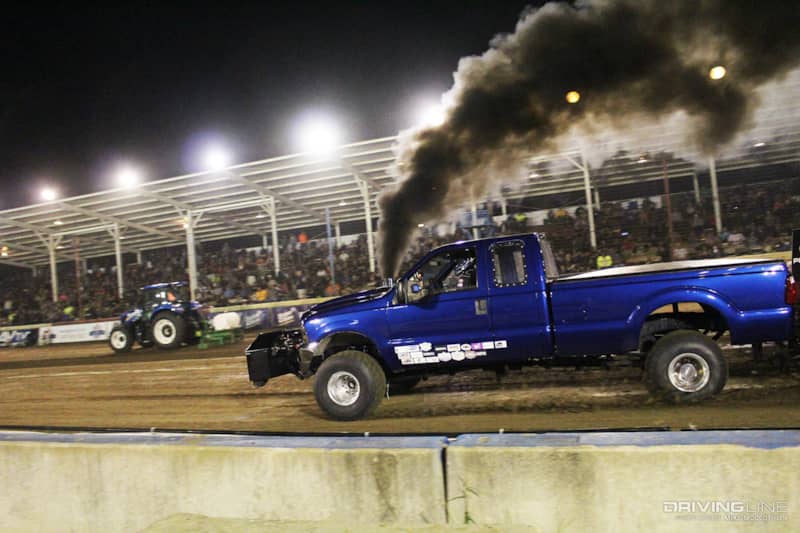 Another competitor that seemed to figure something out between the first and second night of pulling was James Barder and his Pro Stock Ford. After finishing outside the top ten on Friday, the Cummins-powered Super Duty lugged the sled ten feet farther on night number two, taking home the win.
A Tightly Packed Field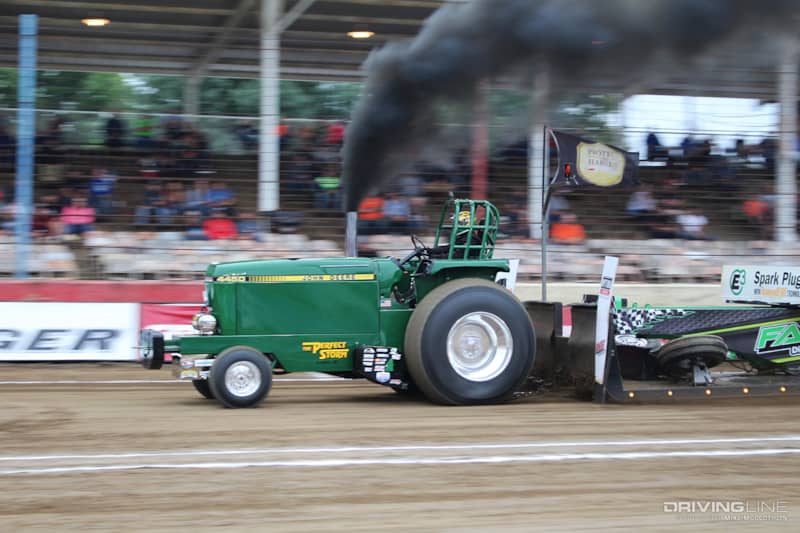 With every tractor making it past the 300-foot mark but one, the Super Farm class was exciting to watch. Above, Michael Snepp's "Perfect Storm" John Deere picks up speed in route to a 327.18-foot, third place effort.
Fast and Furious: The Tractor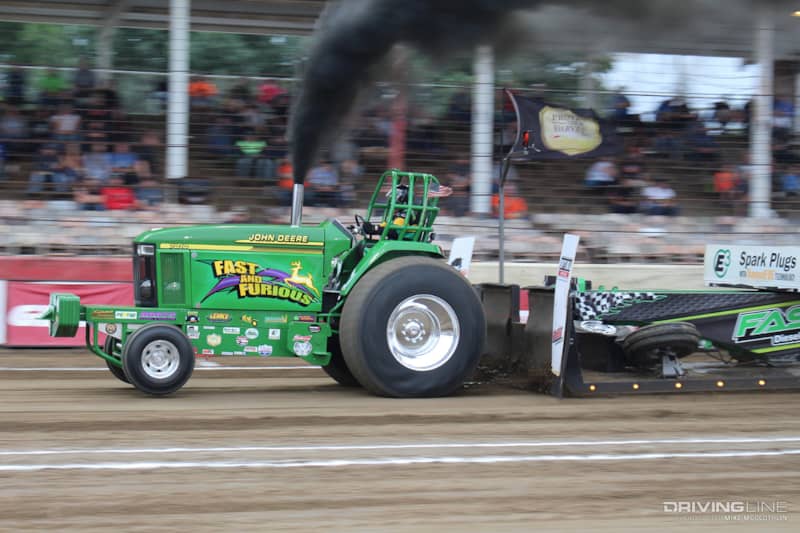 Just two feet behind Snepp's podium finish, Don Slama turned in a 325-foot ride aboard his 7810 model John Deere. The fifth place in Terre Haute helped keep Slama third in Super Farm points for the season.
Want to know more about these impressive Pro Stock Tractors? We have a detailed breakdown on the 3,000hp wheelie machines.