What You Need To Know Before Leveling Your Truck
A leveling kit is often the first mod a truck owner makes. Whether it's to rid their ride of the factory "raked" look, to clear larger wheels and tires or to counter the droop that resulted from the addition of a snowplow, an extra couple inches of front ride height make it onto tens of thousands of pickup trucks every year. For some, it's for all of those reasons, but for most it's purely cosmetic. A truck that sits perfectly horizontal from front to back satisfies the appearance preference many of us have. And then, of course, the larger tires (which are often mounted on aftermarket wheels) we're able to run as a result of the leveling kit helps quench our appetite to boost our baby's curb appeal.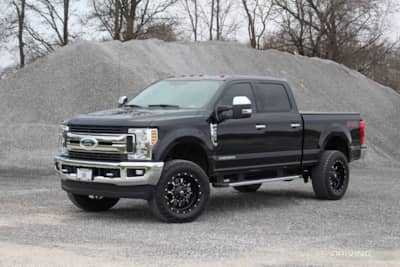 But with a sea of options available for every late-model pickup under the sun, which type of leveling kit is right for you? And how much front-end height do you need to gain? This time, we're covering everything from coil spring spacers to strut extensions. From budget-friendly to top-of-the-line, and solid axle to IFS applications, there is a leveling kit that's right for you.
What Is A Leveling Kit?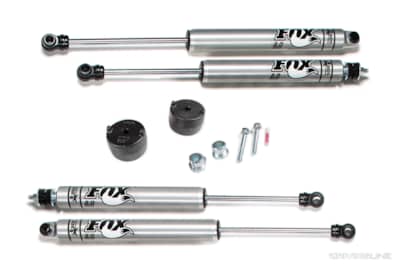 So what exactly is a leveling kit? It's a method of raising the front-end of a vehicle (often a 4x4 truck) to match the rear ride height, thereby eliminating the factory rake. For many, the look of a truck that sits level is a mandatory requirement. An added benefit is that a leveling kit allows a truck owner to run larger wheels and tires, another common must-have for pickup enthusiasts. For these reasons—along with their attractive pricing and ease of install—leveling kits are immensely popular. Across the board, from compact to heavy-duty trucks, they're a hit. A 2-inch leveling kit for an '05-'07 Super Duty from BDS Suspension is shown above.
Killing The Rake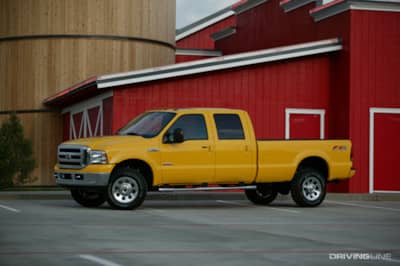 From the factory, all pickup trucks feature a downward rake, where the rear suspension makes the rear of the truck sit higher than the front when unladen. But why? For several reasons, but primarily because most trucks are designed to tow heavy loads and oftentimes haul two tons or more in the bed. The rake is there so the truck's steering and braking performance remains safe when towing or hauling. And, believe it or not, the factory rake is also present because it aids the aerodynamics of the truck. Even for pickup trucks, maximizing fuel economy is a big deal. As you might've already deduced, leveling your truck will be detrimental to your truck's fuel efficiency.
Accommodating Larger Tires Without Sacrificing Turning Radius
One of the biggest benefits of adding a leveling kit to your truck is that it provides ample clearance to run considerably larger (in terms of both diameter and width) tires. Thanks to the installation of a Ready Lift 2.5-inch leveling kit on this '18 F-250, a set of 35x12.50R20 Nitto Terra Grappler G2 all-terrains (mounted on 20x10-inch Fuel Off Road Krank wheels with a -12mm offset and 5.0-inch backspacing) have zero rubbing issues, even during lock-to-lock steering scenarios. Of course, the 35's and the matte black wheels significantly improved the truck's exterior appearance as well, a win-win for the owner.
Fighting Snow Plow Sag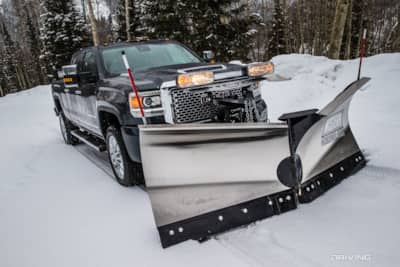 For all the winter workhorses out there, a leveling kit has an advantage that's unbeknownst to many. On trucks fitted with snow plows, a leveling kit can help restore some of the front ride height you lose when you install a plow—even on truck's that were factory-ordered with the manufacturer's snow plow prep package. Snow plows for pickup trucks can weigh more than 1,200 pounds, enough to sag trucks that've been spec'd with the stiffest factory suspension an OEM offers. Even a leveling kit with minimal lift will reduce the amount of front suspension sag you see when you mount up.
Coil Spring Spacers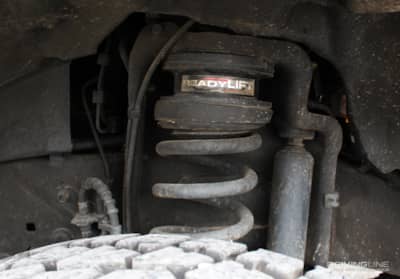 For trucks with solid axle, coil sprung front suspension systems, coil spring spacers are a common, highly affordable way to raise the front-end. By adding a spacer either at the top or bottom of the coil spring seats, the body of the vehicle is raised. If you're on a tight budget and need to be able to clear bigger wheels and tires this is the way to go, as most coil spring leveling kits range from $200 to $400. Just make sure the spacers come with shock extensions (or brand-new, longer shocks). This method of leveling a truck usually results in preserving the factory ride quality. Full disclosure: you're only gaining height here. You're not gaining suspension travel.
Torsion Keys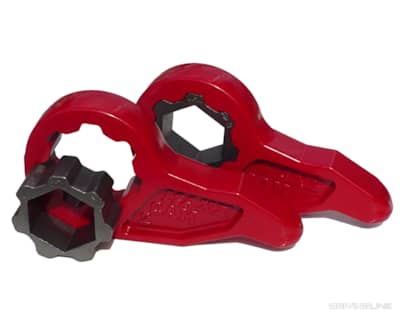 On trucks that employ a torsion bar suspension system, such as the IFS-equipped Chevrolet Silverado 2500/3500 and GMC Sierra 2500/3500 HD's, a level ride is achieved through the installation of different torsion keys. By changing the clock position of the torsion bar, aftermarket torsion bar keys can raise the front suspension a predetermined amount. And in the case of the MaxxCam 2 HD forged keys shown from Suspension Maxx, seven incremental height adjustments are on the table thanks to a proprietary internal gear adjustment mechanism. These keys provide 1-inch to 2.5-inches of additional ride height, but can be fine-tuned to obtain the exact height you're after.
Strut Spacers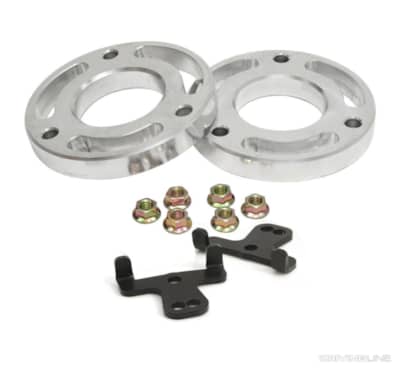 Strut extension type leveling kits are used on trucks with coilover strut front suspension systems. Similar to coil spring spacers, they simply install on the top (or bottom) of the factory strut and can raise the front ride height by as much as 3-inches. There is no need to buy replacement struts. Some strut spacer leveling kits even integrate seamlessly with GM's adaptive ride control (ARC), such as the one shown above from Ready Lift which is produced for '19-'23 GMC Denali and Silverado High Country 1500's. This specific system allows for a 33x11.50R20 tires mounted on a 20x9-inch, 0 offset wheels to be run without clearance issues.
Life After The Leveling Kit Install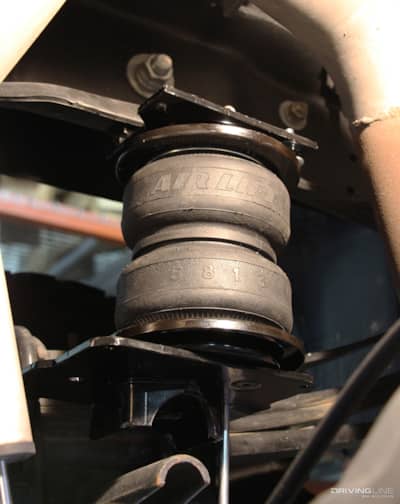 As you may have already figured out, with the factory rake gone thanks to installing a leveling kit a heavy trailer or payload could cause the truck to squat. In this scenario, many truck owners opt for air springs (i.e. air helper springs). These all-inclusive aftermarket systems revolve around the use of rubber air springs and are highly effective at load leveling. They typically operate between 5 and 100 psi and run from $400 to $700, depending on your specific application.
More From

Driving Line
If you're going bigger than 35-inch tread on a late-model Super Duty you're going to need more than a leveling kit—Find out exactly what you'll need to super-size your '17-newer Ford right here.