Where the JDM Classics Meet in Japan: JCCA New Year Meeting
The Japanese Classic Car Association gatherings are the place to see fully restored versions of vintage vehicles in Japan. Each year kicks off with the JCCA New Year Meeting, which, despite the unusually cold weather this year, saw a healthy turnout of classics and attendees. As you'd expect, the majority of cars on display were Japanese, a few European classics made their presence known as well.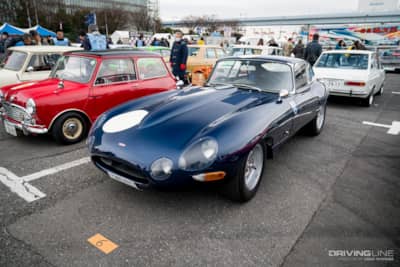 While we enjoy seeing custom classics too, like the Nostalgic2Days event, one can't help but be impressed by taking a step back in automotive history with these beautiful examples. 
Browse through the JCCA show in the gallery above or read on for our cream of the crop picks.
Levin or Trueno
"Levin or Trueno?" It's an age old question that started long before Initial D and the battle to see who could outrun the tofu delivery guy. A perfect example of this early battle was on display with this pair, which, just like their more contemporary siblings, are more about styling differences than anything else. With variations in both front and rear lights, these later versions of the second-generation Levin and Trueno are a perfect example of why there is no clear favorite.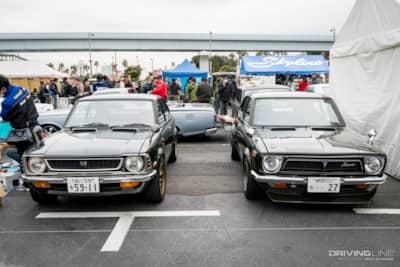 Datsun B110
There were plenty of Datsuns on hand, including the legendary Fairlady and the 510. However, we were feeling the Datsun B110s, and this one really caught our attention. This B110 just happens to be a Nissan Sunny B110, and unlike a lot of the other restored B110s or race-prepped versions, this one still has the appearance of being daily driven with a comfortable interior and mild fender flares with a set of classic Speed Star Racing FLII wheels.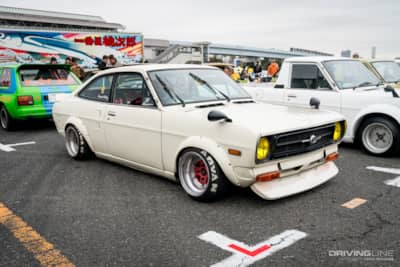 The Bubble Car
While not Japanese in origin, these FMR Tg500s seem very well suited for Japan's small streets. With a history in aeronautics, the influence can be seen in the Tg500. With only 320 produced, we consider it a privilege to get to see not just one, but two up close and personal.
Mazda Cosmo
You can't talk about Mazda history without mentioning the Wankel engine. One of the first cars to be produced with the Wankel engine, the Cosmo is the predecessor to the beloved RX-7 and even the RX-8. Recent sales put these cars in the $100,000 to $200,000 price range—so if you want your own, it may empty your bank account but is still accessible... unlike our next cars.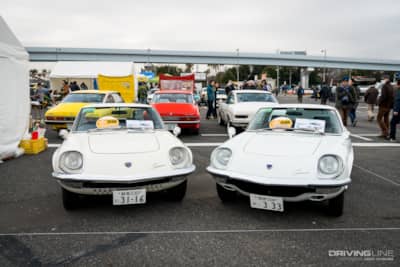 Million Dollar Babies
Many of us have never seen a million dollars, except for in movies—so, when we came across three million dollars, our jaws dropped. Although there were a couple of replicas at JCCA, there were in fact three pristine Toyota 2000GTs, each potentially valued at one million dollars each. What makes these cars special? With only 351 hand-made 2000GTs ever produced, combined with their movie-worthy sleek design (featured in the James Bond movie, "You Only Live Twice") these cars are highly prized. Even rarer are the left-hand drive versions—just 62 were built for the U.S. and their value increased immediately, with more recent sales breaking the one million dollar mark.
How About Some Outlaws?
In the nearby parking lot, one can also experience a slightly different style of Japanese classic cars. Calling them "outlaws" might be a bit of an extreme classification, but back in the late '70s and early '80s these cars and their owners were definitely the bad-boys (and girls) on the street. The exposed oil coolers, extended body work and crazy exhaust pipes are just a few signature characteristics of these cars, but we were impressed with the quality and upkeep that many of the builds showed off.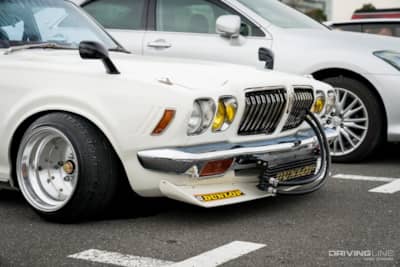 Make sure to check out the gallery above to see more from the JCCA show and lot.