Why Ford's ST SUV Experience Is The Ultimate Reward For Buying A Car
When Ford developed the Explorer ST, the Dearborn-based automaker engineered loads of performance and state-of-the-art driver assist features into its three-row, family SUV. Its twin-turbo, 400hp engine, enhanced suspension and optional larger brakes are specifically designed for quick acceleration, corner-carving and increased stopping power. Its active park assist, intelligent adaptive cruise control and pre-collision assist features are there to make your time behind the wheel as safe as possible. But while the overall package that is an Explorer ST is impressive in and of itself, there is an after-sale bonus that is more than just icing on the cake.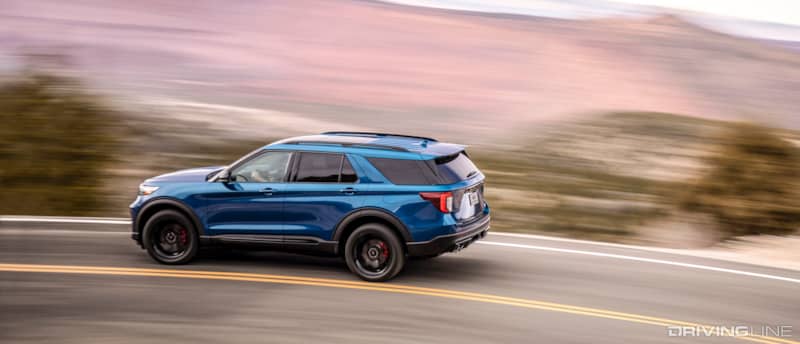 It's called the ST SUV Experience, and when you purchase a new Explorer ST Ford invites you to join a group of its Ford Performance Racing School instructors for a fun-filled day of learning about and testing the limits of its performance SUV. The experience is held in two locations, Asheville, North Carolina and Park City, Utah, and Ford provides you (and one guest) a one-night hotel accommodation, three meals and—most importantly—your very own Explorer ST to pilot. Back in June, we were a party to Ford's eastern ST SUV Experience, and it was an undertaking we won't soon forget.
Rain Or Shine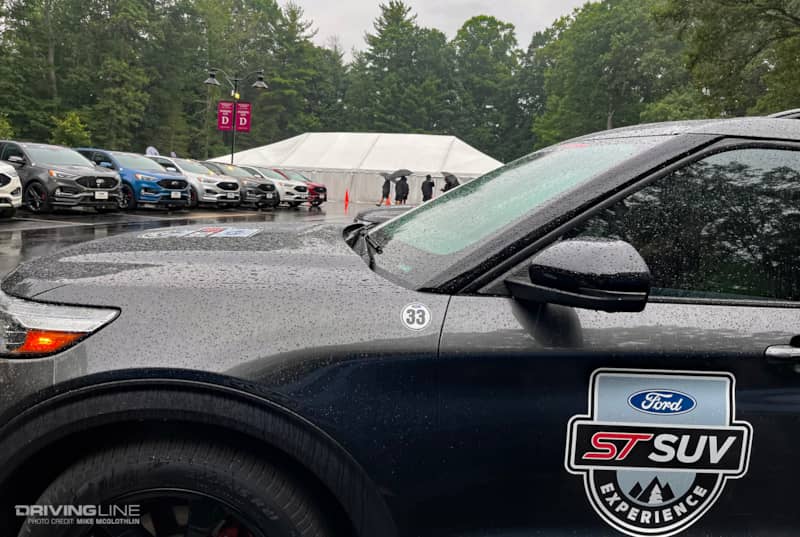 A trip to Ford's Performance Racing School awaits everyone who buys a new Explorer ST or Edge ST. Obviously attendance isn't mandatory, but for any automotive enthusiast it's worth taking advantage of. As we quickly discovered, the ST SUV Experience is a rain or shine affair. But while Mother Nature made an appearance during our program, it only consisted of a mild, mid-to-late morning shower. Before lunch—and right when we needed it to—the sky cleared up and the sun came out to dry up the test grounds. This would come in handy during the braking and autocross events.
Self-Parking & Evasive Braking Maneuver
The day of our Experience, there were 16 vehicles in the group. We were tossed the keys to an Atlas Blue unit equipped with Ford's equipment group 401A (adaptive cruise control, touchscreen navigation, 21-inch ST Street Pack wheels, etc.). In this photo, a portion of the group partakes in the active park assist simulation, where the Explorer ST essentially parallel parks itself. If you've not been around any self-driving cars (as is the case for yours truly), this was an eye-opening display to witness. After that, each driver and guest participated in the evasive braking maneuver. The test simulates (using cones) a tractor trailer all-of-a-sudden occupying your lane, forcing you to quickly maneuver around it and come to a complete stop.
Autocross Course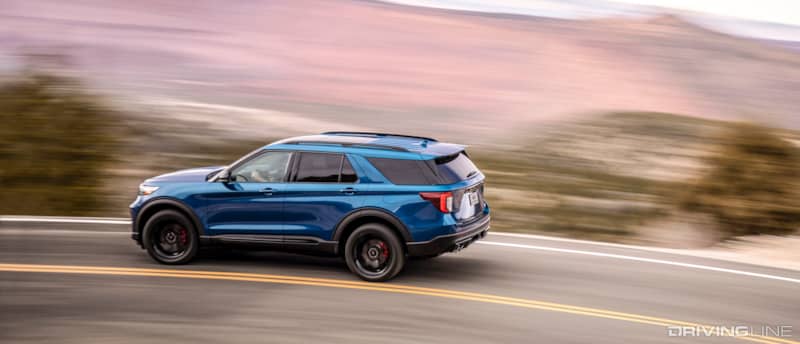 For the ultimate test of driver skill, each driver and guest participated in a friendly autocross competition. The course is configured to showcase how effectively the Explorer ST can accelerate, corner and stop, and all attempts are timed. Yours truly scored the third quickest time (of 32 drivers) during practice time trials…then promptly blew it in the final round with a rookie mistake. Of course, the instructors—many of which have veteran racing experience—could complete the autocross course in quicker, cooler fashion—and we were privy to watching one of them tear up the track several seconds faster than the fastest driver in our group. For many invitees, the autocross portion was the highlight of the day.
Drive Mode Tutorial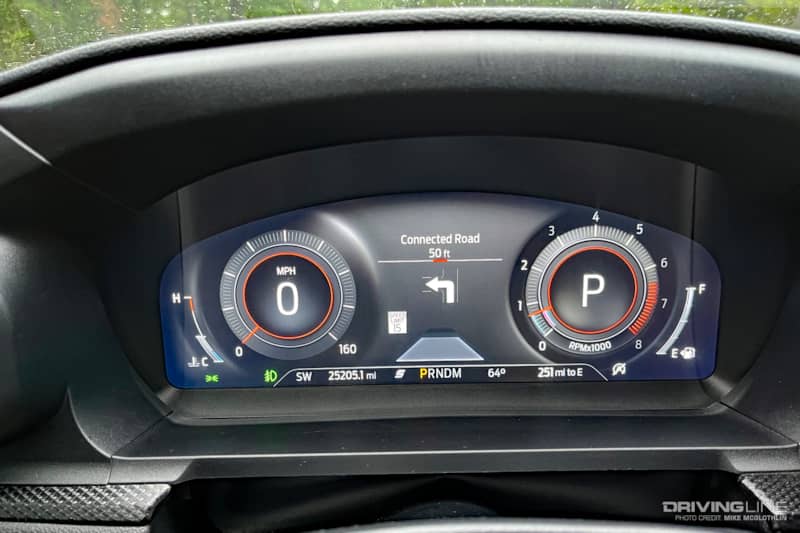 By far, Ford's Explorer ST is most exciting to drive when operated in Sport mode—and that's exactly where we left the dial for 95-percent of the experience. However, our instructor (heard audibly via CB radio) walked us through (and asked participants to switch over to) the SUV's various drive modes throughout the day. This is a great way to learn the different calibrations of the Explorer ST from the engineers who helped create them. By the end of the program, plenty of students discovered technology they didn't even know their Explorer had. We also learned that the 9 and 3 o'clock position is the preferred technique in auto racing today (not the 10 and 3 you might've been taught in Driver's Ed).
Pre-Collision Assist Test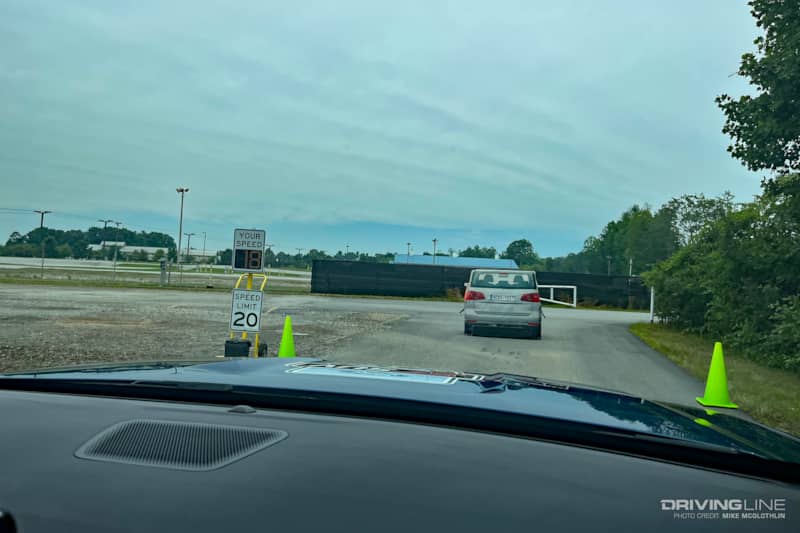 To our knowledge, Ford's pre-collison assist feature comes standard on all Explorer ST's (if not every model of Explorer). It's a safety measure that employs automatic emergency braking when all conditions are met, and Ford runs an exhibition at the ST SUV Experience to show you just how effective this technology is. Parameters for the test include getting the Explorer ST up to 20 mph, letting off the accelerator and refraining from tapping the brake pedal. You simply allow the vehicle to coast, seemingly right into the back of the makeshift car present in front of you. The simulation is a bit nerve-racking at first, but the Explorer senses the approaching vehicle and firmly (yet smoothly) applies the brakes automatically, stopping just short of the other car. FYI: In the real-world, any steering inputs or brake pedal usage aborts the pre-collision assist feature, so be careful out there!
Select Giveaways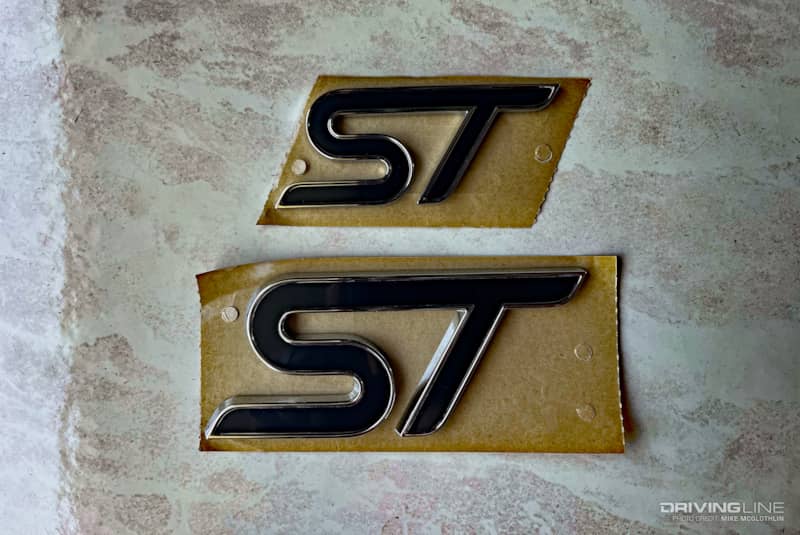 Upon arriving at the ST SUV Experience, you're given a few choice gifts that are exclusive to event attendees. Among them is a special ST SUV Experience backpack, a portable wireless iPhone charger with an adhered image of an Explorer ST grille and these custom ST badges. The blacked-out badges are direct replacements for the factory red units present on the grille and rear hatch. Adding them to your own ST signifies that you attended the Ford Performance Racing School for the ST SUV Experience. It's also worth noting that every Explorer ST in the school's fleet wears these badges.
Obligatory Biltmore Shot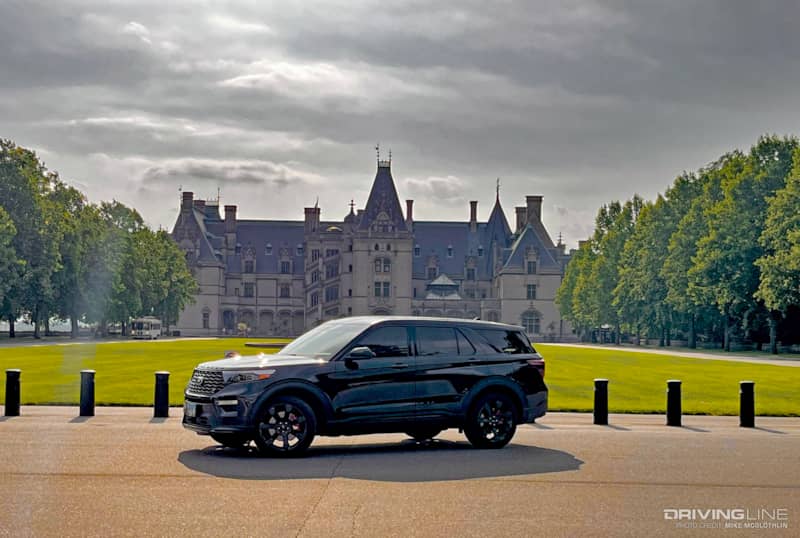 In Asheville, Ford puts you up at the Biltmore Estate, and an unwritten rule of attending the North Carolina ST SUV Experience is to take a picture of your Explorer ST (should you bring it) in front of the Biltmore house. As the largest privately owned home in America, the 175,000 square foot, 19th century mansion is the primary attraction on the 8,000 acres that make up the historic grounds of the estate. A free guided tour of the 250-room Biltmore chateau is part of the ST SUV Experience package.
The Perfect Performance SUV Platform?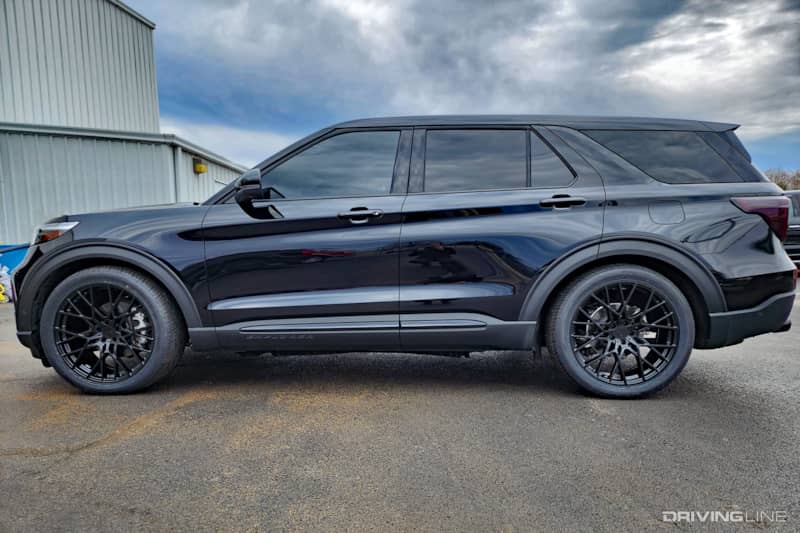 One thing that became abundantly clear during the ST SUV Experience was just how capable these SUV's are. Right off the showroom floor, they can click off 13-second quarter-miles, slice up a road course with ease and stop on a dime. In the hands of an enthusiast, wheel and tire upgrades, lowering springs, aftermarket sway bars and bolt-on horsepower adders only help to further capitalize on the gift the factory gives you. Stock or modified, Ford builds what is arguably the most performance-friendly SUV ever produced, hence the Explorer ST's immense popularity at the present time.
More From

Driving Line
Instant throttle response and an optimized shift schedule are just a few of the perks Ford's Sport drive mode provides, but there are others—and each one of them serves a specific purpose. Learn more about FoMoCo's late-model driving systems right here.