3 Million Engines And Counting: The Cummins-Ram Partnership 33 Years In The Making
Three million engines is a very big number, and it's even bigger now… Back in September of 2019 Cummins celebrated engine number 3,000,000—along with 30 years of producing diesel engines for Ram trucks—at the Cummins Mid-range Engine Plant (CMEP) in Columbus, Indiana. At the time, an all-new high output 6.7L Cummins capable of producing a segment-leading 1,000 lb-ft of torque had made Ram Trucks king of the hill once again. Since then, that same new and improved I-6 diesel has been made even better by reverting back to the tried and true CP3 high-pressure fuel pump employed on earlier engines.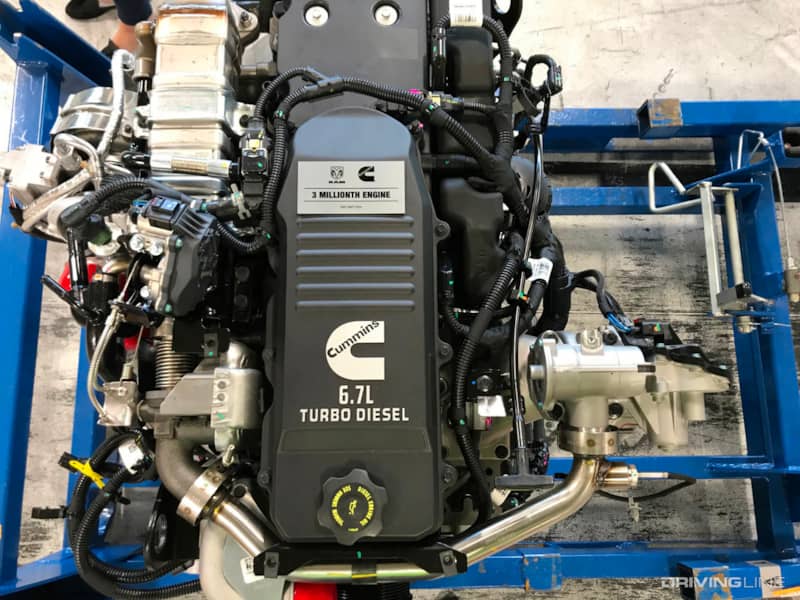 But before all that, Cummins and Ram (Dodge back in those days, actually) set a new standard for diesel-powered pickup trucks with the release of the 5.9L 6BT in 1989. Then they brought us the "P-pump," a game-changing body redesign and then proceeded to ignite the torque wars in the mid '90s. Over the past three decades, they've perpetually answered the call anytime Ford and GM have decided to increase their torque ratings and guess what? They're currently at the top of the heap again. Throughout the past 33 years, the Cummins-Ram partnership has been unbelievably successful, and the following highlight reel illustrates why.
Mild By Today's Standards, Groundbreaking At The Time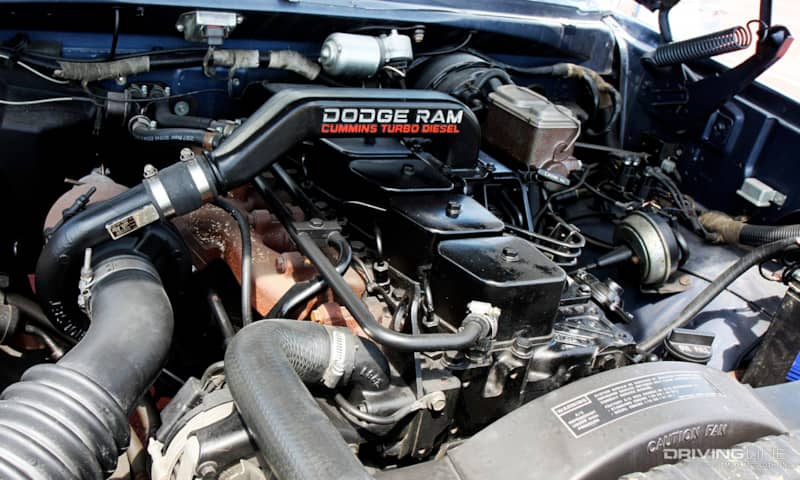 While the Ram brand has the popular Hemi gasoline V-8 as well as the 6.7L Cummins at its disposal today, rumor has it that Dodge's truck line was in its death throes in the late 1980s. The alliance with Cummins provided an immediate shot in the arm and Cummins-equipped ¾-ton and 1-ton truck sales took off so fast that Chrysler had to stop taking orders from its dealerships. The engine that made it all possible was the 160hp 6BT 5.9L Cummins, which turned out 400 lb-ft of torque—a number that beat what Ford's International-sourced 7.3L V-8 diesel produced (338 lb-ft) and dwarfed what GM's 6.2L V-8 diesel turned out (240 lb-ft). On top of that, the Cummins brought direct injection technology to the diesel pickup segment, as well as turbocharging.
The Torque Wars Commence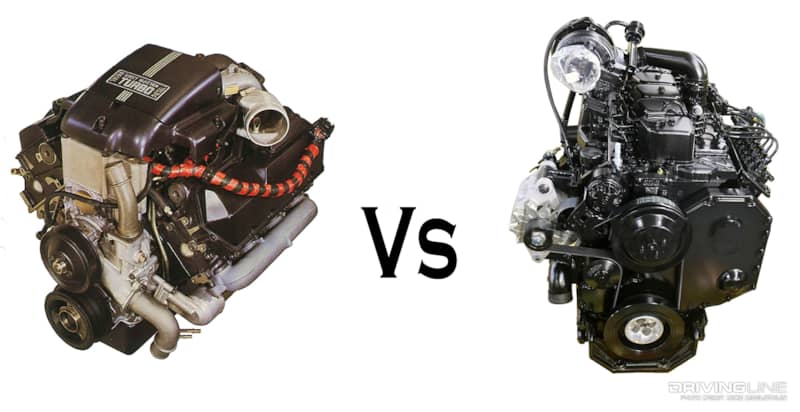 Rivaling the bombshell news that was a turbocharged and direct injected diesel engine (which also happened to outperform the competition's larger V-8s), Dodge redesigned its trucks for the '94 model year. They sold like hot cakes and even outsold GM trucks for a period that year. And while the 5.9L Cummins under the hood of 2500 and 3500 models seemed unchanged to many, there was one striking difference from the first-gen engine bay: a P-pump. With a Bosch P7100 inline pump hanging off the side of the Cummins, near-endless performance potential could be unlocked at any time. In factory form, and when coupled to the five-speed NV4500 manual transmission, Ram owners got the more powerful version of the 5.9L Cummins, which produced 420 lb-ft of torque. Then after being bested by Ford's Navistar-built, 425 lb-ft 7.3L Power Stroke in mid '94, Dodge and Cummins shot back by bumping up the 5.9L's torque to 440 lb-ft in 1996.
First To 600 LB-FT Of Torque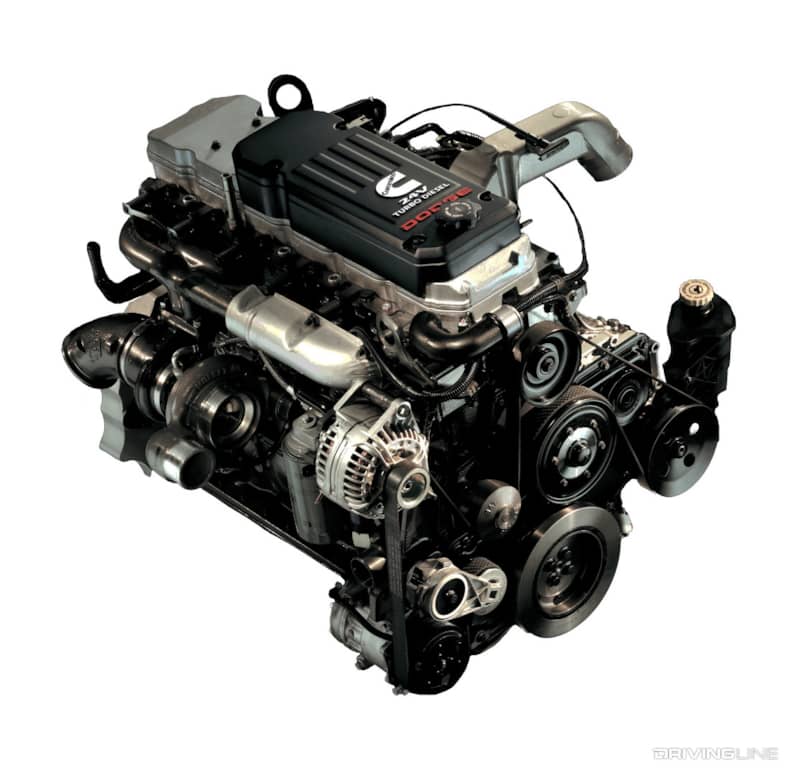 The battle for best-in-class torque became a three-horse race when GM's Duramax entered the picture in 2001, but Dodge and Cummins had an answer for both the General's 6.6L V-8 and Ford's brand-new 6.0L Power Stroke in 2003. After the introduction of the common-rail 5.9L Cummins, its torque rating increased to a class-leading 600 lb-ft of torque by '04 (this engine is also referred to as the "Cummins 600"). Then, in conjunction with a new turbocharger, injectors and pistons, torque output swelled again on the '04.5 version of the 5.9L, this time to 610 lb-ft.
Cummins Number 2 Million (2012)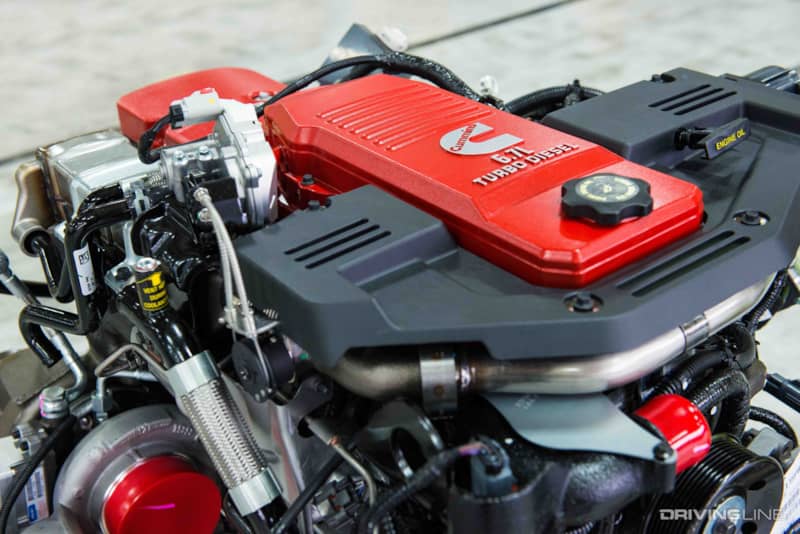 With the take-rate on the Cummins engine being so high for Ram's 2500 and larger trucks, it didn't take long for Cummins to surpass 1 million engines supplied to the automaker. Then in December of 2012, engine number 2 million made its way through CMEP's assembly line. By this time (and since mid-2007), the 5.9L had been replaced with the more emissions-friendly 6.7L Cummins, an inline-six with a bigger bore and longer stroke (4.21" x 4.88" vs. 4.02" x 4.72"). Engine number 2 million, a 350 hp version rated at 800 lb-ft, received a bright red valve cover to signify the milestone. But unlike engine number 3 million, this Cummins never made it into a truck. Instead, the engine went on tour and traveled around the country to further promote Cummins and the Ram Truck brand.
The Redesigned, 1,000 LB-FT 6.7L Cummins (2019)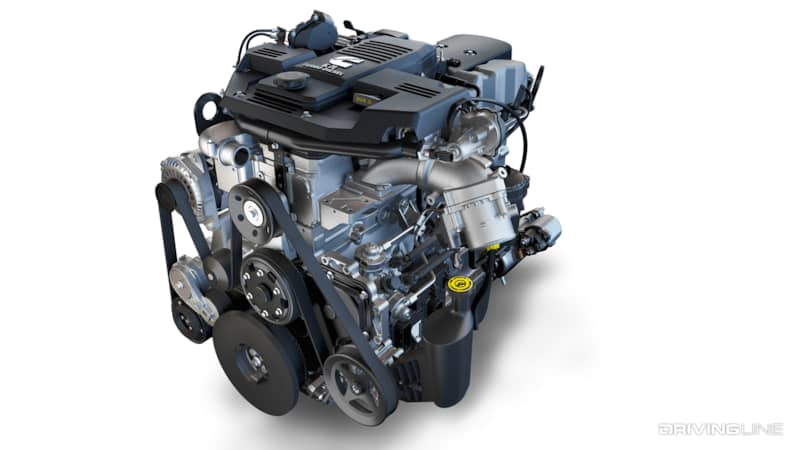 Before its 3 millionth engine was on the horizon, Cummins revolutionized the diesel pickup world in early 2019 with the redesigned 6.7L. Presumably revamped to hold up to the stresses that come with 1,000 lb-ft of torque, the new, high output Cummins was based on a stronger, lighter block made from compacted graphite iron (CGI) rather than gray iron. It also featured stronger, forged-steel connecting rods and lighter cast-aluminum pistons that made use of low-friction rings and larger diameter wrist pins. In January of 2019 Ram broke the news that the H.O. 6.7L Cummins destined for '19 model year 3500 series trucks was the first diesel in the pickup segment to reach the 1,000 lb-ft mark.
3 Millionth Cummins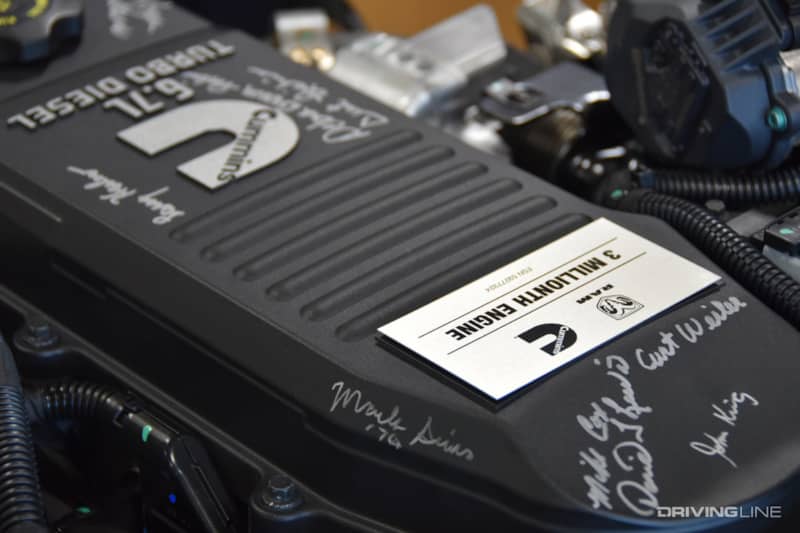 Coincidentally, production of engine number 3 million occurred almost exactly 30 years after Cummins and Ram joined forces. Both milestones were celebrated in September of 2019. As a special memento for the owner of the 3 millionth Cummins produced, 20 Cummins employees—who were on the line back in 1989 and still worked for the company in 2019—were invited to sign the engine's vanity cover. Reportedly, lucky number 3 million went into a Ram 3500 dually and is currently being worked on a farm. How fitting.
Current Situation: 1,075 LB-FT And Rock-Solid Reliability
Since celebrating 3 million engines and 30 years in business with Ram, Cummins has returned the common-rail 6.7L to a CP3 high-pressure fuel pump. After switching to the Bosch CP4.2 high-pressure fuel pump for '19 and '20 engines and experiencing the types of failures this pump is notorious for, Ram and Cummins reverted back to the Bosch CP3—a pump with a sound track record for reliability and that had been employed on both the 5.9L common-rail and 6.7L from '03 to '18. On top of this welcomed high-pressure fuel pump change, Ram and Cummins upped the ante once more in an effort to outflank Ford for the top spot on Torque Mountain. Following FoMoCo's press release that the 2020 model year 6.7L Power Stroke would produce 475 hp and 1,050 lb-ft of torque, Ram responded with a 1,075 lb-ft version of the high output 6.7L Cummins, available for the 2021 model year.
Cummins Ownership Is A Lifestyle
It's no secret that Ram owners are proud of their Cummins power plants. In fact it's why many of them bought their trucks. It's also no secret that Cummins fans enjoy their engine's ability to handle substantial horsepower and torque increases with minimal upgrades. In this example, a 6.7L-equipped 2012 model Ram 2500 has been treated to turbo, tuning and fueling changes and makes an ultra-reliable, dyno-verified 570 hp and 1,165 lb-ft of torque as a result. In more extreme applications, the 6.7L Cummins' block is employed (though highly modified) in engines capable of making more than 3,500 hp!
More From

Driving Line
The Torque Wars are a real thing, trust us! Our "

Back In Time

" series tracks all the major moves in the diesel pickup segment over the past 30 years.