Bombshell: An International Harvester Restomod Goes to SEMA
If Batman was a truck guy, I'm sure he'd own one similar to this International Harvester cabover built by Elvis Kerns in his backyard shop in Mulberry, Florida. Batman's would have weapons and computers in it, of course, but Bombshell, as Elvis dubbed this vehicle, doesn't lack for modern technology beneath its customized classic visage, either.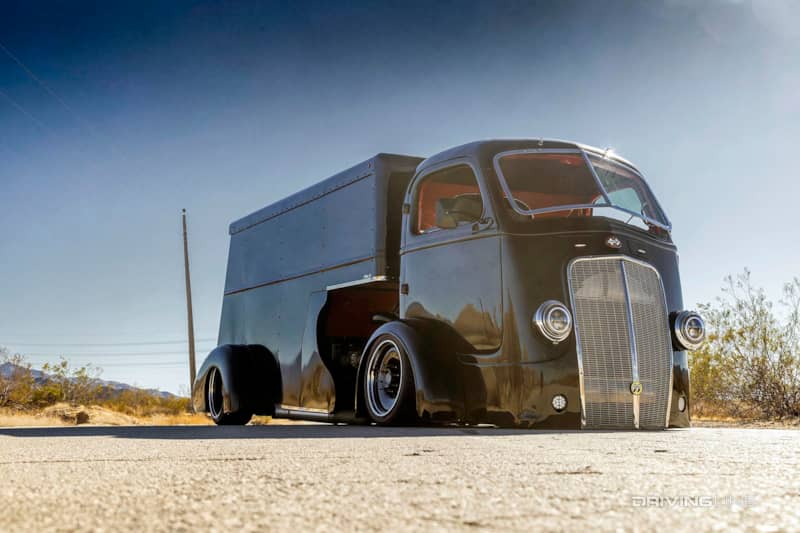 Bombshell: International Truck of Mystery
Like Batman, Bombshell dresses in black, is hard to pin down, and has a bit of mystery around it. Part restoration of a 1937 International Harvester truck, part hot rod, the idea came to Elvis like all of his vehicle designs do: it percolated in the creative juices in his noggin until a clear picture formed of what he wanted.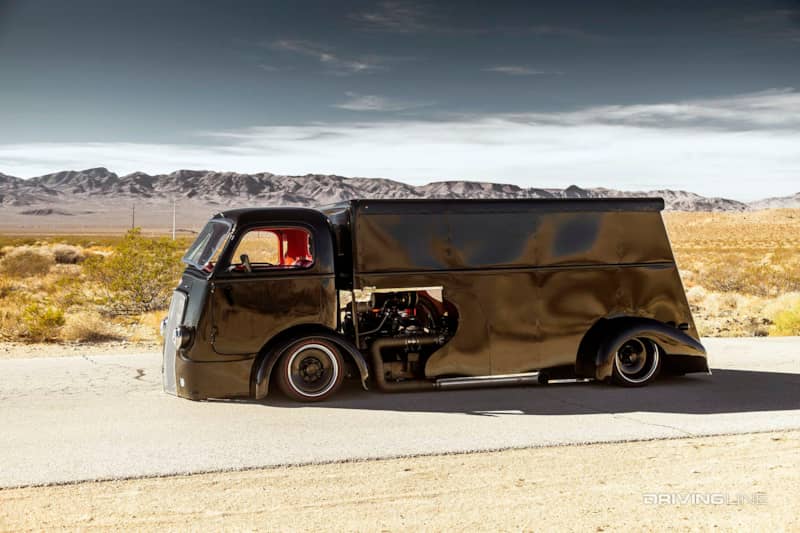 He's a visual guy who takes an artistic approach, then builds the vehicle into that vision. That's a very simple way of describing an extremely difficult process. Those pictures in his mind are unforgiving; substitutions and compromises are frowned upon by them. If he's going to build something, it has to be to those creative mental specs, by any means necessary.
No Pressure
Which in this case meant a blend of buying an old cab online, bringing it to life, and giving it a cab over box, all while making it run on a modern powerplant, suspension, and so on. Oh, and he had to have it ready for SEMA in a matter of months to boot.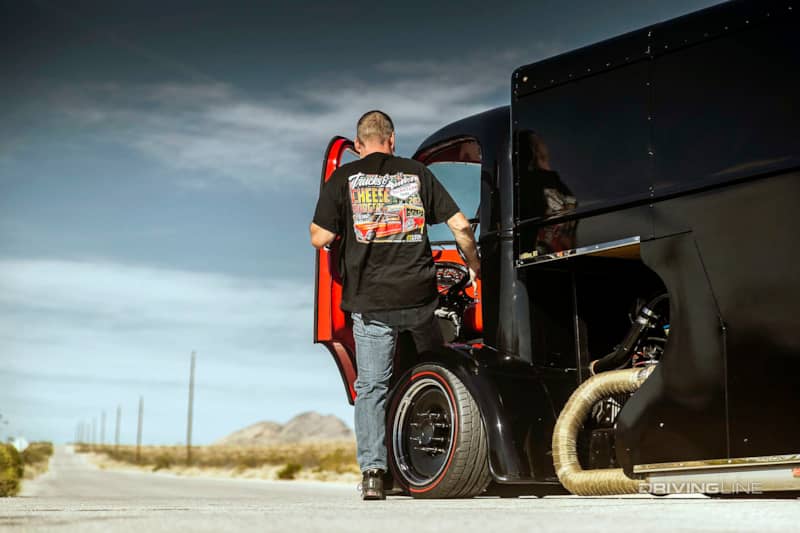 However, Bombshell didn't start off as a SEMA build. We'll talk more about that in just a sec. In the beginning, all Elvis had was a vision for the truck. "I build a personal car a year," he says. "Once I build it in my head first, I'm done with the design part. I needed something different. I've had tons of cool cars like Corvettes, but you see lots of them at shows."
Continental Divide
What you don't see often at shows are 1937 International Harvester trucks. The company only made a couple of hundred of them that year which sorta kinda keeps them from being common targets for custom projects.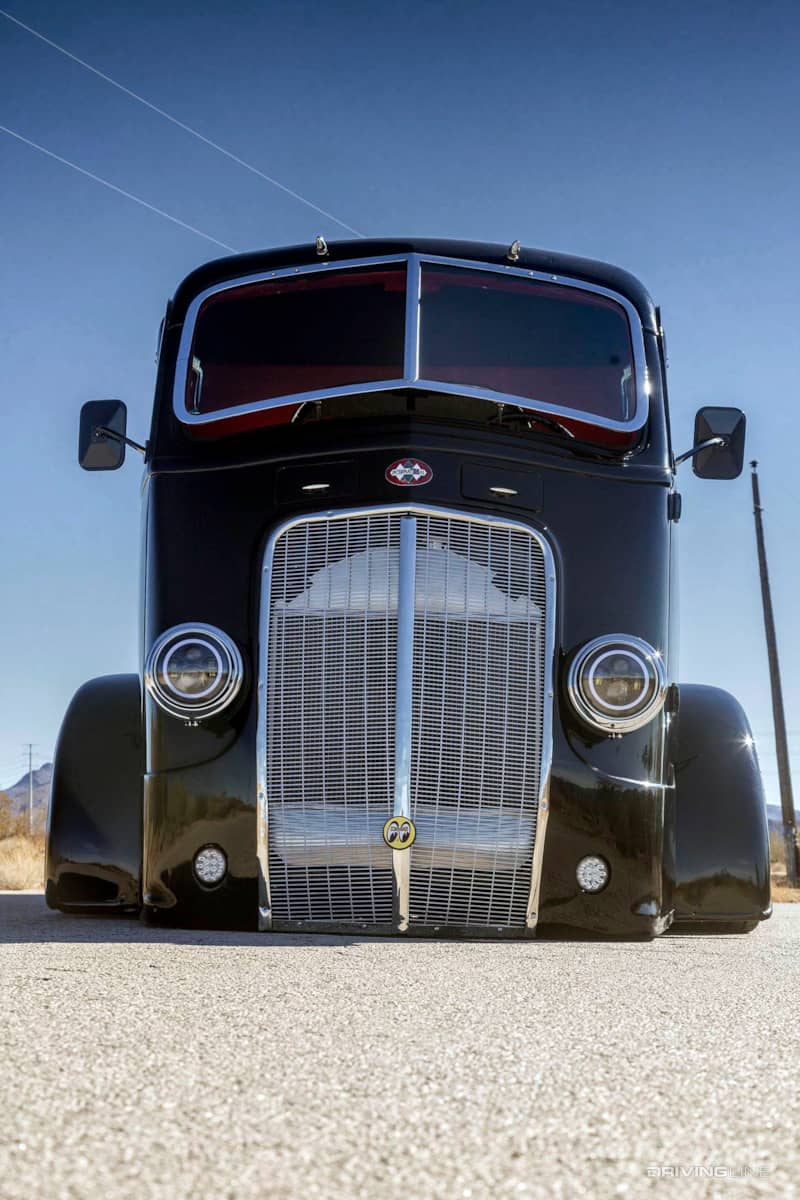 In fact, Elvis found this particular cab for sale in Sacramento, California. That's almost as far away as you can be from Florida without being in the Pacific Northwest and still being in the Continental US of A. In a strange twist of coincidence, the owner also turned out to be a brother of one of Elvis' buddies. "He meant for it to be a coffee truck," Elvis told us. "I made a deal to buy it, then drove out and back in three days when I bought it."
Internal Affairs
With Bombshell's foundation in hand, it was on to make it into what Elvis pictured in his mind. He tapped a 2013 GMC 2500 frame for the front of the new chassis and created a hand built four-link setup for the rear part of the frame.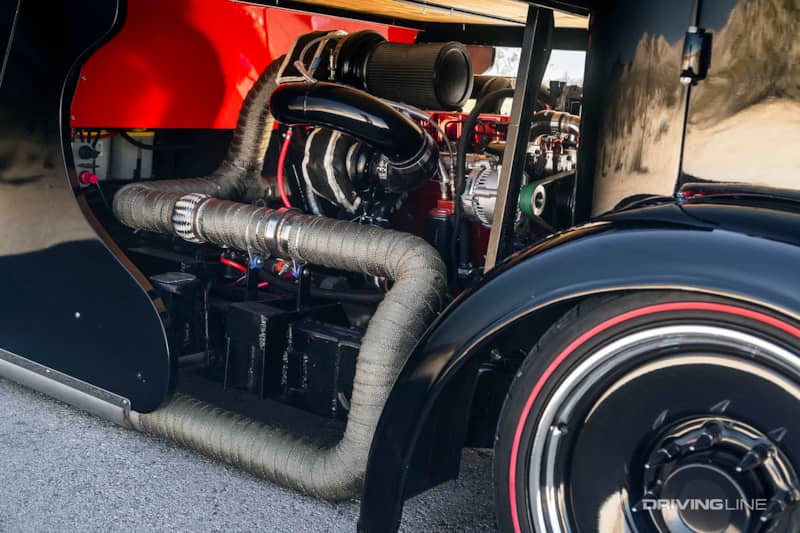 With a skeleton in hand, it was time to fill the empty hull with a significant technical upgrade. Now the truck packs a 12-valve Cummins diesel engine with compound turbos and a 4-inch exhaust system that sure isn't what the truck used when it rolled off the factory floor 75 years ago.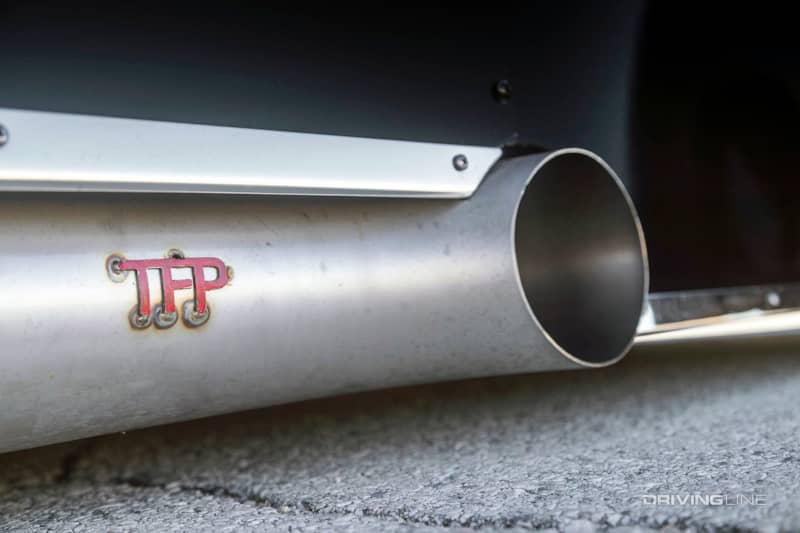 That setup makes plenty of horsepower; it makes good use of the Allison 1000 driveline Elvis and his crew added into the mix. The final player in the power equation would be the custom made 75-gallon fuel cell Elvis added to Bombshell.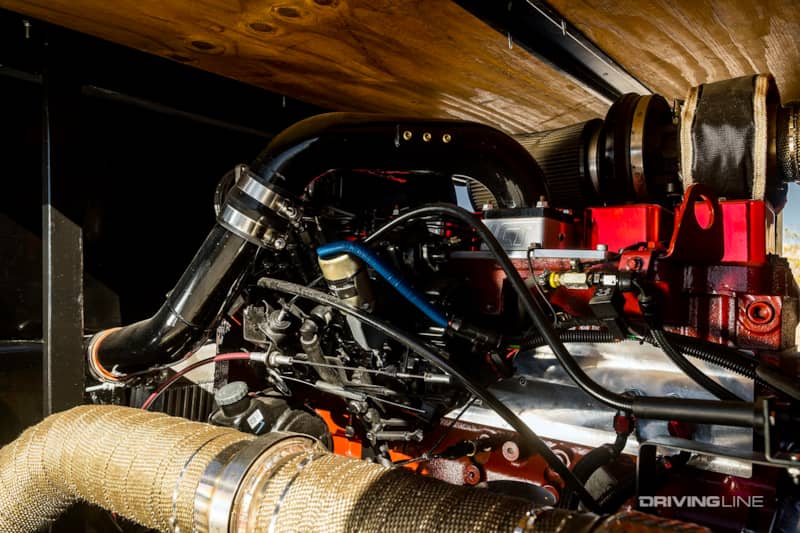 That all took care of the engine upgrades but if Mr. Kerns really wanted Bombshell to be cool, he'd need to give it some love in the handling department too.
Picture This
That's where SEMA comes into play. Thanks to a little thing called Instagram, pictures of the work in progress reached Accuair Suspension. They dug the concept so much that when they saw the GMC airbag suspension he was putting into the old truck that they reached out to Elvis and asked him to bring Bombshell to SEMA for the big show.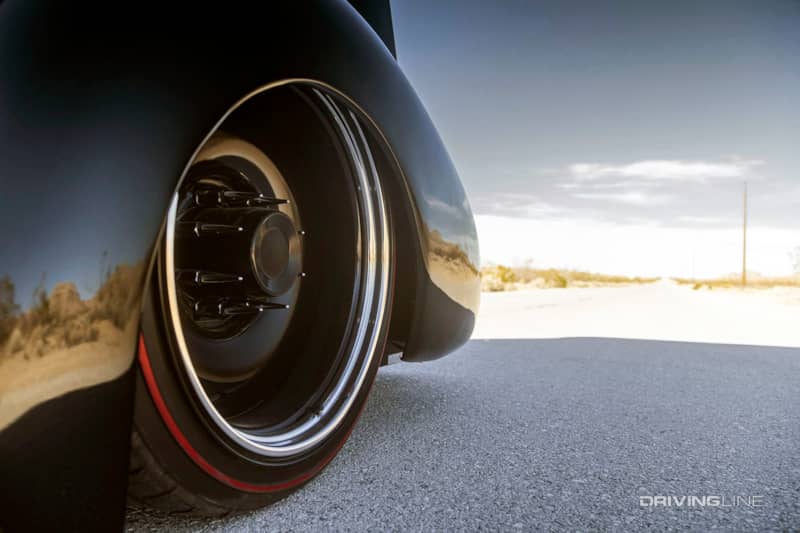 Which is also how Nitto Tire got involved. Elvis is no stranger to Nitto's tires, having used the Nitto NT555 G2 tires on a previous build, he didn't hesitate to use them on this one. Those cool spiky Mob Steel wheels are of the 18x8-inch and 20x12-inch persuasions. 
So Ugly It's Cool
If all of that modernization sounds difficult (which it was), then building that box for the cab over was a comparative mountain of an obstacle. Designing it the way that Elvis saw it in his head and making it look proportional to the truck and not just like a slammed-on add-on was the hardest part of the journey.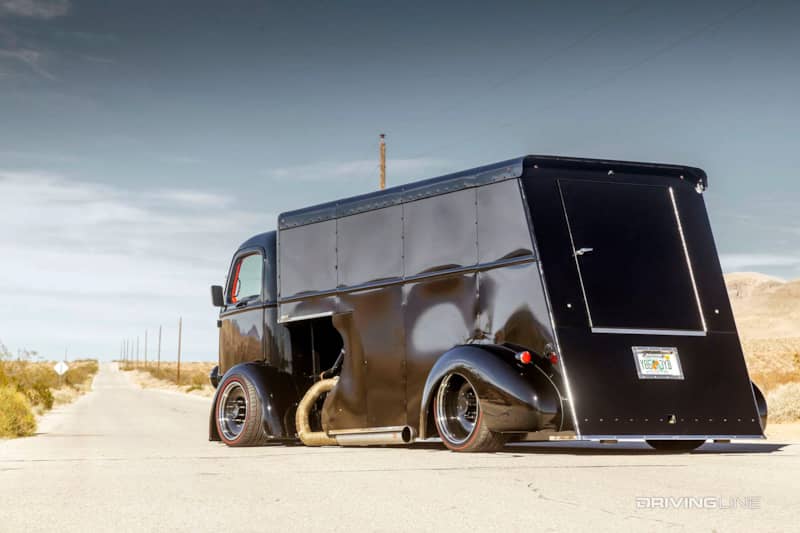 Elvis made it to look the look but also duplicated the side molding around the box to make it flow better and look the way he wanted. He didn't want to be a flatbed or a ramp over. There are plenty of those in the custom truck world. All of what you see with that bed was hand built by a sheet metal fabricator friend of his: "I never want to do one again if I don't have to. Or paint something this big black again either," Elvis laughed. "It's just one of those projects that's so ugly it's cool. I'd never seen that particular cab on a cab over. It has a factory suicide door, the rollout windshield was factory. There were so many cool little tricks and treats to it that I'd never seen done in a project like this so I had to be the first one to do it."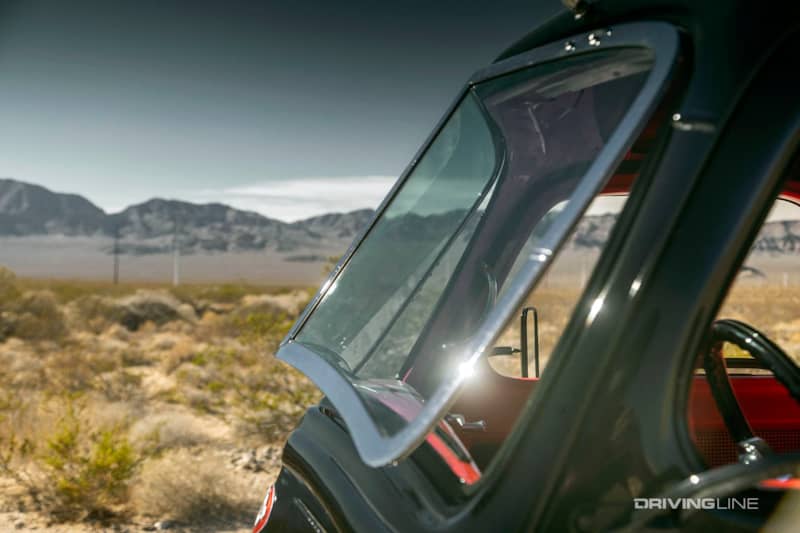 You Red It Here
Bombshell is coated in black, black, and more black on the outside, but the interior, like some hot rods of old, is a totally different story. A red one. The cockpit comes straight from a 1970 Ford Econoline van but with Dakota Digital instrumentation in the classic dash.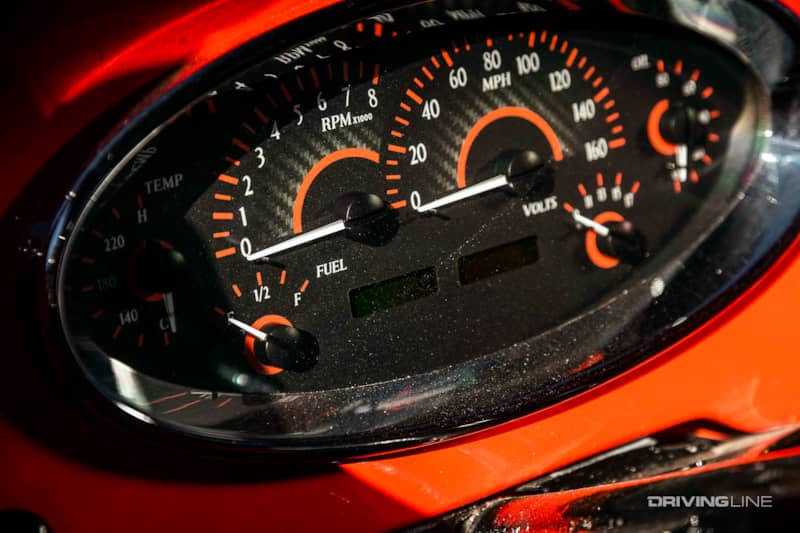 Elvis kept the steering alive with a stock 2013 GMC 2500 rack-and-pinion steering setup. However, his undead namesake of a shift knob is obviously not stock anything.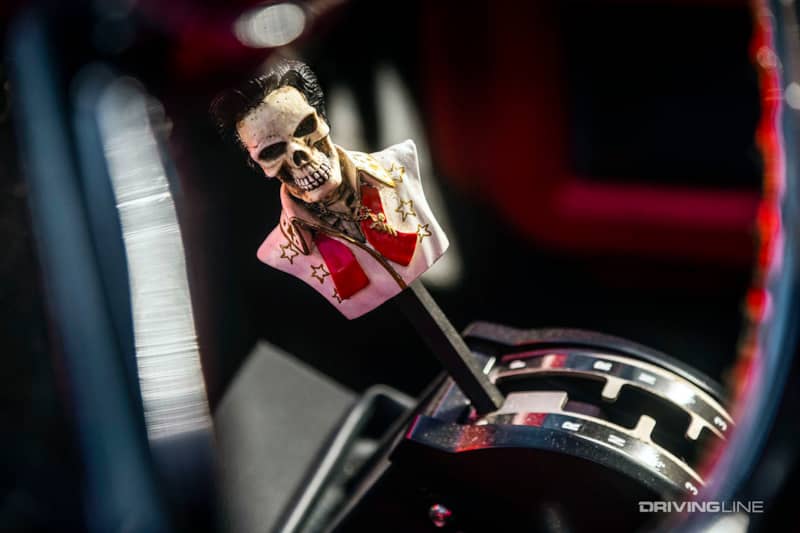 It's also in line with what Elvis Kerns loves about Bombshell the most: "The unusualness of the truck. Everyone has to ask about it. Whether they like or not, they feel compelled to talk to you about it."
Talk of the Town
You can bet there was plenty of conversation around Bombshell at SEMA, too. But getting the project done on time was a big job. "I had four months to get it running, build the box, do the interior and paint the interior because you need a running vehicle for the SEMA parade," Elvis says.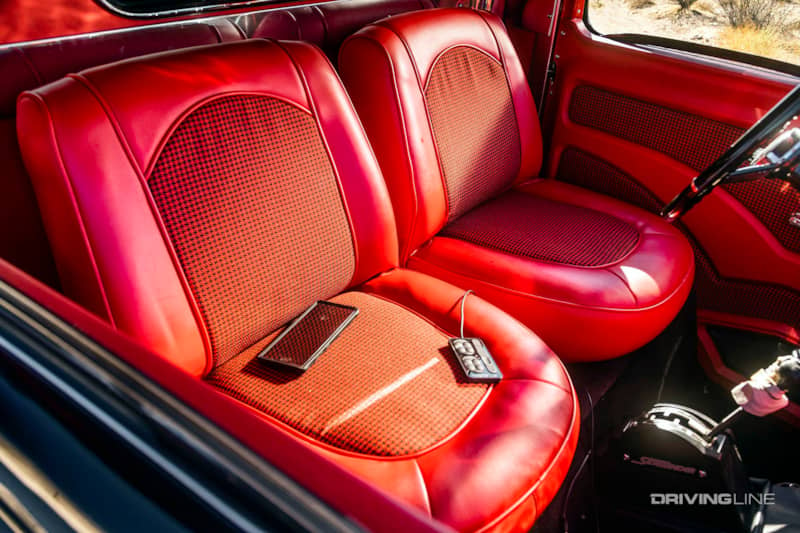 "Everyone stepped up to make it happen. This was the most help I've gotten from outside sources. SEMA's an awesome event and a great honor and experience." But time has no mercy, especially when it grows short. However, thanks to Accuair, Detroit Steel Wheel, Multiroll.net, Suburbia Sudz, Suspension Store, and Winter Fab, Elvis Kerns had the helpful friends he needed to make the deadline.