Radical Ram: A Mud Grappler-Equipped, Manually-Shifted Third-Gen Packing An 1,100HP Cummins
Truck and tractor pulling has always been a highly competitive form of motorsport, but in recent years things have gotten downright serious in diesel truck pulling. High dollar engines, turbos and injection systems are now commonplace even in classes that were once considered "entry level" type categories. Looking to make his mark in the local Work Stock diesel truck pulling scene, John Koppelmann pulled out all the stops with his common-rail Cummins build. The 6.7L inline-six was reinforced from the ground up, squeezes a dyno-proven 1,110 hp through a stock-appearing turbo and propels his third-gen Ram through the dirt with authority.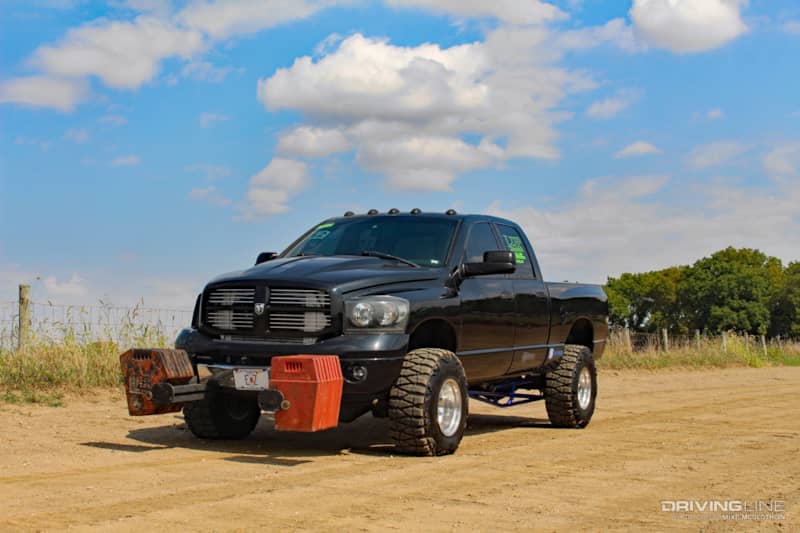 John spent the summer of 2021 traveling all over the Missouri/Illinois countryside hooking his Dodge to the sled—and he's definitely been pleased with its performance so far. Not only has John won a host of pulls, but the truck consistently places near the top at any given event. What's more is that he's getting it done with a single rear wheel configuration in a class that allows dual rear wheel trucks, and he's also utilizing a manual transmission where most competitors prefer automatics. For more on what makes John's front-running, dirt-dredging machine so dominant, keep scrolling.
Impressive Rookie Season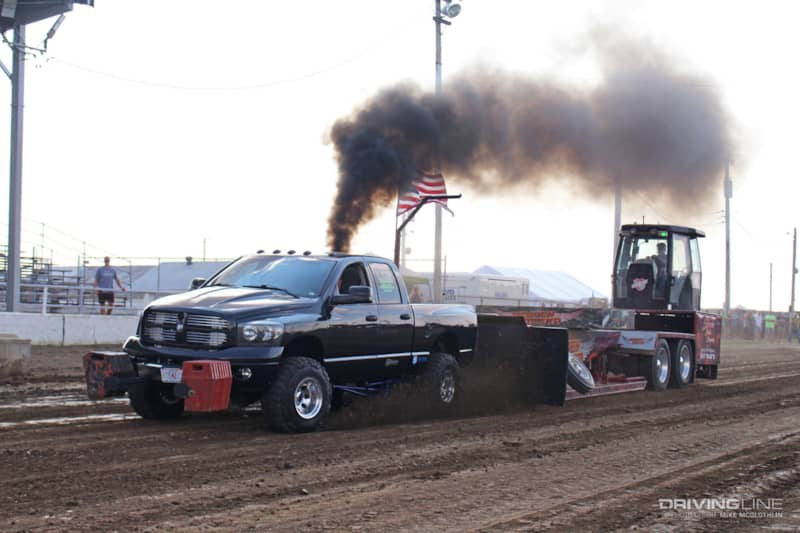 Right out of the gate in 2021—the truck's first year on the scene—John collected more than his fair share of wins. Not only is the Work Stock diesel truck class popular in his neck of the woods (the greater central Missouri/Illinois area), but most trucks are dual rear wheeled. The fact that John's single rear wheel Dodge has been able to beat equally powerful trucks that are using six wheels to get the job done is saying something. We think it's a testament to tire and chassis choice, driver skill and (of course) a well-built Cummins under the hood.
LDP Built & Balanced 6.7L Cummins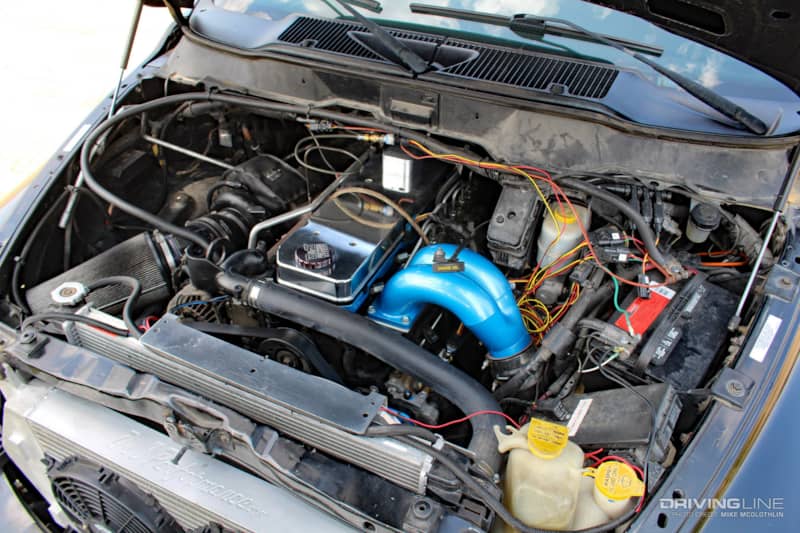 Built and balanced at LDP Machine in Troy, Missouri, John's Cummins sports a lightened factory 6.7L crankshaft, a Bean Machine gridlock girdle, Wagler Street Fighter rods, fly-cut and coated QSB pistons and a Hamilton Cams 188/220 camshaft that's well-matched to a ported Hamilton head. On the engine dyno, it belted out more than 1,100 hp—impressive numbers considering a factory-based (albeit highly improved upon) turbo is still being used. The big common-rail purrs like a kitten and burns clean thanks to its 5.9L ECM being fine-tuned by Maverick Diesel.
Tater Built Turbo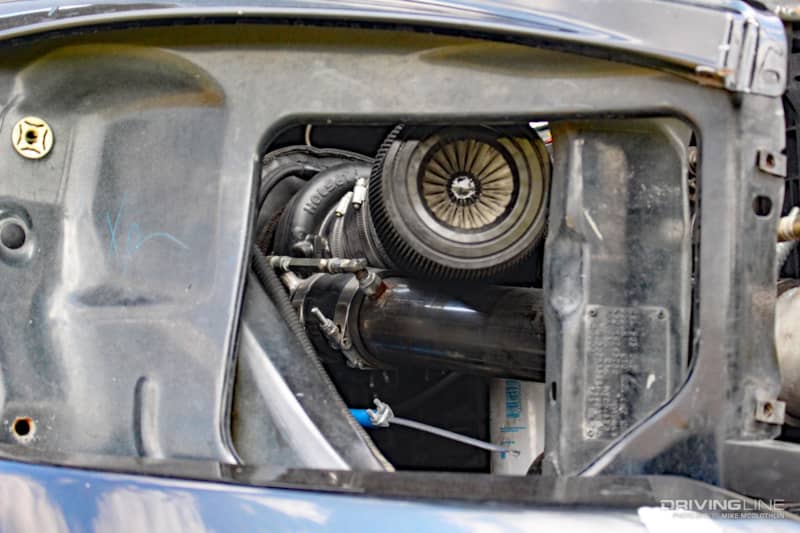 Lurking behind the missing passenger side head light sits an air filter that's tethered to a stock-appearing Holset HE351CW turbocharger (the HE351CW was factory equipment on '04.5-'07 5.9L Cummins engines). Through extensive R&D, Tater Built Turbochargers was able to make the OEM-based Holset flow incredibly well while also meeting the stock-appearing literature of the Work Stock rulebook. The Tater Built charger conceals a billet, 7-blade 71mm compressor wheel. It hangs from a 24-valve Steed Speed exhaust manifold and builds 58-psi of boost under load. Also notice the BD Diesel intercooler strap being employed on the hot-side intercooler pipe. This is to ensure no blown boot scenarios are experienced during the course of a pull.
Big Power Calls For Big Fuel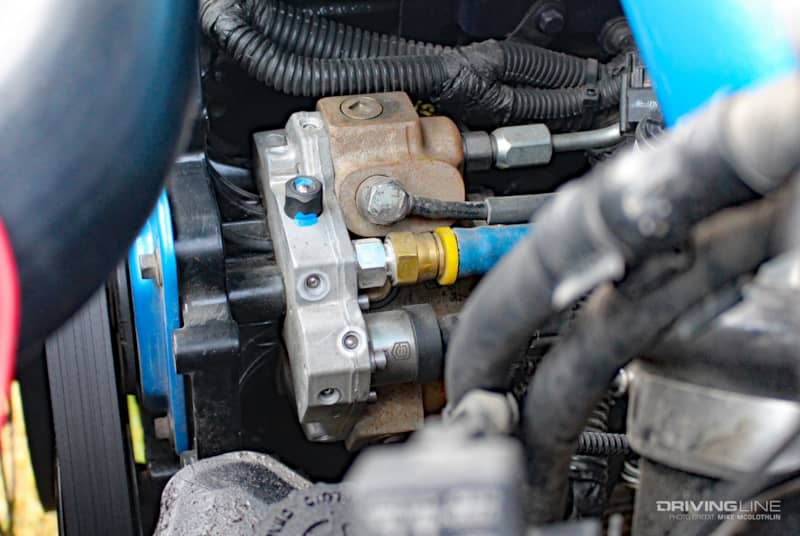 With an LDP engine built to take a pounding, John's 6.7L Cummins sees plenty of fueling. The injectors, worked over by S&S Diesel Motorsport, feature internal body modifications and 350-percent over nozzles. They're supported by a 14mm CP3 (also from S&S) which, thanks to a 2,400 bar fuel rail pressure sensor and a 2,400 bar pressure relief valve, pressurizes fuel in the rail as high as 35,000 psi. The blue ½-inch inlet hose shown above comes from the frame-mounted, Titanium Series FASS system that supplies the CP3 its low-pressure fuel supply.
G56 & A Triple-Disc Clutch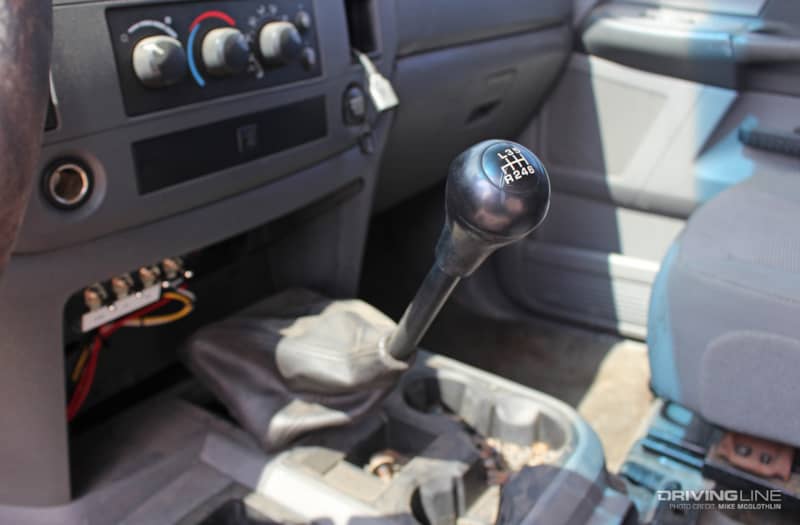 No, that's not an NV5600 shift pattern. John stuck with the G56 gearbox rather than swap in its predecessor six-speed or even an NV4500 (both of which are generally believed to be stronger). However, instead of rolling the dice on a stock G56 John did have his beefed up at SuperStick Transmissions in Leander, Texas. A triple-disc competition clutch from Valair, complete with a billet flywheel with floater plates and a weighted lever style pressure plate, transfers power from the Cummins into the G56. It's a given that running a manual transmission limits John to one gear, but luckily he's got the perfect final drive ratio figured out and is making the most of it.
Traction. Guaranteed.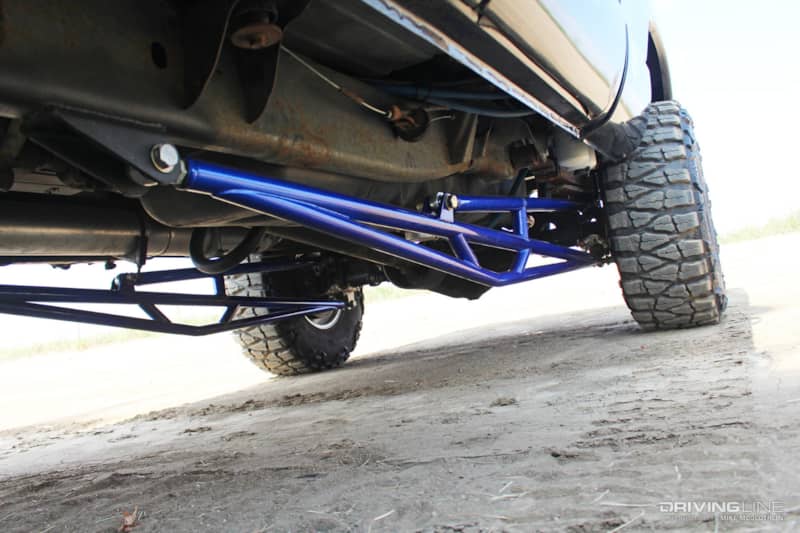 To keep the rear AAM 1150 from wrapping under 1,100 hp and more than 1,800 lb-ft of torque, John runs a set of LinCo Diesel Performance-supplied traction bars. With brackets welded to the frame and bolted over the rear axle (along with Grade 8 hardware and heavy-duty heim joints), they ensure there are no disruptions in traction. The truck's sled stops and hitch setup also came from the LinCo stable.
Extreme M/T's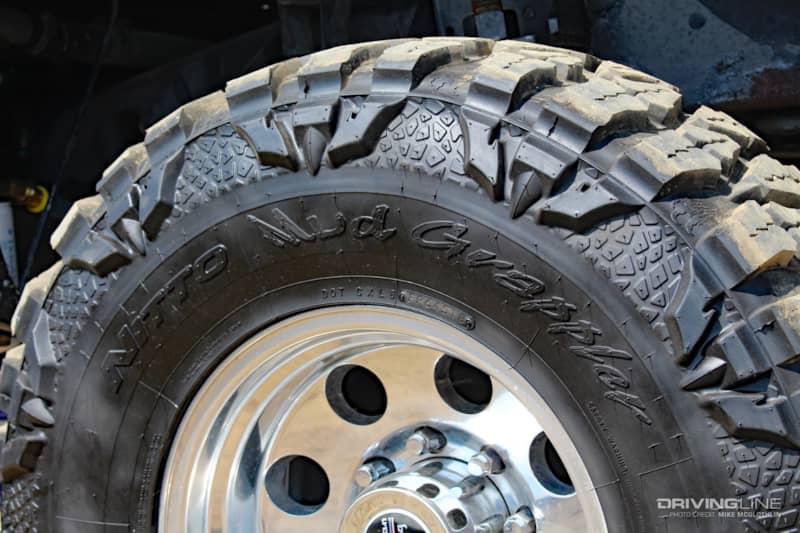 The job of taking an aggressive bite out of every track the truck competes on is left in the hands of Nitto Mud Grapplers. The LT315/75R16 extreme mud terrains measure right at 35-inches in overall diameter and mount to 16-inch American Racing Baja wheels. On a lot of tracks, John's single rear wheel Dodge is outmatched by the aforementioned dual rear wheel trucks that also run the Work Stock class. The large lug tread pattern of the Mud Grapplers—combined with the Cummins' four-digit horsepower, of course—helps level the playing field as much as possible.
More From

Driving Line
This isn't the first time we've showcased diesels dominating the dirt on Mud Grapplers. For more on why Nitto's extreme mud terrain has become so popular in truck pulling, feast your eyes on 

this

.