The Ideal, Modestly-Priced Mid-Sized SUV With Third-Row Seating: Part 3
Just when you thought we were all aboard the turbocharged four-cylinder train, we're heading across town to check out the Dodge Durango—one of the only vehicles in our test pool that can be had with a V-8. And of course, we're talking about the Hemi. No, not the SRT Hellcat. Sorry, this is a family show, literally, and the budget can't afford that much horsepower at the present time. Rather, if we spring for a Durango it will be an R/T model packing the 360hp, 5.7L version.
As any V-8 powered SUV should, the Durango can tow with the best of them: up to 7,400 pounds (RWD) standard and as much as 8,700 pounds when equipped with the factory Tow N Go package. But beyond its ability to lug a sizeable camper, does the Durango deliver on the rest of our needs? Are the third-row seats comfortable, and why don't they come standard? Is it safe? How much cargo space is available? And can we get what we truly want for less than $50,000?
The $67,000 Spread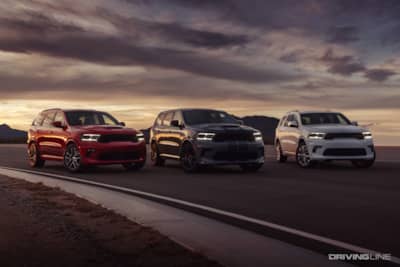 Though it may appear that nothing much has changed on the Durango over the past several years, for 2021 the entire line features fresh exterior styling and new tweaks to the interior (which includes a "Challenger-inspired, driver-centric cockpit" and available 10.1-inch touchscreen). MSRP on the base model SXT starts at $31,765 while the top-tier, track-eating SRT Hellcat can run you $99,620 when fully-optioned out. Somewhere in the middle of all this noise, we're zeroing in on the R/T, the most affordable trim that comes with a V-8.
When A V-8 Is Offered…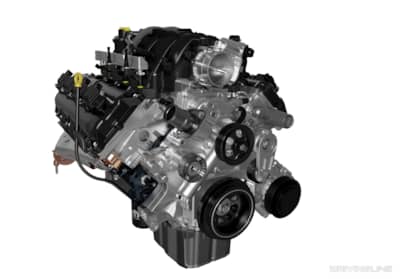 You can't go Mopar taste-testing without having some Hemi…at least that's our reason for overlooking the SXT and GT models completely and starting with R/T's—which also happens to place us at the top of our $50,000 maximum budget. Based on the O.G. V-8 that debuted in '03 model Rams, the naturally aspirated 5.7L Hemi has been graced with variable valve timing over the years ('09) but has otherwise remained virtually the same. In R/T trim, the iron block, aluminum headed, port fuel injection 2-valve overhead valve 90-degree V-8 punches out 360hp at 5,150 rpm and 390 lb-ft at 4,250 rpm—good enough to propel the Durango to 60 mph in 6.2 seconds and cover the quarter-mile in high 14-second intervals.
Tow 'N Go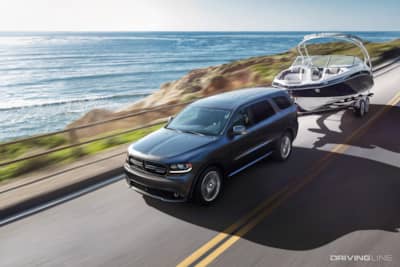 If you're after more than third-row seating and ample interior space, the Durango is one of the most attractive tow mules in North America. Its standard 7,400-pound tow rating (in rear-wheel drive form) even rivals the much larger Chevrolet Suburban. But on top of that, for 2021 an available Tow N Go package bolsters towing capacity to a best-in-class 8,700 pounds. The Tow N Go package adds $4,995 to an R/T model's MSRP, but includes a Class IV receiver hitch, trailer brake controller, Quadra-Trac active on-demand four-wheel driver, electronic limited slip rear differential, an automatic headlamp leveling system, a 180-amp alternator and heavy-duty engine cooling.
Driver-Assist Features & Safety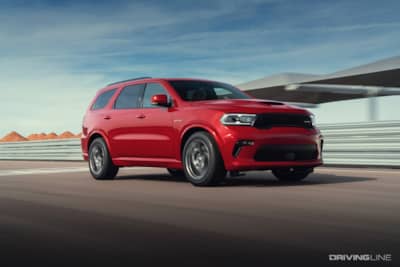 Despite offering many of the same driver-assist technologies other manufacturers do, very few come standard on the Durango. Adaptive cruise control, blind spot monitoring, lane-keeping assist and Dodge's Fast Brake technology are all available, but only at an added cost. These aren't necessarily deal-breakers for us, but if you consider any of these features as essential it will eat into your budget. It's also worth noting that the 2020-2021 Durango did not qualify for the Insurance Institute for Highway Safety's Top Safety Pick and that it has yet to have been crash-tested by the National Highway Traffic Safety Administration.
Our Ideal R/T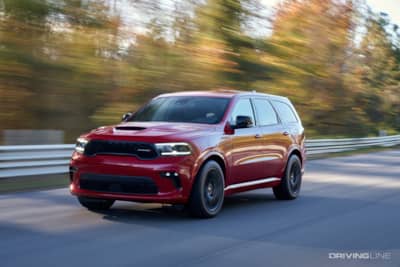 First and foremost, to help us through Illinois winters we're opting for all-wheel drive, which tacks an additional premium onto the base price of an R/T while simultaneously dropping its max towing capacity to 7,200 pounds. We would forgo the Tow N Go package, but not just because it carries a $4,995 price tag but because we already have an F-350 to handle our heavier chores. As for appearance, we're a hard "no" on the available dual stripes option, but we would spend the extra $1,295 for the Blacktop Package in order to get the factory 20x8-inch Black Noise aluminum wheels, body-color lower fascia, gloss-black badges and gloss-black exterior mirrors. Per Dodge's current Build & Price tool with available discounts, the net price of our ideal, minimally-optioned Durango R/T is $46,995.
Above-Average Interior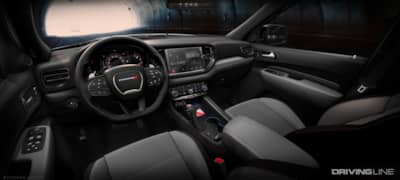 In the opinion of this writer, the Durango possesses one of the nicer interiors in the segment. It's comfortable, functional and offers an upscale feel in comparison to most of its rivals. Leather suede bucket seats come standard on the R/T, with leather-trimmed bucket seats available for a $795 upcharge. Red interior accents are also standard equipment, with forged carbon fiber interior accents optional (for $995). The latest Uconnect 5 Infotainment system combines with a large, 10.1-inch display that comes standard on the R/T (vs. the standard 8.4-inch on base models).
A Third-Row At A Premium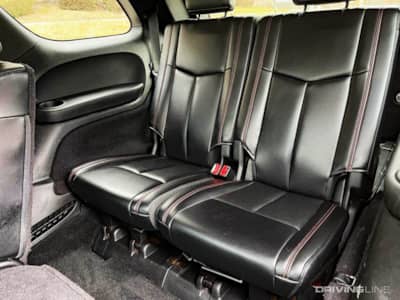 The Durango comes standard with seating for five, so you have to pay for the third row whereas most (if not all) other manufactures in our test include it as standard equipment. Dodge's second-row Fold and Tumble Captain Chairs—a $1,195 option that adds second-row seat-mounted inboard armrests and a mini-console with cupholders—makes for six-passenger seating. The available third row is made up of a two-seat, 50/50 split but does accommodate adults perhaps a little better than the Explorer we dissected in Part 2. However, third-row seating on longer trips is probably best reserved for older children and young teens.
Cargo Space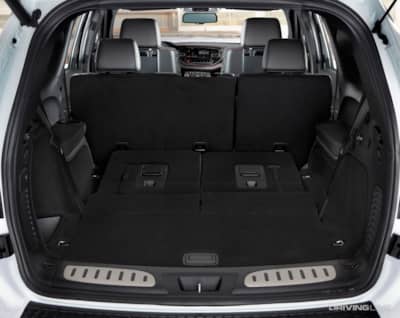 For interior hauling capability, 85.1 cubic feet of space can be opened up by folding both the second and third row seats down (by comparison, it was 87.8 cubic feet on Ford's Explorer). With just the third row taken out of the equation, 43.3 cubic feet is available (vs. 48 cubic feet on the Explorer). Finally, 17.2 cubic feet of space exists behind an upright third row (one foot less than the Explorer). While that cargo space doesn't top Ford, it is considered by most to be average in the mid-size SUV segment. For us, and just as we believe it would be with the Explorer, plenty of space exists behind the third-row for the average pilgrimage from the grocery store.
More From

Driving Line
Our hunt for the perfect third-row SUV kicked off last time with the Ford Explorer. You can bring yourself up to speed with that review by checking out Part 2.