The Ideal, Modestly-Priced Mid-Sized SUV With Third-Row Seating: Part 12, The Final Choice
Once upon a time, we were close to purchasing the perfect third-row SUV for our growing family. Then the road leading up to our purchase got interesting…very interesting. Just as our mind(s) had been made up on what to buy, the semiconductor chip shortage that's been causing nationwide vehicle supply issues—along with the inevitable inflation stemming from the past year—nearly put the kibosh on our plan to upsize our family hauler. From an availability and price standpoint, we quickly found ourselves on the losing end of the age-old supply and demand game. But we didn't give up. Instead, we increased the intensity of our search, ultimately finding the SUV we wanted.
Yours truly knew it would be hard to overlook the fun-factor of a Hemi if the wife preferred a different vehicle. Fortunately, to my surprise we both approved of the ride quality, interior space and curb appeal of the Dodge Durango. Although it's a vehicle that represents one of the oldest platforms we test drove, the Durango's styling was ahead of its time when it debuted more than a decade ago and it's been updated throughout the years to keep it relevant in the ultra-competitive, mid-size SUV class. While not perfect, it's a proven platform—and we're glad to have one parked in the garage. Below, we're recapping the culmination of our anything-but-ordinary third-row SUV search.
Runner-Up: Ford Explorer XLT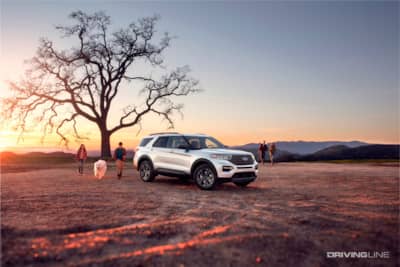 It was a tight race between the Ford Explorer and the Dodge Durango. In fact, early on in the search, yours truly was convinced we would end up in a Ford. The exact target was a Carbonized Gray Explorer in XLT trim with all-wheel drive and the Sport Appearance Package. The only problem (and the only one that couldn't be overcome) was the wife's preference, which didn't favor the Explorer. Still, in this writer's mind the 2.3L EcoBoost remains one of the most impressive power plants in the mid-size segment. For a little, 140ci turbo-four, 300hp is nothing to scoff at—and neither is 310 lb-ft of torque being available at 3,500 rpm.
Our Final Decision: the Dodge Durango R/T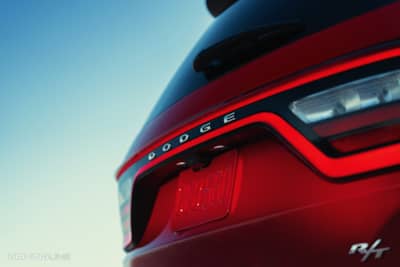 Things are getting scary (or rather, scarce) out there in the world of new cars. Not only is pricing way up, but availability is way down. This made finding an all-wheel drive Durango R/T with a simple Blacktop Package and a fair price much harder than it would've been just two months ago. As for pricing, despite our round-the-clock sleuthing, in the current market there was no way to stay within our $50,000 budget. We didn't break it by much, but sales tax, the documentation fee and registration ultimately put us over the top.
Styling We Like & Towing Capacity If We Need It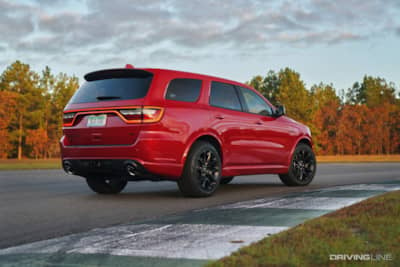 Much like choosing the V-8 option over the Pentastar V-6, we couldn't settle for the base Fine Silver wheels on the Durango. Dodge's Blacktop Package adds 20x8-inch Black Noise wheels, as well as a paint-matched lower fascia, gloss black badging and gloss black mirrors. To save a few bucks, and because we don't plan to tow much with the Durango, we steered clear of the Tow N Go package, which allows late model Durangos to tow as much as 8,700 pounds. Still, the standard towing capacity for our AWD model checks in at a commendable 7,200 pounds.
Sufficient Space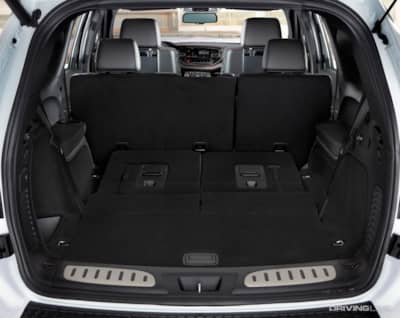 We won't be able to get away with this much longer, but when the Durango's third-row seating is inactive it opens up 43.3 cubic feet worth of cargo space—perfect for those big trips to Sam's Club. And while the Durango finishes mid-pack in the mid-size segment on space, it's more than adequate for a young family. After all, the 50/50 split third-row is 7-year-old-approved and should be a comfortable spot for any youngster well into their teen years.
Hemi: The Selling Point For Dad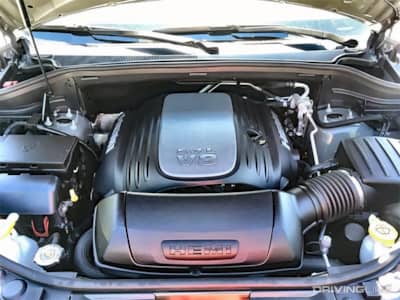 It's easy for any car enthusiast to appreciate the fact that Dodge offers V-8 gasoline engines at a time when EV's dominate virtually every automotive headline. Call it a lifetime of being surrounded by 8-cylinder pickups (or a hidden love of fox body Mustangs), but from the outset of our third-row SUV search I was sold on the Hemi. And when you add in the fact that Hemi-powered versions of the Durango rival the kind of fuel economy the V-6 models see, the decision to spring for the V-8 was made even easier.
The Struggle Intensifies The Search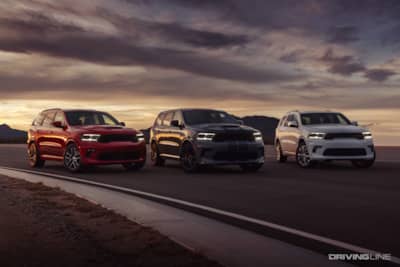 Once we knew exactly what we were looking for, the supply shortage wasn't just heating up, it was in full-swing. And after several models were literally bought out from under us, a pressure to find exactly what we wanted began to build. At one point, we even expanded the search to out-of-state dealerships—with the option of flying out and driving one home if needed. While we were eventually able to locate a Durango R/T locally, there is no denying how tough the market is right now. This was by far the hardest I've ever had to work to buy a new car.
Other Options: Paying Over MSRP & Buying Used
If you're going to be in the market for a new car this summer, beware. Traditional negotiations at the dealer's lot are tilted in the house's favor this year—provided the dealership even has the vehicle you want in stock. In our own search, a quick look at the pre-owned market gave us little relief. In case you were wondering, the used car market is absolutely on fire right now. If you're selling something, expect top-dollar or better. But if you're in the market to buy, expect to pay a premium. At least for the time being, Blue Book values do not apply. We're told (by way of Ford) the vehicle shortage could continue until mid-2022, so if you're on a tight budget you may want to give the market a year to calm down.
Our mid-size, third-row SUV search-party started way back in January. You can catch the comprehensive reviews we put together for each candidate tested starting right here, or click one of the links below to look at specific models we reviewed.