Three Wheelin' Off-Road: Gas Monkey Garage Takes a New Direction on a 2021 Polaris Slingshot R
If you take a look at all the rides that Gas Monkey Garage has built over the years, you will quickly notice that Richard Rawlings and his crew do things differently. Once a little shop based out of Dallas, GMG's unique style had breakout success and was showcased on TV for a good stretch. With a spotlight being shined on the shop, the crew can now flex their talents in any new directions they desire.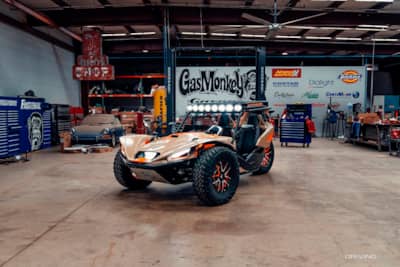 Though they are specialists when it comes to vehicles of two and four wheels, Richard took a liking to the three-wheel Polaris Slingshot recently. He exclaimed, "I like 'em. They're comfortable for the person that may not be as comfortable on a motorcycle. They're a great wind-in-your-hair, bugs-in-your-teeth type experience."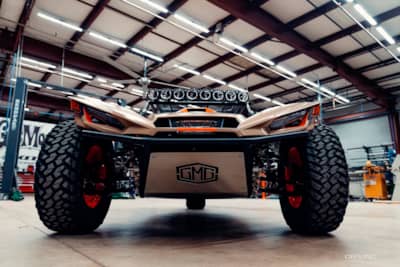 The Project
More recently, GMG partnered up with Polaris to build this 2021 Slingshot R for the SEMA Show. Richard told us, "It was decided I had carte blanch on this project, which is always dangerous. I don't know who would give me carte blanche to do whatever I wanted but that's where we ended up." With funding in place, the shop was able to build with no limits.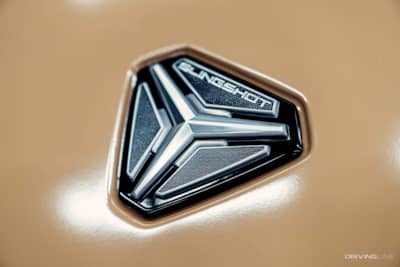 Taking consideration of the fact that Texas has many backroads to 'wheel, Richard decided to make the Slingshot R even more capable than it already is by giving it off-road ability. "With a lot of the custom Slingshots I've seen, you're going to be worried about a pothole, let alone a farm-to-market road." Richard's crew knew they had to make some big changes to the vehicle to meet the new demands of unpaved pathways and dirt roads.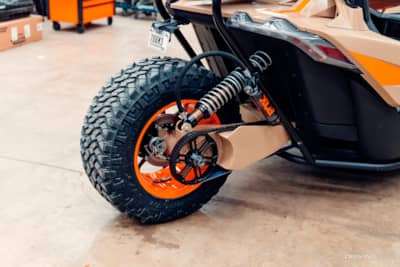 Off-Road Capable Three-Wheeler
Though many people would be happy with the performance of the Slingshot, this one was torn down to the bare frame to build a foundation for an off-road machine. Starting with the front suspension, it was modified with custom upper and lower control arms. Then, it was lifted up with a set of Fox Racing coil-over shocks that protrude through the body. In the back, the swing arm was extended and a single Fox coil-over shock with remote reservoir was set into place to help lift the vehicle up in the the rear for additional overall ground clearance.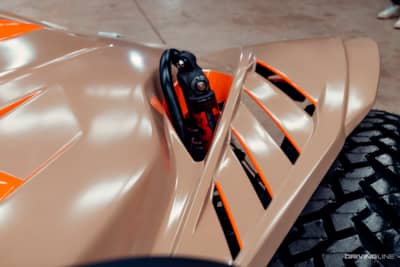 Getting a Grip on Reality
With the lift in place, it was time to get serious with traction for paved roads as well as rough terrain. Since the GMG crew figured the factory wheels could be reused, a set of 35x12.50R18LT (front) and 35x12.50R20LT (rear) Nitto Trail Grappler M/T tires were mounted up. These tires were the perfect choice as they were computer designed to be quieter on the road yet maintain an aggressive tread pattern that can readily handle any off-road situations. The tires even have deep center sipes to help prevent hydroplaning in wet conditions as well as excellent mud evacuation with a balanced void ratio within the tread pattern.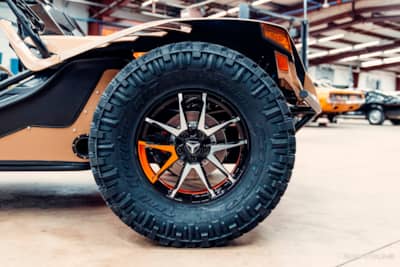 Factory Goods
As far as the functionality of this Slingshot, most of the working bits were retained. This includes the 203-hp Prostar 2.0L 4-cylinder engine with paddle-shifting AutoDrive 5-speed transmission. Though that doesn't sound like a lot of power when compared to some of the four-wheeled vehicles we have featured, this vehicle only weighs 1,654-lbs in stock form, which is more than enough power to have some fun with.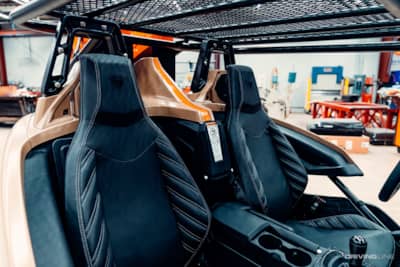 When asked about creature comforts, Richard stated, "it comes with a killer Rockford Fosgate sound system already, so I used my time and effort for utilitarian purposes." The 100-watt stereo also comes with the Technology Package 3 with turn-by-turn navigation and Apple CarPlay to help anyone guide their way through new destinations.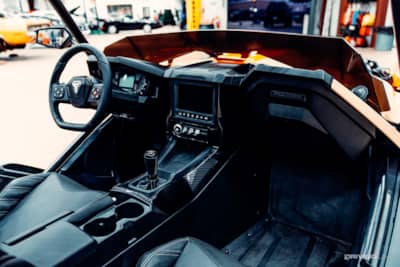 With these functions kept, the GMG crew focused further on making this vehicle more capable for adventuring. "For lack of a better term, we made it our own. We gave this thing an attitude that's intended to scare people to death. I've always said if it doesn't scare children, then it's not that much fun. Fortunately, it's very fast and a lot of fun," said Richard.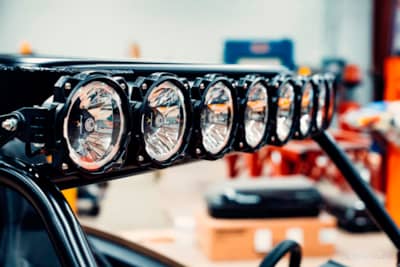 Built for More
Making it more rugged is a custom exoskeleton with rock guards, front bumper and skid plate. Up top of this is the KC HiLites Pro 6 LED light bar for clear visibility at night. In the back is a set of spare water and gas cans to help with long trips off the beaten path. To add a bit of style, the body panels were painted in Toyota's Quicksand color.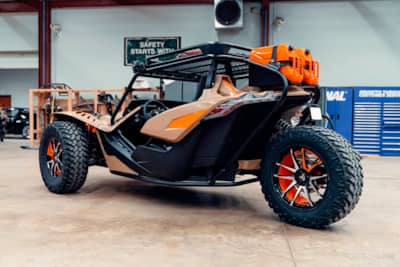 Free Wheelin'
Richard summed up these vehicles (three wheelers) best by saying, "You got those guys that will stick their nose up when a Slingshot comes by, but I guarantee you the people in that Slingshot are having more fun, so get you some of that!" We agree that they are different, but that just coincides with the unique experience you get by driving them. It's great to see Gas Monkey take their best shot with this special vehicle and turn it into something that is fun to drive beyond the limitations of paved roads.
Photos Courtesy of Gas Monkey Garage www.gasmonkeygarage.com