Richard Rawlings of Gas Monkey Garage Tests Nitto's New Recon Grappler A/T Tires on his 702hp Truck
Known for pushing automotive limits on Discovery Channel's Fast 'N Loud TV show, Richard Rawlings, owner of Gas Monkey Garage (GMG), has owned his fair share of rides including this 2021 RAM TRX pickup equipped with Nitto Recon Grappler A/T tires. Viewers would also be familiar with Richard's explorations to find the next best project and his wild antics behind the wheel of any unsuspecting vehicle. Though Richard is not known to work much on vehicles, he sure knows how to pilot them, regardless of the terrain.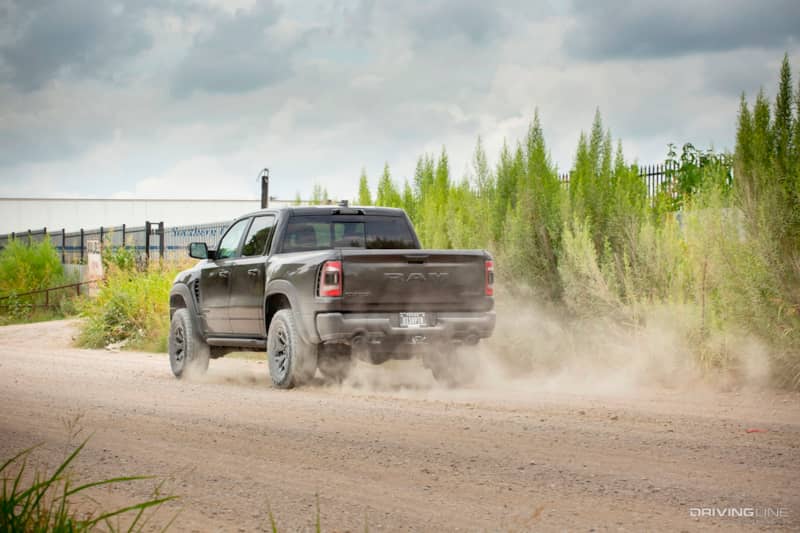 If you didn't already know, GMG is based out of Dallas, which happens to be truck country. Though the city has plenty of paved roads, there is an abundance of gravel pathways and undeveloped land in Texas. For those that travel to these rural areas, a truck like this comes in really handy. Since Richard is always on the hunt for the ever-evolving "holy grail" automotive find, he often needs to traverse rough terrain in order to get to some of these places.
Richard's RAM 1500 TRX (Pronounced "T-Rex")
Though he owns a Ferrari 599 GTB and a host of custom cars, nothing beats the convenience of driving a capable truck. Knowing that he also has a 2015 Dodge Challenger SRT Hellcat, a RAM pickup is a perfect fit for his collection. Better yet, the RAM TRX is one of the baddest trucks you can buy off a lot.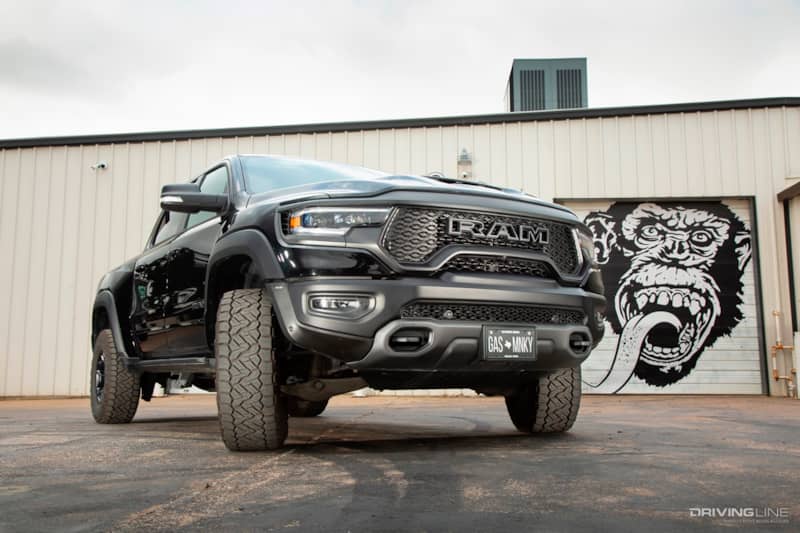 That Thing Got a Supercharged Hemi?
With a supercharged 6.2L Hemi V8, the TRX is currently the only stock truck with over 700-ponies (702-hp to be exact). When it comes to power offerings, Chrysler has strived to be a step above the rest. This truck is no different as it was created to compete straight up against Ford's F-150 Raptor, another proven off-roader. There is even a nod to this rivalry under the hood. If you take off the engine cover, you will see a T-Rex eating a raptor. Though a bit cheeky, this jab at Ford's pickup makes a statement that the TRX is the best on the market.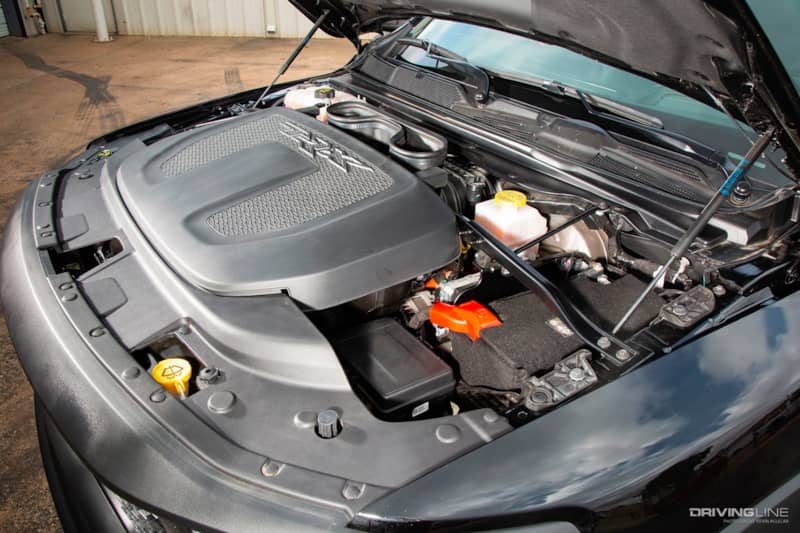 The Ideal All-Terrain Tire
For someone like Richard, who is always on the run for the next deal, this truck was the perfect choice. To make this TRX even more capable to suit his needs, it was equipped with a set of 35x12.5R18LT Nitto Recon Grappler A/T tires. For those that drive on multiple surfaces, this latest offering from Nitto is the most versatile tire for driving on and off-road.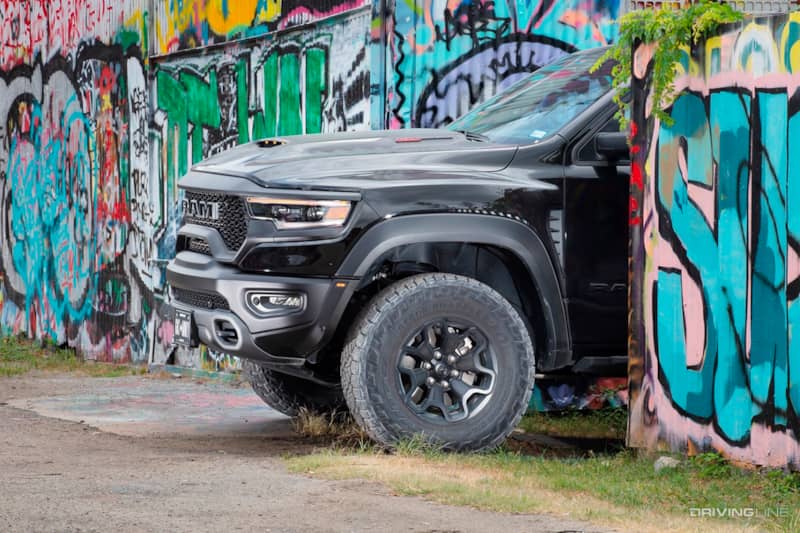 Straight from the Monkey's Mouth
Richard has been really impressed with these tires and even told us "Anyone that follows me, and all my Gas Monkey Garage endeavors, knows that I have high expectations for my vehicles and their drivability. These new Nitto Recon Grappler tires not only perform amazing on the paved streets but also the Texas backroads. All while looking good and taking on whatever the road ahead throws at me and my crew." That's some solid confirmation from a guy that has a wide variety of vehicles in his stable and is always happy to test the limits of his machines when tempted.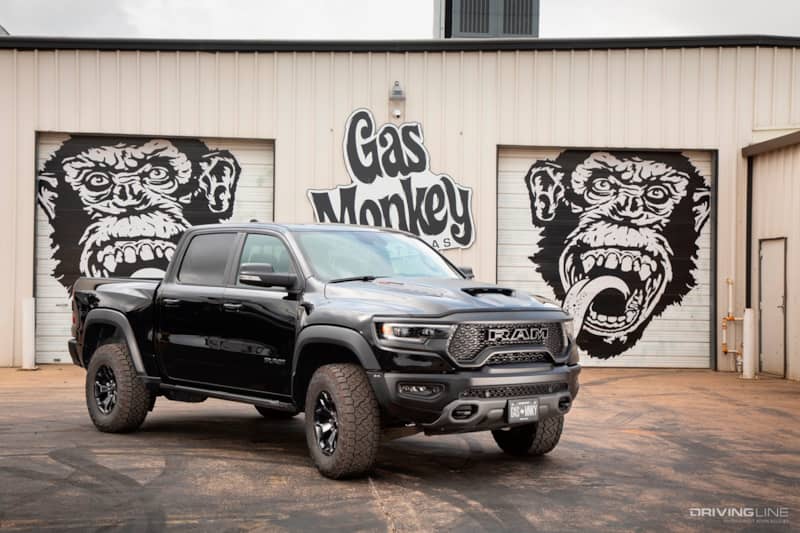 Aggressive, Refined Design
Nitto has many all-terrain tires that have proven themselves and the Recons are at-home in off-road conditions while maintaining a comfortable ride on-road. The tread design is aggressive enough to own-it on loose terrain and are surprisingly quiet on paved roads. As we travelled along with this truck to many different locations in the Dallas area for our photoshoot, we took notice that there was no obtrusive tire noise at highway speeds.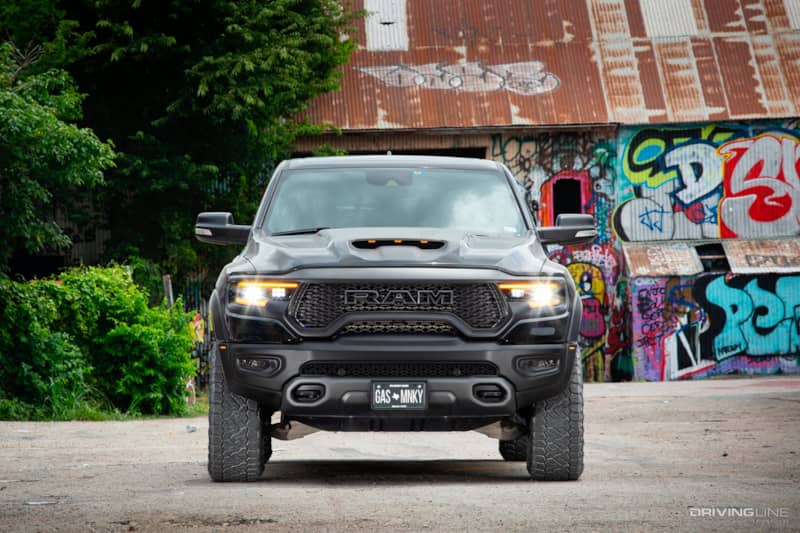 Two in One
With large sidewall lugs, the Nitto Recon Grapplers have a bold look that stands out from other all-terrain tires. Each tire has two sidewall designs and Richard chose to run the more blocky and aggressive design to match his personal style. When it comes to looks, these tires fit right at home on the wide body of this RAM TRX.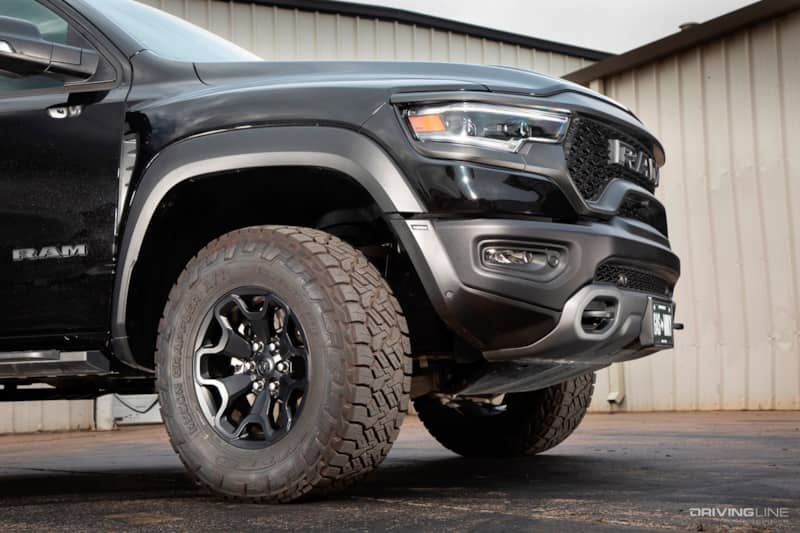 Long-Haul Dependability
One of the less obvious, best features about this tire is the 55K-mile warranty, which is a bold statement declaring excellent longevity for most drivers. So, we know Richard will have time to have a lot of fun over the many miles the Recons will be on his TRX.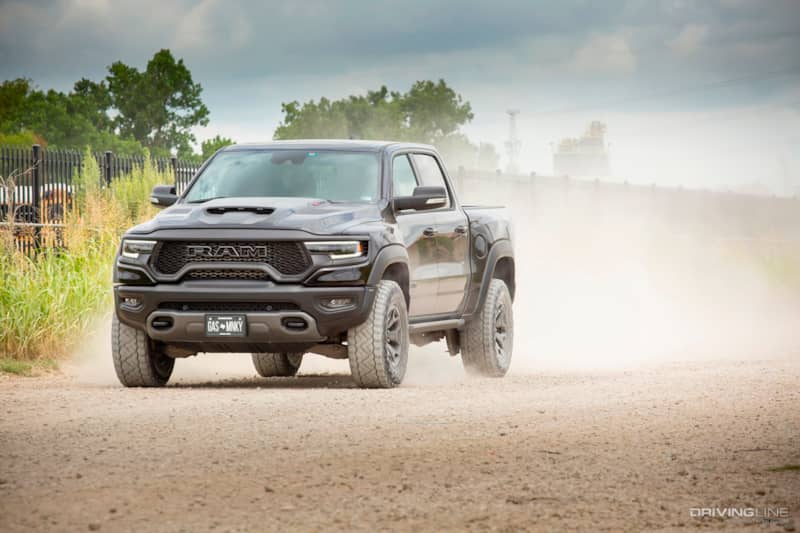 Handling Changing Conditions
About 5-mins after our photoshoot ended, the Texas skies dumped a torrential downpour that drenched the streets in water. As we headed back to the headquarters of Gas Monkey Garage, the tires went to work by providing plenty of traction. Furthermore, the Recon's combination of large tread blocks with optimized siping helped this truck navigate through the wet roads almost as if they were dry.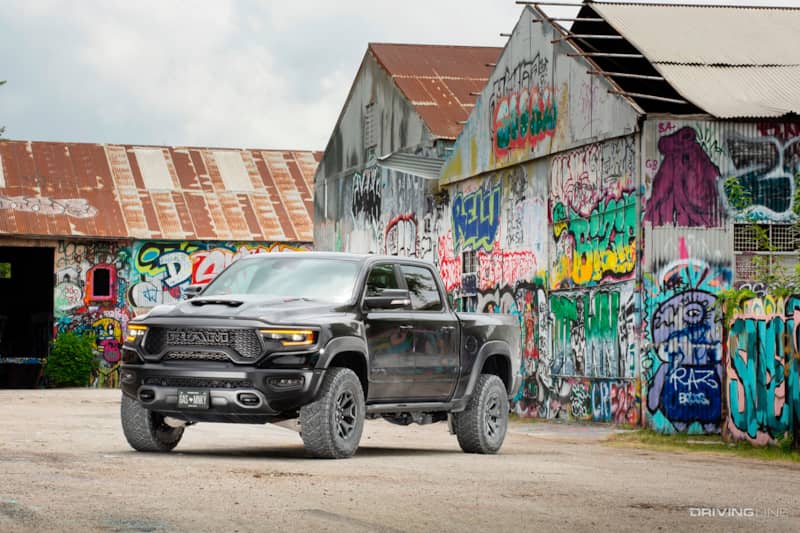 Winning Combination
With half a day in this truck on many different surfaces, it was obvious that this pickup did not skip a beat with the new tires. It was definitely fast and even maneuvered like a sports car. We were seriously impressed with the combined performance of his RAM TRX and the Nitto Recon Grappler A/T tires. Now this rig is truly ready for all of Texas' changing weather conditions both on and off road.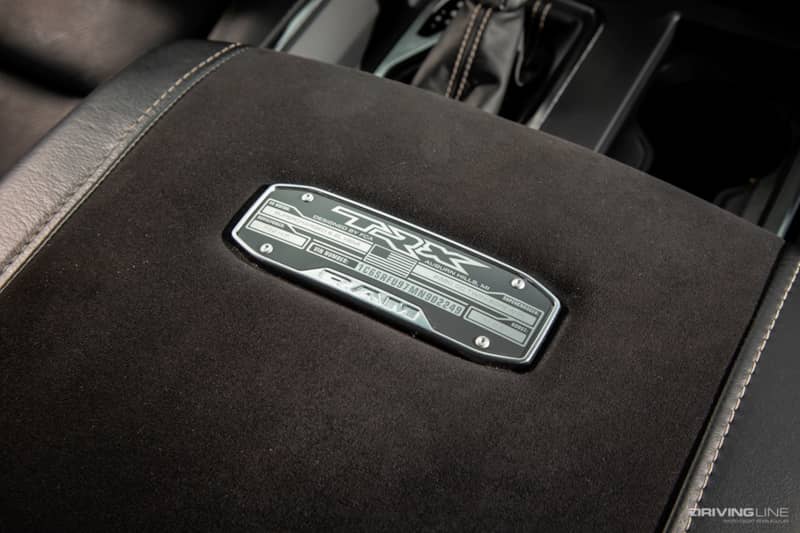 Post TV Builds
For those curious about some of the other projects the GMG crew has been working on since Fast 'N Loud ended, we can tell you they have definitely been busy. One of the most exciting endeavors was an "Epic 5 Day Build" of a '91 Chevy OBS pickup, which was exclusively broadcasted online. The truck caught the attention of Atlanta Falcon's NFL player, Allen Bailey and he even purchased it.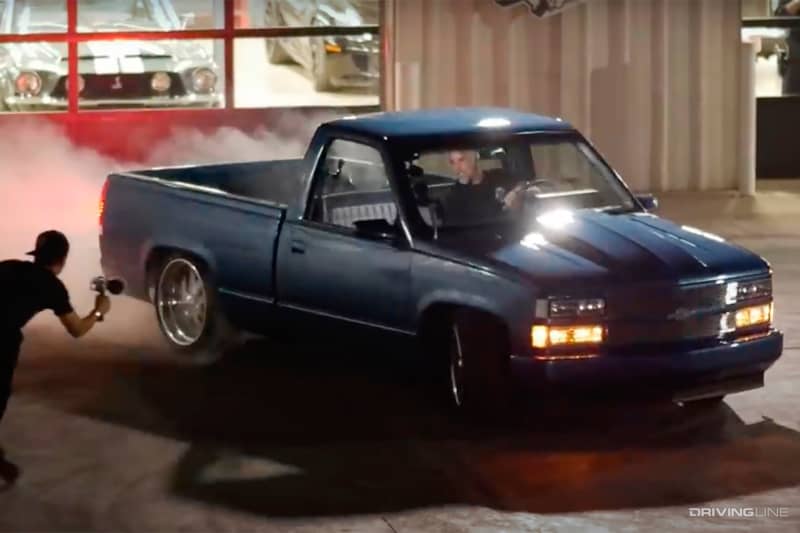 GMG Style C10
Seeing GMG's build quality in-person, Allen brought them his '67 Chevy C10 to be completed after having struggles at another shop. This truck is now LS-powered and is slammed over a set of 22-inch Rotiform wheels. Of course, Allen Bailey's C10 has been completely decked out and is just another example of the crew's talent.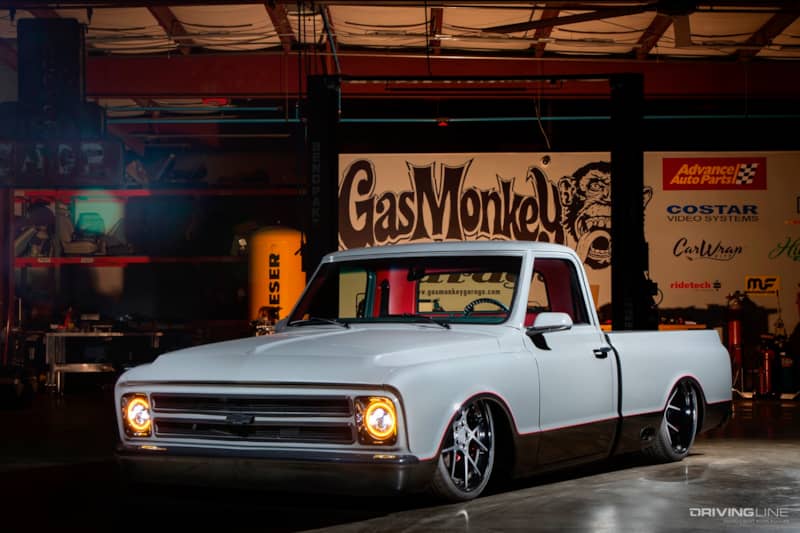 What's Happening Now?
The latest project is the conversion of an '87 C60 school bus into an off-road promotional beast for Raising Canes. In order to make the bus more robust, the chassis is being swapped for one from a brand-new Chevy 4500 pickup that will also supply the bus with a Duramax diesel engine.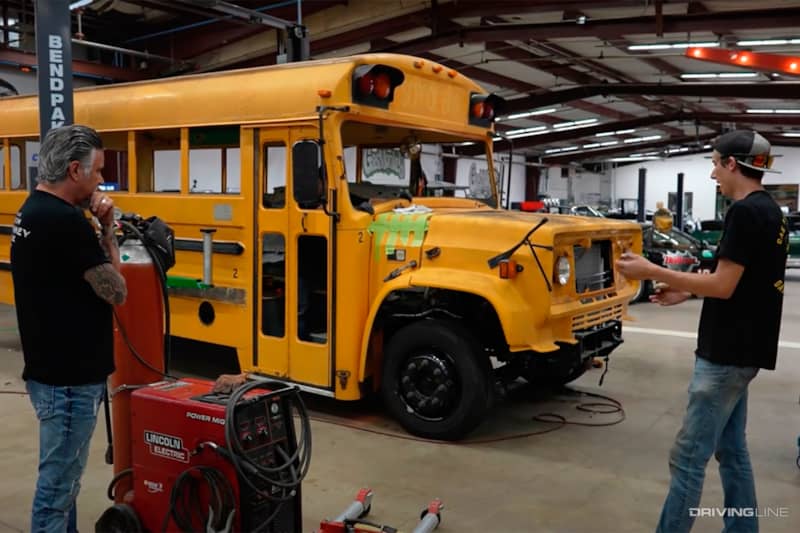 These just a few of the things going on there and we are excited to see the shop back at it!