Against All Odds at the Ultra4 Clash at the Cross Bar
Hard rains, tornadoes, car-swallowing mud holes and the Campbell family all wearing floaties... the Ultra4 Holley EFI Clash at the Cross Bar was not what was expected, but it certainly did not disappoint! On a killer race weekend that saw every conceivable obstacle try to wreck the fun, Clay Gilstrap stood tall on the top spot as teams tried to wrap their heads around such an exciting, yet bizarre weekend. This was a race that once again underscored what Ultra4 Racing is all about: perseverance, determination, competition and teamwork.
(All photos by Doug Dienelt)
New Oklahoma Venue Delivers a Doozy
It is impossible to talk about this race without firstly talking of the weather. It impacted everything. The Clash at the Cross Bar was the season opener for the Eastern series of Ultra4, as well as a first-time visit to the venue in Davis, Oklahoma. No one knew what to expect from the course, plus the weather was calling for 2.5 inches of rain prior to the race. We all know how much the West Coast boys love mud. In retrospect, 2.5 inches of rain would have been GREAT; almost 10 inches of rain dumped on the course and was accompanied by two surprise tornadoes.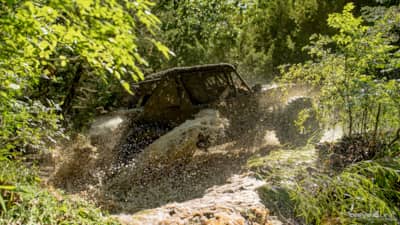 Qualifying was cancelled, and drivers' starting positions were based on random number selection. Race trailers and haulers became stuck simply trying to get to pit locations. Race day morning also had a surprise in store for everyone: The entry road to the park was closed due to an overflowing creek and an impassable bridge. For teams who stayed in town, this meant they couldn't even get into the course in time for the start. To accommodate the sudden river at the entrance, all races were pushed back two hours, and races were shortened from five laps to three.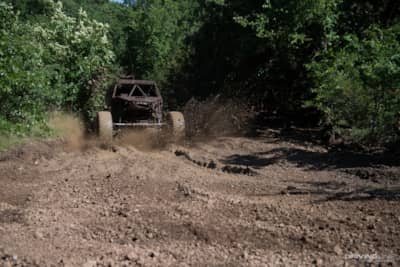 Ultra4 prides itself in being the "Ultimate 4 Wheel Drive racing series." In its 10-year history, there has never been a race cancelled due to weather. Drivers race in rocks, mud, dust, silt, short course, endurance desert, scorching sun, blinding rain and everything in between; however, this event would prove the truest test for teams and race organizers alike. The course consisted of an A and a B loop — both of which had their nasty surprises and challenges.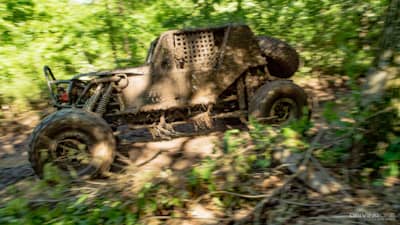 During the drivers' meeting, Ultra4's Dave Cole warned teams that this would not be a drag race, but an endurance test to see who could keep their car together. Dave predicted that just eight out of the 40 cars in the main event would finish all three laps, and he wasn't far off. Ten cars finished all three laps in time. Cars and teams have to be prepared at all times for whatever the course gives them. And Oklahoma delivered a doozy.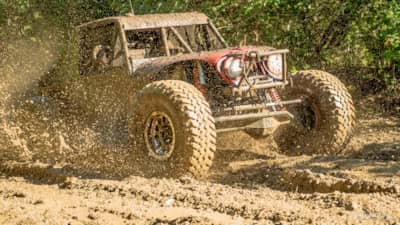 4400 RACE RECAP
Alex Wacker had the luck of the draw and would line up on the pole for the main event. Team Nitto driver Wayland Campbell — fresh off his first Ultra4 victory in Sierra Blanco, Texas, last month — would start third. Two-time King and fellow Nitto driver Erik Miller would start mid-pack in 24th, and King of The Hammers surprise success Josh Blyler would be starting all the way in the back.
The course was already beat to pieces by the earlier races, and the competition would be fierce. Despite all the rain, the sun was out and it was race day. Everything was right with the world. Smiles, focused scowls and a little bit of "what did I get myself into" would be on the faces of drivers as they lined up for the Eastern series kickoff.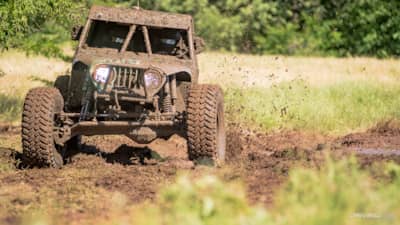 The 16-mile course consisted of two loops (A and B), both presenting challenges. Times would be corrected based on starting order, so teams had to rely on their spotters and pit crews to know track position as well as relative race position. Clay Gilstrap, with co-driver and wife Lindsay Gilstrap, worked their way through the course on Lap 1, passing both Alex Wacker and Wayland Campbell on their move up from a 12th-place starting slot. While the Gilstraps were pushing their way to the front, both Josh Blyler and Erik Miller were charging hard from deep within the pack.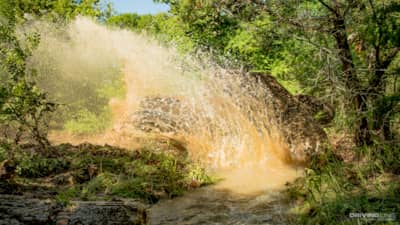 Lap 2 put teams back onto a course that they themselves had just made much, much worse with 40-inch tires and high horsepower. New lines had to be found, as many Lap 1 cars were still on course or completely buried in mud holes… and I mean completely buried — all the way up to their window nets. The hardest-working piece of equipment all weekend was not the engine, but the winch for many teams. Competitors worked together to right each other and help clear the course, only to come upon fresh clusters of cars fighting their own battle against the car-sucking, soul-sucking mud. Track conditions were wrecking havoc on everything from GPS systems to engines; multiple teams were already out with blown engines.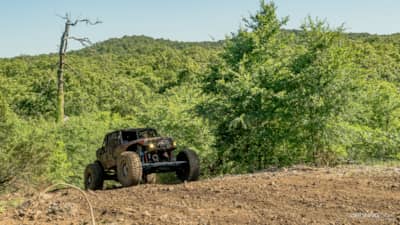 The final and third lap became survival mode for those still competing. Team Nitto driver Bailey Campbell was one of those drivers still in the running on the lead lap. Bailey would finish the day in sixth place. Erik Miller had also blasted his way to the front, and Josh Blyer was putting on a clinic.
Solid axle, IFS, 37-or 40-inch tires... it didn't matter. The course was testing the builds and skills of both drivers and fabricators. Clay Gilstrap crossed the line in physical first, but had to wait to see who else crossed due to corrected time. After agonizing ticks on the clock, Clay was officially declared first place and victor. Oklahoma doesn't like it when Texas wins, but today was Texas' day. Pew pew pew.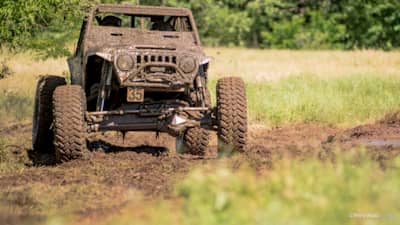 Wayland Campbell continued his season of consistent dominance by bringing home a second-place finish, making his 2017 finishing positions second place at KOH, first at Sierra Blanco and now second at Davis, Oklahoma. Erik Miller crossed in physical third, but ended up officially in fourth place as corrected time put Josh Blyler on the podium for a third-place finish — his first Ultra4 podium. This newcomer is one to watch, driving his race-proven Miller Motorsports chassis. Lucas Murphy rounded out the top five finishing positions, not only putting on an impressive showing, but also qualifying for the KOH 2018 in the process.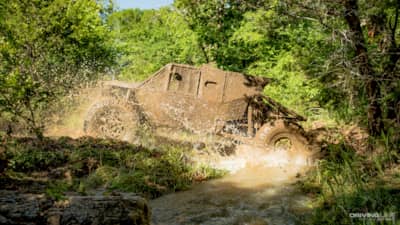 UNDERCLASSMEN RACE RECAP
Brutal. Insane. Crazy. These were the top three adjectives used by the 4500 Modified, 4600 Stock and 4800 Legends classes to describe the race and race course. The Underclassmen races had their fair share of both excitement and disappointments. 2016 Eastern Series champ Matt Howell entered this year's season to defend his title, only to lose an engine on the first lap and rack up a DNF in the season opener. Duane Garretson, however, put his Jimmy's 4x4 4500 car on the top spot to start the year out right. It was ups and downs, twists and turns, and more than a few buried cars by the time it was all said and done.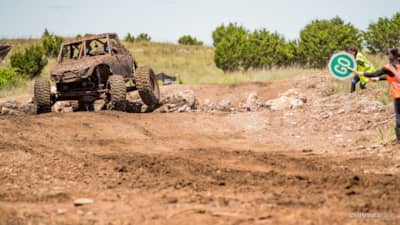 4800 Legends Class
The 4800 Legends class fielded the largest group in the limited classes with 15 cars bashing it out on course and only four cars completing all three laps in time. Casey Gilbert nailed the top spot for an exciting victory, finishing five minutes in front of Darrell Shields in second and just over 10 minutes in front of Jonathan Terhune, who locked up third place.
Team Nitto driver Bailey Cole — fresh off his King of France victory a week ago — placed fourth and was the last car to complete all three laps in time. Lovell Racing also made the trek out, after racing in different trucks for different series both in Chicago and Mexico within the last month. Despite hydro locking the engine on Lap 1, the team repaired and persevered and completed two laps, finishing in sixth.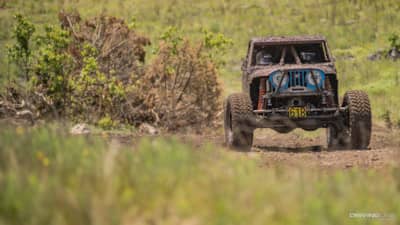 4500 Modified and 4600 Stock Class
The 4500 Modified class resulted in a victory for Duane Garretson, accompanied by Dustyn Friesen in second place, the only two cars in class to complete all three laps. Jesse Oliver was third, completing 2½ laps before time expired. Liam Morice took home the top spot in the 4600 Stock class, with a limited field turning out for this event.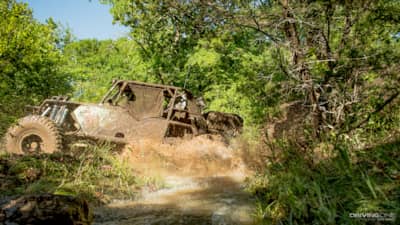 The Cleanup
After the race, teams gathered for a few beers, swapped stories, thanked other teams for the help, unburied cars from the mud holes and enjoyed a great concert with Bo Phillips and Shooter Jennings. The Cross Bar Ranch in Davis, Oklahoma, had delivered one of the most exciting and bizarre races in recent memory. This was the first time Ultra4 had raced at this venue, but overall it was a tremendous success.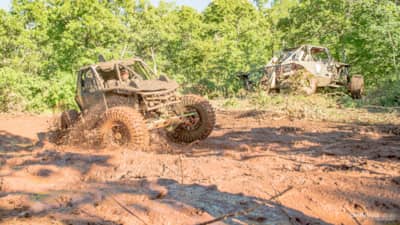 Teams that participated in the race will tell stories of this one for years to come. The weather wreaked havoc on well-laid plans, but the venue staff, the Ultra4 Racing staff, the volunteers and the drivers all pulled together to ensure this race was a great one. No matter what, no matter where... Ultra4 is going to deliver. Congratulations to all the teams and drivers for an event hard fought and to Clay for a victory hard earned.
Ultra4 Racing cranks back up again in two weeks at the 2017 MetalCloak Stampede in Rancho Cordova, California, for Round 2 of the Western series. Mother Nature played her hand in that event last year as well, so teams have very little time to repair, clean up everything and hit it hard again.
(All photos by Doug Dienelt)