The Evolution of Samuel Hübinette
Samuel Hübinette burst into the drifting scene in 2004 by winning the inaugural Formula Drift Championship and then went on to win it all again in 2006. After eight years of competitive drifting and brief success in Global Rallycross, Sam had been off the radar for a few years; that is, until the #HuracánDrift video skidded into view at the 2016 SEMA Show. All the while, he has stayed busy stunt driving in movies and commercials.
We caught up with the man himself after the SEMA buzz died down to catch up on his recent activities and find out if we can expect more viral videos from him and his wife Stina.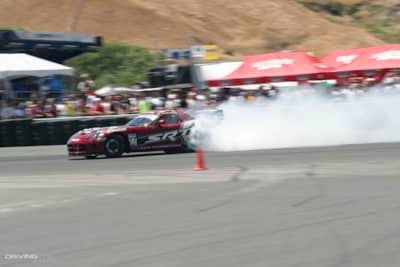 Driving Line: A lot of people know you as the former Formula Drift champion, and we even watched you drive in Global Rallycross. What have you been up to in the last few years? 
Samuel Hübinette: My last season in Formula Drift was in 2011, but I continued competing in the Traxxas TORC Off-Road Series with Mopar that year and Global Rallycross series in the year following. With my Eneos Motor Oil sponsorship, I was supposed to team up with Dodge and Travis Pastrana on their two-car Dodge Dart Rallycross team. Unfortunately, at the last minute, things didn't work out. I was already in Charlotte for the first round of the season when I found out, so I had to scramble right away to find another car to compete in.
Luckily, I connected with team owner Per Eklund from Sweden the night before the competition, and he happened to have a spare Saab 9-3 for the whole season. We wrapped that car overnight in the Eneos livery, then picked it up in the morning and I drove it straight to Charlotte Motor Speedway. I ended up finishing third in the overall championship that year, which was a big success for that big car.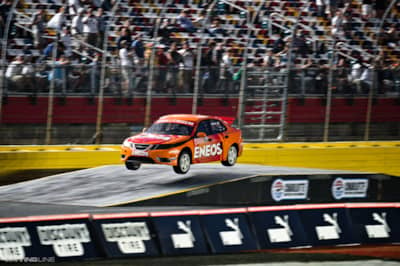 As we looked ahead to the 2013 season, we knew we needed a smaller, lighter car to truly compete. We couldn't get anything confirmed, so I decided to take a year off from racing to focus more on commercial and movie stunt driving. I really enjoyed it; plus, I was able to spend more time with my family. I quickly realized that once you have a family, your life starts to change, and you start to value being at home as opposed to being on the road for 10 to 15 race weekends per year. 
DL: Let's talk about the #HuracánDrift. That was quite the video. 

Stina told us

 that it was your brainchild. How did it all come about?
SH: A year and a half ago, Stina was coming off a few years of family time and with a new E92 BMW M3, we wanted to get her back involved with stunt driving. We took some cell phone videos of her practicing in the Irwindale Speedway parking lot. One of those videos went viral, so we decided we wanted to work together on something bigger to help promote her driving.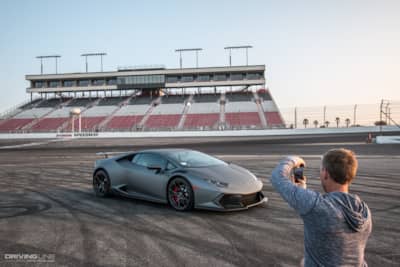 As we started to put together a plan for a video, I came up with the crazy idea of drifting a supercar, and it all came together from there. The first thing I wanted to do was find a tire partnership to get involved, so I reached out to Nitto Tire since I had already connected with them earlier in the year when I drove one of Vaughn Gittin Jr.'s Mustang RTRs alongside Matt Powers at Auto Enthusiast Day in Texas. Nitto Tire has a huge social following and is always looking to do interesting projects, so we all felt like it was a good fit; we pitched the idea, and they loved it.
Next, I reconnected with Newport Lamborghini from my TV commercials with them a few years ago; they were very excited. From there, Donut Media was brought in for their expertise in planning, filming and editing the video. Without much testing and only five or six weeks, we all worked hard and debuted an excellent video at the Nitto Tire booth at SEMA.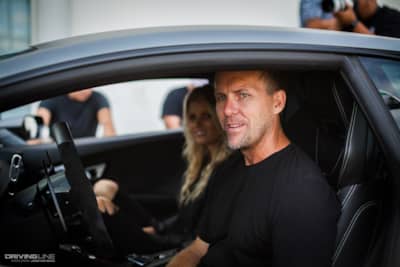 I had missed a few SEMA Shows while I was out of motorsports, so it felt great to be back — not just the experience of signing autographs and showing off the Huracán in the Nitto Tire booth, but also connecting with a lot of my friends who are still in the industry.
DL: What's it like to work alongside some of your former motorsports competitors?
SH: Being able to work alongside drivers who you trust to be able to handle the level of driving you're asked to perform — it's a great feeling. One project that really stands out is the BMW "Epic Drift Mob" spot we filmed in South Africa with Rhys Millen, Conrad Grunewald, Rich Rutherford and Dai Yoshihara. That video involved a lot of synchronized drifting, and we had a very short period of time to get everything shot. We had to get every shot right on the first or second take; there wasn't much room for re-takes. It definitely helped that we had all spent so much time drifting alongside each other in competition, and it allowed us to get the shots needed in fewer takes.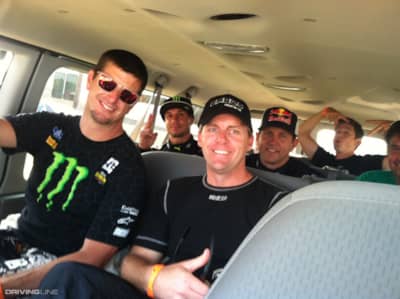 DL: What does it take to transition from driving in competitive motorsports to commercial driving in movies and television?
SH: I get asked these types of questions all the time. It's very difficult to make a career in commercial driving, and there's no single path to being successful. Overall, you need to be one of the best at what you do, meet the right people at the right time and be able to show producers, directors and stunt coordinators that you can execute car control on command in all kinds of cars.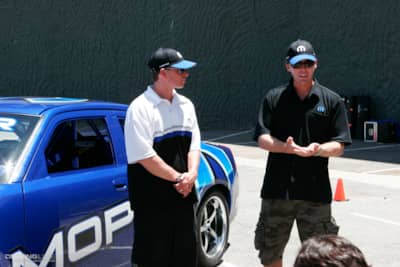 Another option for someone who wants to be paid to drive is doing OEM instructor work, debuting new cars and teaching dealers and salespeople how to drive the cars at their limits. I did a lot of work with BMW, Dodge Chrysler and other OEMs back when I first moved to the U.S. We basically would go to empty parking lots and setup a mini autocross course, then show them some car control skills or show them how balanced a car is with handling. It's a great opportunity to get a lot of seat time in different cars while getting paid. 
DL: What does the future hold for Sam Hübinette? Any plans to get back into motorsports?
SH: Right now, I'm focused on continuing to work in the commercial and TV world, but raising my family makes it a priority for me to be home more. #HuracánDrift was mainly designed to boost Stina's reputation and reinforce my skill set as well. I'm excited for it to open up some new doors for us. We are already talking about doing more of these types of videos next year, so we'll see what we come up with.
We also want to continue to develop our Lamborghini Huracán, we recently added a GMG Racing exhaust that will add more performance and make it a bit louder. That car drifts very well out of the box, the only thing we really added was the hydraulic e-brake to get it to drift in the video. There aren't many people pushing the limits of the Lamborghini chassis, but those cars are very cool cars that people like to watch videos of so we'll keep making videos of it!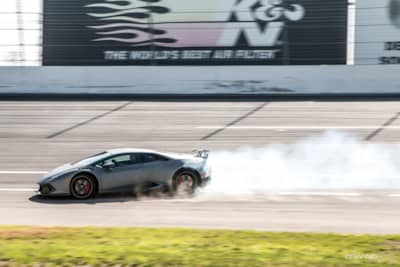 (Photos: Jacob Leverton, Justin Pagtalunan, Jonathan Wong / Additional photos courtesy of Samuel Hübinette)
Don't call it a comeback — Sam has been here for years. Follow @Samuel_Hubinette on Instagram for his next stunt project. Drift ya later!