The Ideal, Modestly-Priced Mid-Sized SUV With Third-Row Seating: Part 11, Kia Telluride
Upscale appearance? Check. Well within budget? Check. Space and safety requirements met? Check. With so much buzz surrounding the Telluride, namely in how much third-row SUV you get for the money, how could we not stop in at the local Kia dealer and give one a shot at winning us over? Long story short, we're glad we did. Telluride is arguably the most affordably priced three-rower in this entire series, and even Kia's top-of-the-line version can be had for $46,000—well within our $50,000 budget. Of course, there is also the 10-year, 100,000-mile warranty program…Anyone who says that's not an attractive selling point is lying to you…
With all of that said, this is it. Now it's time to carefully weigh the pros and cons, compare and contrast and critically analyze each of the 10 SUV's we've test-driven for this series. We hope to be back with our final answer sooner rather than later, but for the moment it's one tough call.
A Surprisingly Spacious Third-Row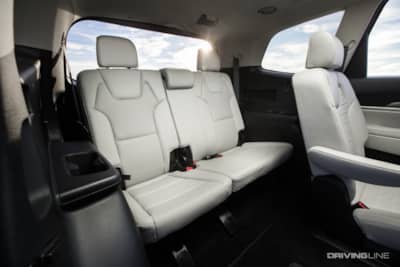 Kia Telluride's final row of seating is made up of a 60/40 split that accommodates three and is surprisingly spacious on legroom. Remember, Kia offers another third-row SUV in Sorento, but Telluride is longer and therefore built with a bit more breathing room. This doesn't go unnoticed way back here! Depending on what you decide to do in the second row (bench or captain's chairs), Telluride can seat seven or eight passengers in total.
Third Best In Cargo Capacity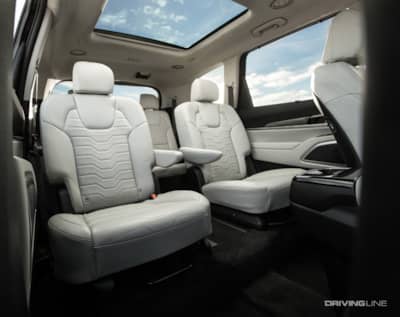 Now for the obligatory cargo capacity dimensions. The quickest summation is that Telluride rivals, if not beats, the Ford Explorer, Dodge Durango, Subaru Ascent, Grand Cherokee L, Volvo XC90 and the recently-reviewed Hyundai Palisade. With both the second and third rows folded down, 87 cubic feet of space is opened up, and 46 cubic feet exists with only the third row 60/40 out of the equation. With both the second and third row seats upright, Telluride also beats the aforementioned SUV's on cargo capacity, with 21 cubic feet available.
Top-Of-The-Line Interior (Really)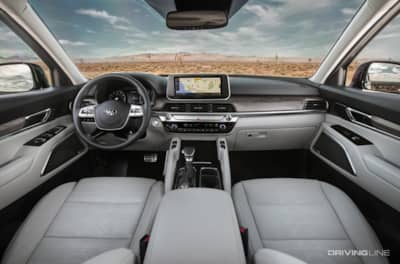 No, the near-perfect OEM imagery shown here isn't meant to fool you, Telluride's interior is first-class. In fact, for the money it's about as upscale as it gets—and it has the comfort to back it up. The available 10.25-inch touchscreen display is highly visible, all the controls on the dash are simple (and right where they need to be) and nothing about the design materials is over the top. For us, Telluride also earns bonus points for having USB charge ports available in all three rows.
A Familiar V-6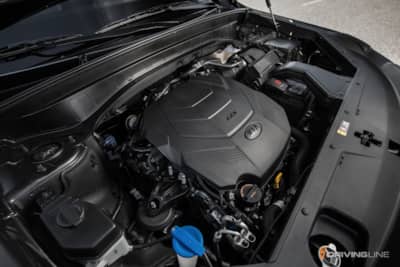 Under the hood, Telluride boasts the same 3.8L all-aluminum V-6 you'll find in the Hyundai Palisade. And while (like the Palisade) it's not going to help the Kia win any acceleration accolades, its 291 hp and 262 lb-ft of torque are more than sufficient for getting the SUV out of its own way. The naturally aspirated, direct injection gasoline V-6 sports dual overhead cams, four valves per cylinder and continuous variable valve timing (CVVT). EPA fuel economy for AWD models checks in at 19 mpg city, 24 mpg highway and 21 mpg combined.
On-Demand AWD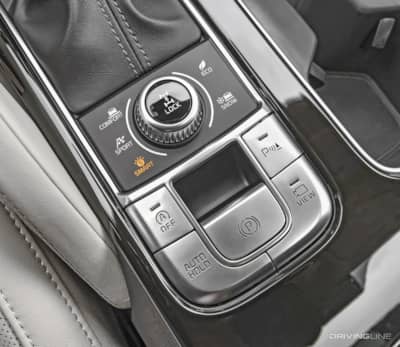 Backed by an eight-speed automatic transmission, Telluride can only jog from 0 to 60 mph in 7.1 seconds, but its shifts are smooth and we noticed very little gear-hunting (especially on hills). Kia's active on-demand all-wheel drive system is a must for us in Illinois winters as well, and the AWD lock mode and snow mode in particular would be key functions.
Critical Safeguards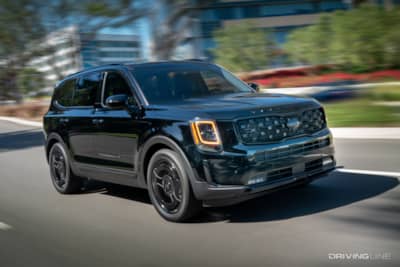 If you're just tuning in to this series, a vehicle's ability to preserve life inside the cabin in the event of the unexpected is very high on our priority list. The 2021 Telluride's 5-star NHTSA crash test rating provides the safety assurance many families like ours are looking for—and an IIHS Top Safety Pick for 2020 certainly doesn't hurt matters. As for driver-assist technology, Telluride has most of what we're looking for, including: forward collision warning and automated emergency braking, lane-departure warning and lane-keeping assist, blind-spot monitoring and rear cross-traffic collision avoidance assist (which Kia refers to as RCCA).
Our Ideal Telluride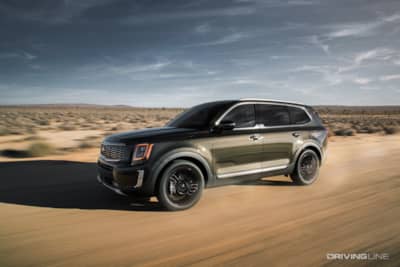 Unlike some of the third-row SUV's we've looked at in this series, Kia's Telluride doesn't skyrocket in price when trim levels ascend. For this reason, along with the fact that it would still check in below our $50,000 peak budget, we would opt for an AWD SX model and also select the Nightfall Edition Package for an additional $1,295. The package includes 20-inch black alloy wheels, a blacked-out grille, headlights and fog lights with black bezels and we're sold on Kia's dual sunroofs, 12-way power adjustable driver's seat, remote start, LED headlights and fog lights. Our ideal Telluride would also sport 7-passenger seating thanks to second row captain's chairs and its blind-spot view monitor (BVM), parking distance warning (PDW) and surround view monitor (SVM) would all be highly welcomed. With all of the above, arguably as top-of-the-line as Telluride gets, we'd be looking at an MSRP of $45,685.