The Ideal, Modestly-Priced Mid-Sized SUV With Third-Row Seating: Part 9, 2021 Volvo XC90
Taking a turn toward luxury, we're scratching an irresistible itch to check out the Volvo XC90 this time. Even though it's a budget-buster, the elegant styling and design of the Swedish automaker's SUV has always appealed to yours truly. Beyond looks, an available turbocharged and supercharged, direct-injected 2.0L four-cylinder engine packing 316 hp does little to deter this lover of forced induction. There is even a 400hp plug-in hybrid engine, which makes things all the more interesting. And although cargo space is similar to that of the Explorer and Durango, the XC90's third row is comprised of two separate, individual seats (not a 50/50 split bench).
There is plenty to talk about on the kid-friendly and safety front, too. The XC90 was recently selected as one of the best family cars of 2021 by Parents Magazine. And with an available integrated child booster seat, a top safety pick plus from IIHS and the latest and greatest advanced driver-assist technology standard, who can argue with that accolade? Before we talk ourselves into spending more money than we initially planned to (the budget was supposed to be $50K, remember…), we made the trek to the nearest dealer to see if the XC90 was more of a "want" than a "need."
As we near the end of our search for the perfect, modestly-priced, third-row SUV, this growing family has one tough decision to make—and we'll let you know as soon as the verdict is in.
Seating For 6 Or 7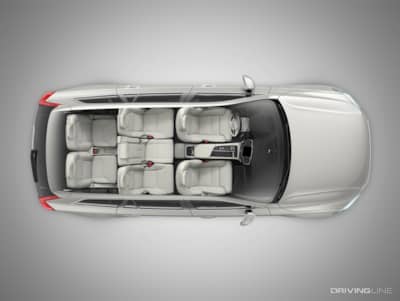 Similar to most of the other third-row candidates we've test-driven for this series, Volvo's XC90 is available with six or seven passenger capacity, depending on what you decided to do in the second row. That is to say you can have a second-row bench, which is standard, or captain's chairs, for an upcharge. However, there's a twist on the Swedish SUV. The two-seat third row consists of two individual seats, not a split bench.
Middle-Of-The-Road On Space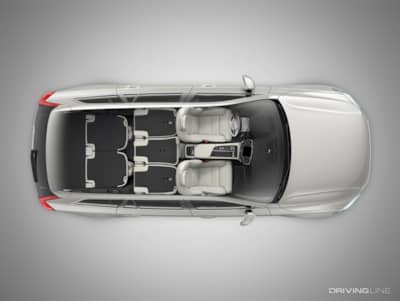 When you take both the second and third rows out of the equation, 85.7 cubic feet of space is available, which rivals the Ford Explorer, Dodge Durango and Subaru Ascent we tested. The XC90 matches those candidates on cargo space despite possessing a shorter, garage-friendly, 195 inches in overall length. As for third-row passenger breathing room, it's tight. There is no denying that. But while the backs and legs of adults won't appreciate long rides, toddlers to young teens will be left in relative comfort.
A Trio Of Engine Choices
Three means of propulsion exist for the XC90, all of them being based on an aluminum block and head, DOHC, 16-valve 2.0L four-cylinder. In T5 trim, the direct-injected 2.0L is turbocharged and intercooled, and produces 250 hp at 5,500 rpm. Stepping up to a T6 model, the 2.0L benefits from being both turbocharged and supercharged, and belts out 316 hp at 5,700 rpm. In T8 form (or "Recharge"), the plug-in hybrid powertrain becomes available, which adds an 87hp electric motor to the T6 engine's bottom line for 400 hp combined.
Award-Winning Safety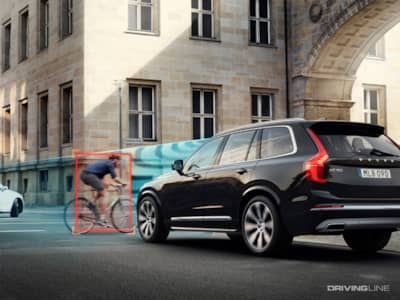 Volvo has always had a serious take on safety and they've been rewarded handily for it. For 2021, the XC90 earned the top safety pick plus (TSP+) from IIHS, an award that Volvo cars have claimed more of than any other manufacturer since the accolade was first introduced in 2013. And as we went to press, the XC90 had just been named one of the best family cars of 2021 by Parents Magazine. Forward-collision warning and automated emergency braking, blind-spot monitoring with steer assist, rear cross-traffic alert and lane departure warning all come standard on the XC90.
Cutting-Edge Tech
Technology abounds on the XC90 and it starts with Volvo's active bending head lights—LED head lamps that mirror the movement of the steering wheel in an effort to help you see around bends and junctions. The high-pressure headlight washers that accompany them are kind of neat, too. To keep you and your XC90 mechanically distanced from other objects, front parking sensors come standard on all models. Beyond that and in addition to lane departure warning, Volvo's standard Pilot Assist system provides subtle steering support to help keep the vehicle centered in its lane, and at a target speed and set distance from the vehicle(s) in front of it.
In The Lap Of Luxury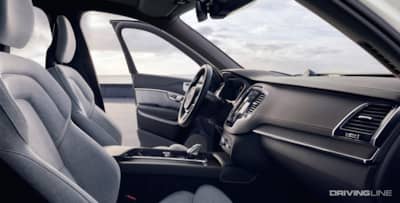 Without question, the fit, finish and quality of the materials used in the Volvo's interior beat out every other SUV we've explored. The layout is simple, the lines are smooth and the seats are comfortable. Standard leather upholstery comes on Momentum models and is upgraded to Nubuck upholstery on the R-Design, while ventilated Nappa leather is used on high-end Inscription models. For comparison's sake within this series, only the Mazda CX-9 came close to what the XC90 offers in its interior, but even it is a step behind. The 12.3-inch digital driver display you see in the middle of the dash comes standard across the board.
Our Ideal XC90 (And Settling For A Used One)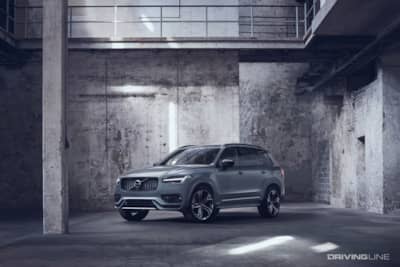 Being that even a base model XC90 blows our $50K budget out of the water, perusing the used market would be the only means of obtaining the ideal version for our needs. We like the 20-inch, 5-spoke Black Diamond-cut alloy wheels and Nubuck upholstery in the T5 R-Design, and think finding a low-mile, 2020 or 2021 model could be obtainable. However, it would still take us all the way to the top of our budget and we'd be buying a smaller SUV for the money. Is the XC90 going to be the last-minute wildcard in our ideal third-row SUV search? Probably not. But we're glad we stopped by to check it out.
More From

Driving Line
In case you missed any of the previous Ideal, Modestly-Priced Mid-Sized SUV With Third-Row Seating articles, here are links to the entire series: