Everything You Need for 2017 King of the Hammers
Want to know what to expect at 2017 King of the Hammers? Read on for the week's Ultra4 Racing schedule in Johnson Valley to all of the coverage and galleries you'll need. Hammertown opens on February 3rd, 2017 with KOH events happening through the 11th. As of early January, 415 competitors have signed up to get a slice of the racing action in one of the multiple Ultra4 classes. Driving Line will be there to catch all the action, so check in frequently to get your KOH fill!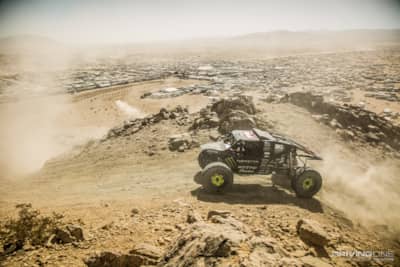 2017 KOH Schedule
Friday, 2/3: Hammertown Opens
Bring your RV, tents, and off-road vehicles for a week of fun on the lakebed. Wondering what to pack? Don't forget the mud boots this year, you might need them!
Saturday, 2/4: UTV/4600 class Qualifying & King of the Motos, Part 1
Racing kicks off with UTV & 4600 Stock class qualifying. In the evening, Part 1 of 3 of King of the Motos begins, with 85 brave bikers signed up as of 1/11/17.
Sunday, 2/5: King of the Motos, Part 2 & 3
King of the Motos continues in two more legs of the race with both a Pro and Amateur class taking on the toughest endurance race on two-wheels.
Monday, 2/6: Vision X Shootout presented by King Shocks
This year the shootout returns to the steep waterfall challenge of Back Door as SRRS rock bouncers wage battle against Ultra4 buggies to see who can make the fastest run.
Tuesday, 2/7: 4500/4800/4400 Qualifying
The short course will start heating up as 4500 Modified, 4800 Legends & 4400 Unlimited racers vie or starting position. Keep an eye out on Tuesday's "Power Hour" where some of the top-ranked drivers, like 2016 King Erik Miller, will be kicking up dust.
Wednesday, 2/8: Can Am KOH UTV Race & 4400 Qualifying
UTV racers will take the green flag in the morning with 4400 Unlimited qualifying continuing through the afternoon.
Thursday, 2/9: Smittybilt Every Man Challenge
The underclassmen of Ultra4 – 4500, 4600 and 4800 – take the line for a long and challenging Hammers race.
Friday, 2/10: Nitto King of the Hammers Powered by Optima
KOH week culminates with the 4400 main race to see who will be crowned 2017 King. This year has four past Kings vying to make the first 3-time King as well as many others seeking to take the throne.
Saturday, 2/11: KOH The Experience & Axial R/C Trail Run
Join in for some guided trail runs on one of the many Hammers trails.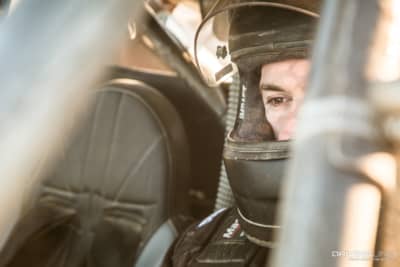 2017 KOH Coverage and Galleries
Don't miss out! Visit Driving Line's 2017 KOH page for all the coverage you need. Until then, brush up on your Hammers knowledge and re-visit some of previous year's adventures.
New to KOH? Read more about how it started or how it's evolved over the years.
If you're thinking of heading out to the lakebed yourself, there's a lot to take in for your first time. Figure out what to pack and explore some of the things that will keep you busy during the week - it's not all racing.
What does it take to race the toughest one-day race on earth? We've asked some of the top racers what they do to prepare, here's what they said:
3 loops around Johnson Valley, tackling many of the Hammers trails twice... all in one day?! Yep, it's King of the Hammers. You'd better be sure about the tires you're running. See what goes into the anatomy of a KOH-winning tire.
Read up on all of the action from last year's race in our 2016 coverage, and check back here beginning February 3rd for up-to-the-moment galleries, results and race recaps.